Dads can be hard to buy for.  Some have everything, some hate to receive gifts, and some are just plain hard to buy for.  Well I found a great $8 gift that makes a man's life less cluttered- something every man appreciates.
Over at Think Geek, I found the Tiny USB Car Power Adapter.  This little teeny tiny device fits right inside a 12V cigarette lighter in your dashboard or console.
All it does (with a light) is allow you to plug in a standard USB cord into your car, and the other end into your mobile device.
The two reasons this device possesses awesomeness is because it
eliminates the need for a bulky adapter IN the car, saving previous cup space.
eliminates the need to BUY a bulky adapter.
The only draw back to this device is its small size- which is precisely why it is awesome!  If you buy this product as a gift, I would suggest finding a hinged ring box and place this device inside there- increasing its value!
Oh, OK, um ya, my husband took this picture of me wearing all of my thinkgeek wear- Gunnar Computer Glare Glasses, my Aperture Labs work shirt (from the video game Portal) and holding the tiny adapter.
Cute?  Well he likes it, and that's what matters…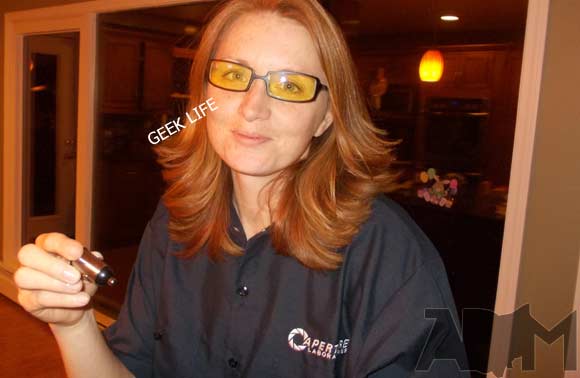 Final result, see below!
Thank you to Think Geek for the product to review, and thanks to my dad for accepting gifts!
Buy Tiny USB Car Power Adapter
You can buy the Tiny USB Car Power Adapter on ThinkGeek.com for $7.99.
This was not a paid post. My own opinions were used based on my perceptions and experience. Thank you to ThinkGeek.com who provided the product for review.