In my remodeling adventure, I am seeking out unique products. I'm currently looking for mirrors and found a fabulous company called Venetian Mirrors Boutique. They offer an exquisite collection of specialty products including Venetian Style Mirrors, Venetian Furniture, Venetian Buffets and Consoles, Venetian Cosmetic Trays & Tissue Boxes, Venetian Design Mirrors, Venetian Magazine Holders & Waste Bins, Venetian Obelisk & Jewelry Boxes, Venetian Picture Frames, Venetian Shelves & Wall Sconces, Venetian Table Mirrors, Venetian Vanity Sinks, and Venetian Vanity Tables.
Venetian Style Mirrors
Venetian Mirrors Boutique has a line of Venetian Mirrors that are absolutely breathtaking. Each mirror is hand-etched, hand-cut, hand-beveled, and hand-polished by our factory in the Philippines. You are guaranteed a unique piece of art, not a mass produced piece each time. You receive a stunning piece of art with each mirror. Their mirror styles are of the 16-17th century old Venetian styles. What a showcase feature this would make to any home.
Venetian Style Mirrors add class and elegance to any home. These mirrors are not only functional but decorative as an expressive piece of art. Such beauty cannot be contained in just the bathroom or bedroom, it is well suited in any room of the house.
Below are a few of my favorite Venetian Mirrors. I could see the Natashe Small Blue Venetian Design Mirror gracing the interior wall of my dining room where I could gaze at its rich beauty, fabulous deep colors, and detailed etching. I would love to see the Round Large Venetian Design Mirror in my master bedroom, it would add elegance and wonder. The Bertina Venetian Design Mirror would be lovely in the foyer of my home, not only would it be functional for the last makeup check before heading out but what a welcoming piece this would be to my home for guests when they arrive. So lovely…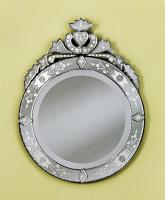 More on Venetian Mirrors Boutique
Venetian Mirrors Boutique is a part of 1001ShopsLLC a group of shopping sites that deals in Specialty Products. Their business is delivering you high quality imported speciality products for your home or business.  You won't find a larger selection of quality steins at prices this good anywhere. They strive to deliver excellent customer service with their 1 day response time.  Venetian Mirrors Boutique provides free shipping for all our mirrors , i.e customer don't have to pay anything extra.  They replace the product free of cost it it gets damaged during shipping.
Other fabulous items that I'd love in my home from Venetian Mirrors Boutique
Venetian Mirrors Boutique offers high quality pieces of art. At this point in my life as a mom of 2, I cannot afford many high quality pieces of art. However, I would consider investing in one piece at a time. My number one pick to start off with would be the above pictured Round Large Venetian Design Mirror, I think it would be fabulous no matter where I showcased it in my  home.
If I had the opportunity to select from any of their products for our master suite remodel, these are the items I'd love to own.
The Clarissa Venetian Vanity would set the entire mood of the master bathroom. Its as if time has stopped and the room is taken back to the 16th century to a faraway castle…
Of course the Elsie Venetian Vanity Table would store my linens perfectly in the master suite. This would also be beautiful in a foyer with elegant picture frames of family.
The Hija Venetian Tissue Box makes even the simplest tasks seem more enchanting. What a beautiful gift this would be for someone special.
The Venetian Cosmetic Tray adds even more beauty to your morning preparations. Isn't this beautiful? I could see this on my dresser right now!
If I had a waste bin as divine as the Venetian Waste Bin, I would put it somewhere to be admired by not only myself in the master bathroom but in the guest powder room as well. Such detail should not be hidden away.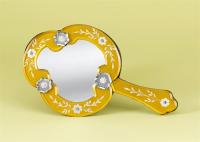 I would feel like a queen with the Trinidad Handheld Venetian Mirror, wouldn't you? This looks like a mirror straight out of the fairy tales. I've never seen anything like it. This would be a beautiful anniversary gift, sweet 16 gift, graduation gift, or Mother's Day gift that would be treasured for all time.
Contact Venetian Mirrors Boutique
Find your favorite pieces at www.venetianmirrorsboutique.com. For more information, email sales@1001shops.com or call 877-260-3584.
For more information about this post visit ow.ly/1T1P3