Transform your home into the spookiest this Halloween with AtmosFX digital decorations on your windows, walls, floors, ceilings and screens! With the help of their digital projector, you can have countless video screens with sound projecting on practically any surface both indoors and outdoors for any holiday. It is exciting for kids and fun for adults too!

This is a sponsored post.
Transform Your Home During Holidays with AtmosFX Digital Decorating Kit
The AtmosFX Digital Decoration Kit allows you to transform your home to the funniest on the block every holiday and special occasion year-round. Choose from dozens of downloadable custom-made digital decorations for Halloween, Christmas, Easter, and special occasions.
My kids love the AtmosFX system. They can't wait for all of their friends and family to see it. We have it on in the morning before school so all the kids on the bus can see it and they all love it too!

You can purchase the 2017 Digital Decorating Kit to get everything you need to make Halloween magical this year.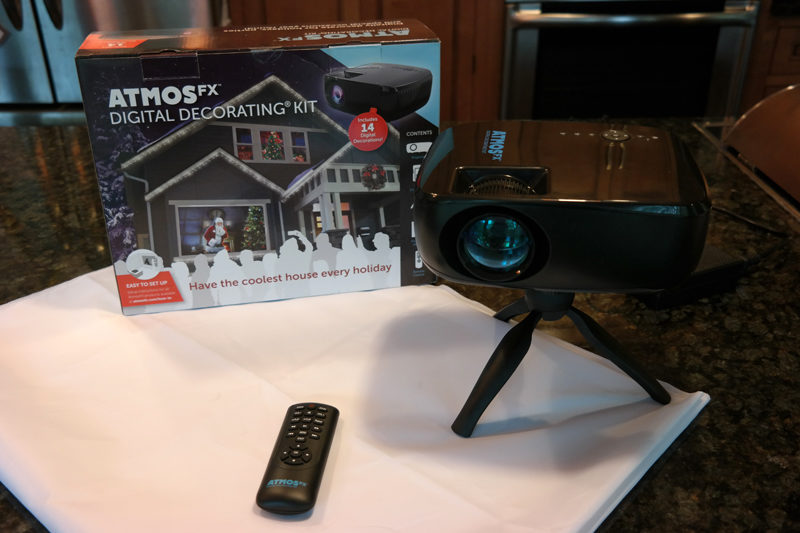 The kit includes the all-in-one projector, 14 digital decorations, tripod, remote, and screen, for $199.99. This is all you need to transform your home into your own little haunted house.
The AtmosFX 2017 DDK is the highest quality standard-definition projector kit on the market. The images and videos projected from this projector are sharp, bright, and clear.
It projects from 3 feet to 20 feet, so it is very flexible as to where you want to set up your projector. You can use any size window or the projection material. Here is a short video on a small window.
It is plug and play ready with easy menus to get started right away.  It comes on a small tripod that can be mounted. You can either choose your scenes from the buttons on the projector or on the included remote control. 
The kit comes with an SD card that is loaded with 14 digital decoration videos including 8 Halloween and 6 additional scenes for other holidays. You can download even more on the AtmosFX website.
The kit comes with a screen that can be hung in a doorway, over a window, on a wall, etc.
You can also purchase additional projection materials made of various materials to get the exact look you want. You can even create a hologram-illusion where it looks like the image appears in thin air both outside and indoors.
Check out examples of various forms that you can use the projection materials in this short video.
There is even a 3DFX Form that you can be used to create a life-size image (5-1/2 feet tall!) of witches, ghosts, and other characters to greet or scare visitors both indoors and outdoors. Check out our review of the 3DFX form.
Simply inflate the 3dFX form, cover with projection fabric and project your favorite 3DFX image for a fully animated life-like character that sings, tells stores, and more.

Get started now transforming your home to the most exciting on the block every holiday by purchasing the 2017 Digital Decorating Kit.