Bacon lovers rejoice! You can now order bacon on McDonald's classics – the Big Mac® Bacon burger, Quarter Pounder®* Bacon burger and Cheesy Bacon Fries for a limited time. Your taste buds won't know what hit them with the combination of crispy thick cut Applewood smoked bacon and your favorite McDonald's menu items!
My kids love bacon and they were excited to try the new limited time bacon menu items at McDonald's so we ordered one (or two) of each!
My son loves Big Macs so he ordered the Big Mac Bacon which is McDonald's iconic fan-favorite for 50 years – add 3 thick pieces of bacon to the 100% all beef patties, lettuce, cheese, pickles, special sauces, on onions and you have a Big Mac-sized dream come true.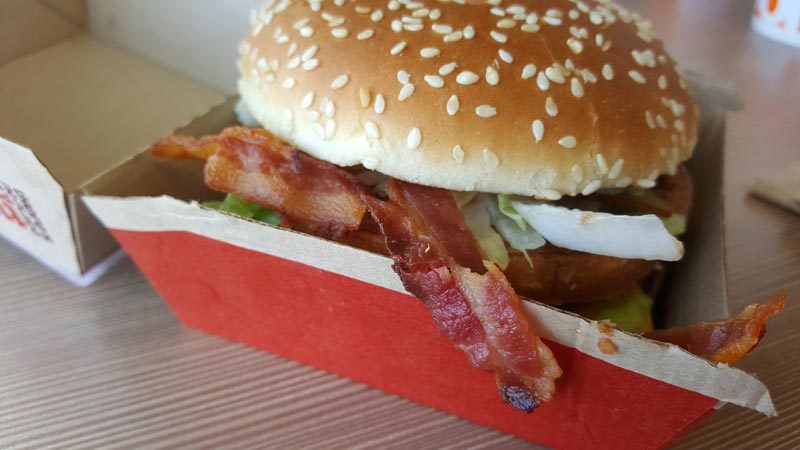 As if this hearty sandwich wasn't a meal in itself already, the Big Mac Bacon will satisfy any appetite – even a teenage boy!
I'm a fan of the Quarter Pounder when I'm ordering a big sandwich at McDonald's. The Quarter Pounder Bacon hit the spot with the hot and juicy fresh beef burger cooked right when you order and topped with 3 thick cut pieces of Applewood smoked bacon. It is a flavor explosion!
If you are in the mood for a snack to share, head over to McDonald's anytime for Cheesy Bacon Fries.
I'm pretty sure that customers are going to bed for this menu item to stay on forever! They took McDonald's World Famous Fries® and covered it in real cheddar cheese sauce and smoked bacon bits for a cheesy-bacon-goodess snack kids and adults alike will enjoy. My kids ordered it instead of ordinary fries with their meals. We had no idea how large it was – it is defiantly sharable size!
So, give yourself a break from making dinner sometime this week and make all your bacon dreams come true with these limited time menu items! Yum!