We were so excited to finally be carpeting stairs with STAINMASTER from Lowe's. If you have followed AkronOhioMoms.com for long, you are aware of the huge progression of our Frank Lloyd Wright Stairs. When we moved into our home nearly 3 years ago, we had a floating staircase with UGLY shag green carpet that was impossible to clean.
Our first step for our stairs renovation was to remove the nailed-on, glued-on shag carpet. It wasn't easy and took hours for my husband and I to tediously remove it.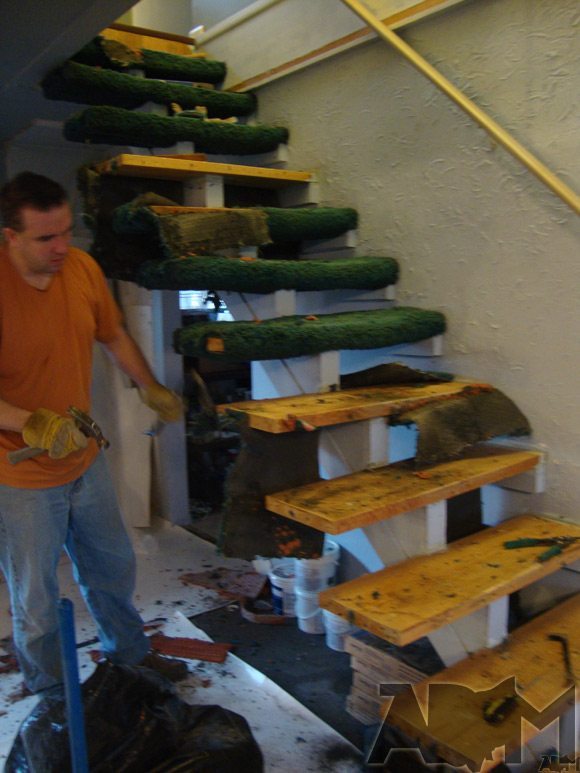 There was plenty to do after removing the carpet, including rebuilding the stairs. My father-in-law with Good Life Remodeling surprised us by dismantling and rebuilding the stairs while we were on our Cedar Point Hotel Breakers getaway last summer.  He did an amazing job. It was so nice to have evenly-spaced stairs for once. Plus, our dog Arnold could more easily walk up and down the stairs without the fear of falling through.
From there, he and my husband added wainscot to cover the stucco side wall and added the new drywall on the once-non-existent wall. Finally, we could walk up the stairs without seeing the floor below. I painted the wainscot a glossy white for easy clean-up from sticky hands that are bound to show up from my kids.  I painted the other wall the same mossy green color we used in our kitchen and upstairs hallway to tie the two floors together.
The walls were pretty on the sides, I especially like the look of wainscot and feel like putting it in every room of my house. Just watch, I will find more places for it – perhaps our upcoming master bedroom and bathroom project!
Carpeting Stairs with STAINMASTER from Lowe's
We had a good time Shopping for STAINMASTER Carpet at Lowe's.  She chose the STAINMASTER SolarMax Treviso carpeting for our stairs and upstairs hallway. This is a great choice for high-traffic areas because STAINMASTER carpet stays 30% cleaner and last 50% longer than other brands.  The SolarMax is also perfect for carpeting that will be exposed to sunlight and is designed to resist fading, easy to clean, and is durable for families and pets.
The first step of carpeting stairs was to add tack board to each step. Next, Lowe's installed STAINMASTER carpet pad. Be sure to get the best carpet pad to extend the life of your carpet, especially on stairs. Learn all about the benefits of STAINMASTER carpet pad.
You have options for carpeting stairs from Lowe's. The traditional wrap and the Hollywood wrap. We chose the fancy-sounding Hollywood wrap. With this, carpeting stairs takes a little more time and talent. I was so pleased with our Lowe's installer who did a fantastic job.  The Hollywood wrap actually secures the carpeting to every edge of your steps. It is secured around the lip that extends from the step to the backboard, giving a beautiful look to each and every step. Look out gorgeous our stairs look now!
We chose the Bristre Grey color which is neutral enough to go with most colors. It looks great with both the green and white on our staircase. There is simple cut and loop pattern on the stairs that add definition and beauty. It was also not too difficult to match up with each step and again upstairs in the hallway. Check out what our hallway looks like too.
That being said, our Lowe's installer was a professional and made it look much easier than it actually was. There isn't a seam or issue with any of our carpeting. I highly recommend Lowe's installers for the professional, quality work they deliver. They were on time when they said they would and didn't rush on the job. They did a fantastic job installing carpet in our living room as well as carpeting stairs.
I really like the Lowe's STAINMASTER Carpet in our Living Room but I must say that I am in love with our stairs now.  The Hollywood wrap is the way to go for an extraordinary look for any home. It delivered a well-polished look to our home. Admit it, stairs are often overlooked by the home owners but many times they are the very first thing people see when they enter your home.
I hope you have enjoyed watching the transformation of our stairs and the before and after pictures of Frank Lloyd Wright stairs. The concept of Frank Lloyd Wright stairs sounds fun and exciting and I'm sure they are lovely when done right but it wasn't the style we desired for our family.  Now, our stairs are family friendly and so beautiful it doesn't even look like the same home!
Carpeting Stairs and Rooms with STAINMASTER from Lowe's
How are your stairs looking? How about other rooms in  your home? If you are thinking about carpeting your home, check out STAINMASTER from Lowe's. Learn all about Lowe's carpet installation here.  Find your ideal STAINMASTER carpet with this handy tool based on the room you want to carpet.
This was not a paid post. My own opinions were used based on my perceptions and experience. Thank you to Lowe's and STAINMASTER for their ongoing relationship with AkronOhioMoms.com. Check out the great selection of products at www.Stainmaster.com and www.Lowes.com.