My family loves everything about beach vacations. We long to crash into the waves, feel the heat of the sun, and feel the sand between our toes. As much as I love the beach, including the sand, I cannot stand how the sand fills the bottom of our bags and spills out in the car and onto the hotel floors. I wish I could magically keep the sand at the beach and not all over our stuff!
What if I told you that there is a bag that keeps the sand out of your bag – and off all of your stuff in the bag.  I bet you already guessed that's what this post is about. 😉
This is a sponsored post.
I love genius products that are made to make our lives better, especially when we travel! CGear has a line of bags that keep the sand out – they are sand repellent, if that is such a thing. This is how it works:
It looks pretty amazing, doesn't it? I haven't made it to the beach yet but can't wait to try out the patented dual layer design that prevents all the sand from resurfacing in the bag. I trust them because I threw a few shovels in our bag and the sand fell through the bottom of the bag. Plus, when you set the bag down on the sand, the sand can't go up through the bottom of the bag either! I want to test it out on a larger scale this summer!
This Tote II Sand-Free Bag is perfect to trips to any beach, near or far! It is a sizeable bag that can carry everything you need for your family – towels, goggles, sunscreen, sand toys, etc.
Plus, it has a couple pockets to keep smaller items from getting lost like your hotel key and phone.
This classic summer beach tote is sturdy too with materials first designed for military use! We all know that we pack way too much in those bags, it is good to know this bag can hold up to everything your family shoves into it! Pick up your tote on Amazon.com before heading to the beach!
If a backpack is more your style, this CGEAR Sand-Free Backpack is a great option. A little smaller than the tote but easier to wear on your back, this backpack will keep the sand out while keeping up with all your outdoor adventures this summer.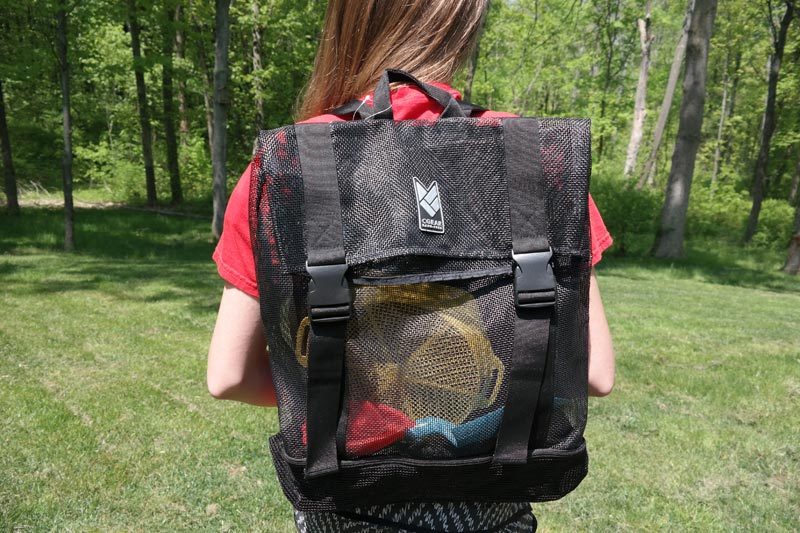 Beyond the beach, this would make a great day-trip hiking or camping bag as well. It features a see-through mesh body with fold-over top that secures with a buckle. There is an additional zippered compartment on the bottom.
CGear has a variety of sand free bags with each bag featuring their sand-free technology, which let's face it, is kinda like a magical bag because sand just gets everywhere with other bags! The bottom of each bag has the open-weave fabric layers that filters sand out with the second layer keeping it from resurfacing up into the bag. Plus, they are all durable and water-resistant.
Check out all CGear bags on Amazon.com to get ready for your summer beach vacations!