I've been cooking up a storm (as my grandma would say) this month, using my new PowerAirFryer Oven. There isn't anything this oven can't cook, bake, rotisserie, or dehydrate! Everything cooks evenly and quick using super-heated air and without the added calories of oil! I even prepare filet Mignon for date night in the PowerAirFryer Oven (pictured above and below)!
This is a sponsored post.
Essentially, Power AirFryer Oven is 7-in-1 Multi Cooker that can replace your deep fryer, rotisserie oven, dehydrator, oven, toaster oven, pizza grill and microwave!
I've been so excited about the added features of this PowerAirFyer Oven – the rotisserie and dehydrator! I love rotisserie meats but have never been able to make them at home. Now I can with one simple attachment. I made this Italian Roulade of Beef by placing the rotisserie shaft through the meat.
The rotisserie rotates all around while the super heated cyclonic air cooks 360° for an evenly cooked meal!  What a savory delicious meal! I can't believe how easy it was to make! You can also make rotisserie pork roast, turkey breast, ham, leg of lamb, pork tenderloin, cornish hens, and more.
The PowerAirFryer Oven also comes with kabob skewers to good steak, chicken, and shrimp kabobs year-round! We love shish kabobs but normally fire up the grill. Honestly, I wasn't sure if the skewers were necessary for this oven. I didn't' think it could make much difference in the taste and cooking. I actually cut up too many veggies and meat, so I used the skewers to make 8 kabobs for my family and cooked the rest in a skillet. The difference was night and day! The meat in the skillet was chewy while the shish kabobs were crispy on the outside and the perfect texture. In fact, my whole family exclaimed that it was the best meal I've ever made and we should have it every day! The skewers are here for keeps!!!
You can use the PowerAirFryer Oven's dehydrator function with fruits, vegetables and meats. It is easy to do and so healthy, plus it saves you a lot of money over purchasing at the store.  Dehydrated foods retain more vitamins, minerals, and enzymes than when you cook at full heat. In fact, some frutis that are dehydrated have 2X the amount of antioxandants than when they are eaten fresh.

I've never owned a dehydrator before and now I'm hooked! I've always known the benefits but didn't know how easy it could be. Above, I made sun-dried tomatoes with an over abundance of tomatoes! Dehydrating reduces waste – I'd rather dehydrate than let my garden's bounty go to waste!
Below is a batch of Kale Chips. In the store, they are quite expensive, the below bath is only $.90!
The PowerAirFryer Oven helps me keep my family's health at the forefront by making it easier for me to provide healthier food options for my family – with just 1 kitchen appliance!
If you like fried food but want to skip the fattening oil, the PowerAirFryer Oven is for you! You can make all of your favorite fried foods with up to 80% less calories!!! Plus, everything cooks up crisp and delicious – you won't miss the oil or calories!
I use the 3 Air Flow Racks the most often. You can use 1, 2, or 3 at a time. Either way, it uses 1700 watts of 360° Air Flow Technology to perfectly cook your food on every rack.
A typical chicken fingers recipe with the PowerAirFryer Oven is just 250 calories per serving compared to 780!
I make appetizers all the time – it allows me to keep them warm for my guests while not heating up my house with the big oven. Below are my sister-in-law's recipe for sausage-stuffed peppers.
It is easy to cook a few meatballs for a quick dinner too.
Of course, everyone uses air fryers for french fries! Why not?! A serving with the PowerAirFryer is only about 70 calories compared to 340 calories when cooked in oil!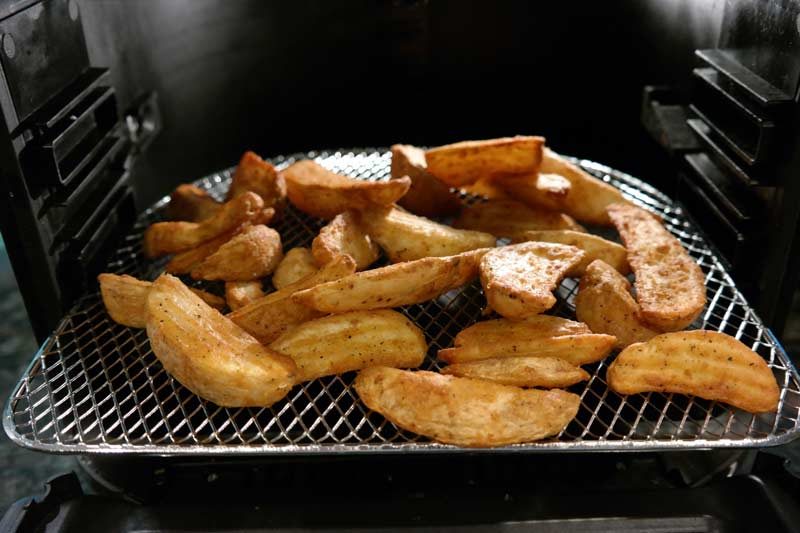 You can also use the AirFryer Basket to cook things like fries, chicken nuggets, and more.
I use my PowerAirFryer Oven daily for just about everything. It is so convenient and cooks everything so quickly and evenly – even baked potatoes. Nothing beats an oven-baked potato – get it quick with this oven.
I also use it as a way to quickly warm up or toast food like taco shells. It can easily replace a toaster oven and microwave!
Check out everything that comes with the PowerAirFryer Oven with my unboxing video:

Purchase your own PowerAirFryer Oven 7-in-1 Multi Cooker
online
. Choose from 6 or 8 quart versions in a variety of colors! You'll be cooking up a storm in no time too!