As we continue to re-floor our entire house, we finally escape the kids rooms (Elijah's and Elizabeth's) and dig down into the upstairs hallway, or, as I used to call it, the mismatch of dangerous carpet! The sad part is that we believe the previous owner specifically designed the carpets to be like this around each doorway to mimic (poorly) Frank Lloyd Wright's style.
We tore that old carpet out- it turns out that we had to uninstall carpet that was installed the absolute WRONG way.  The carpet was tacked down with hundreds of 8-penny nails- similar to what you might hold a picture frame on the wall with.  My son enjoyed helping us tackle this horrible mess. He loved using the hammer to pull out the gazillion nails! It took hours-but I digress.
Once we had the bare floor, we found the existing sub-floor to contain bumps and bows that that made it simply inadequate to lay Floor in-a-flash over.  This was a little disappointing considering the name 'flash', but, for an upstairs floor that was carpeted, this is no surprise.  It's a decent amount of effort to cut OSB to fit a tight hallway, and fit between all of the doorways and stairways.
Putting the OSB down can be done by hand, but, when you consider you will be using several hundred staples in our case, it was best to bring out the pneumatic stapler.  A big thank you, as always, to my father in law Bernie at Good Life Remodeling in Medina, OH.
Just when I felt we were done, guess what the pro brings out- a small box of finishing mortar.  This fast drying mortar was used to fill in the gaps between the boards put down.
Installing Tarkett Floor in-a-flash
Ok, to the Tarkett's Floor in-a-flash!  It turns out that the actual flooring part was the QUICKEST part of the installation- so, I can honestly say FLASH is a good word– it all depends on what you are starting with.
Floor in a Flash comes in smart little boxes and the flooring 'panels' are 8″ wide each.  Each box contains 21.5 square feet of flooring- so you will have to measure and decide how much you need.  With Floor in-a-flash, because you are not dealing with sheet vinyl, you CAN minimize the overage you need to just an 'extra 10%' over your measurement.
The dark wood grain pattern of the Oak Select Gunstock that we installed complemented our wall color very well.  You see in the below image a big #5 written on the box.  Our son Elijah helped with the numbering, bringing him into the project.  Why number?  Well, the instructions suggest that you number the boxes so that you can alternate the boxes that you use- thereby mixing up the variability in the colors of the panels.  With everything from Wallpaper to Flooring, its important to either mix it up or match it up.  In this case mix.
OK, so what exactly IS Floor in-a-flash?
Floor in a flash is a 8′ panel product with an adhesive back covered with a release liner.   The product is installed side by side in your area of choice.  As with any flooring, this will install best in a nice square or rectangular area.  However, because this is paneled, the installation in a hallway was much much easier than a sheet floor or carpet installation. Plus, because it is dare we say 'stick, peel, than stick harder', product, you do not have to deal with any pounding or sawing that you would see in a laminate floor.  Oh, almost forgot, the product cuts with a simple utility knife.
Obviously in a hallway, you have lots of cuts.  So, its important to have a nice straight edge.  My husband found that he cut tuck any overage down into the edge where the subfloor met the stairwell.  That was a bad move, the edges start bubbling up within a day of installation, so he had to go back and cut it so that there was no apparent slack.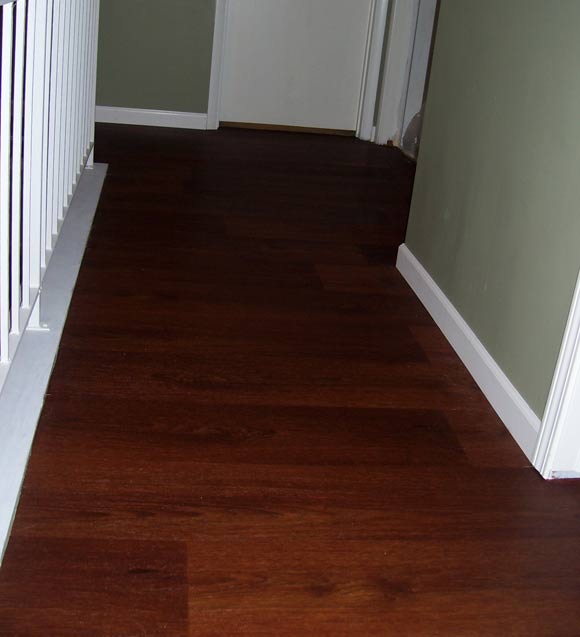 Recommendation
Overall, we were happy with the installation of this product.  We are occasionally pressing down bubbles in the edges between panels due to too much product installed, and some small white lines occur because of small variations between product heights (you see the underlying white vinyl)-  For this reason, we would recommend a lighter colored product with more color variation.
Thank you Tarkett for supplying Floor in-a-flash for our project.
This was not a paid post. My own opinions were used based on my perceptions and experience. Thank you to Tarkett who supplied the product for review and the ongoing relationship with AkronOhioMoms.com. Check out the great selection of products at http://www.tarkettna.com.