I don't know about your dog, but my dog loves Christmas! He can't wait to open presents under the tree and has been known to sneak a couple before Christmas morning. If we don't get him enough Christmas presents, he searches all Christmas morning for another one. Arnold is a little spoiled, so is our new puppy, Roxy. They were both able to check out the Target Holiday Dog Toy Gift Set.
Target Holiday Dog Toy Gift Set Review
You can already find the Holiday Dog Toy Gift Set at your local Target store. I found them on an end-cap by the pet supplies at our local Target.
I like that the set comes with a variety of different dog toys to entertain your dog – all at a low $9.99 price tag!  If you bought the same type of items individually, it would cost way more.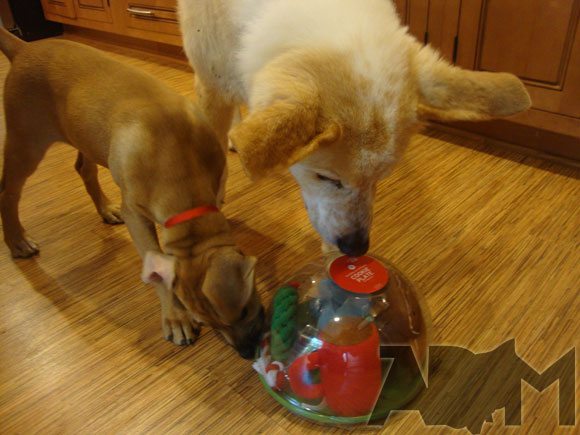 This also makes for a great hostess gift if you are visiting someone with a dog this Christmas season! What dog owner or dog wouldn't love this?
My dogs each got their favorites out of the bunch and guarded them!
There were 6 toys in all, so each dog found a couple favorites each. Arnold went straight for the red mug that has a loud squeak in it. He also liked the rope wreath.
Roxy went for the Gingerbread stuffed toy with the crackling sound inside and a red and white rope toy.
They had fun playing with and guarding their toys all day! For our aging 13 year old dog hasn't had much interest in life lately. It was really, really nice to see him enjoy his new toys! We hope he is still with us this Christmas.
After about the first day, they decided to share their new holiday dog toy gift set. They have been playing with them for a couple weeks now and they are all in good repair – amazingly with all the drama between the two dogs of who has what toy now!
Buy Target Holiday Dog Toy Gift Set
Visit your local store to buy your Target Holiday Dog Toy Gift Sets now for just $9.99 each.
This was not a paid post. My own opinions were used based on my perceptions and experience. Thank you to Target who provided the products for review.