I have exciting news for you! Entenmann's® and Little Bites® fall baked goods are in stores now! And even more exciting news, you have the chance to win a family vacation to Myrtle Beach!!!
The coupons for product redemption, information, and gift card have been provided by Entenmann's so that I could try the product and share my thoughts and information about Entenmann's. The opinions expressed in this post are my own and do not reflect the opinions of Entenmann's.
Fall in Love with Entenmann's Visit Myrtle Beach Giveaway
First, let's talk about the delicious Fall flavors that you are going to love by Entenmann's! Entenmann's has a whole line up of delicious treats for your family this season including Entenmann's Pumpkin Donuts and Pop'ems, Entenmann's Apple Cider Donuts and Little Bites Pumpkin muffins!
Nothing says Fall quite like apple cider. I whipped up a batch of my easy apple mull cider to enjoy alongside Entenmann's Apple Cider Donuts. Entenmann's does donuts right. They are always fresh, moist, and flavorful – and oh, so addicting!
The Apple Cide Donuts are rich in flavor, moist on the inside with a sweet glaze on top. They are perfect with a cup of coffee, cider, or a tall glass of cold milk for breakfast or even dessert.  Surprise your family with a box this weekend or for a special after-school snack during the week. They are also the perfect treat to serve when guests come over this Fall.
My family can't get enough Entenmann's Pop'ems, especially Pumpkin flavored Pop'ems!!  The serving size is just 4 Pop'ems but I don't know anyone with that much will power.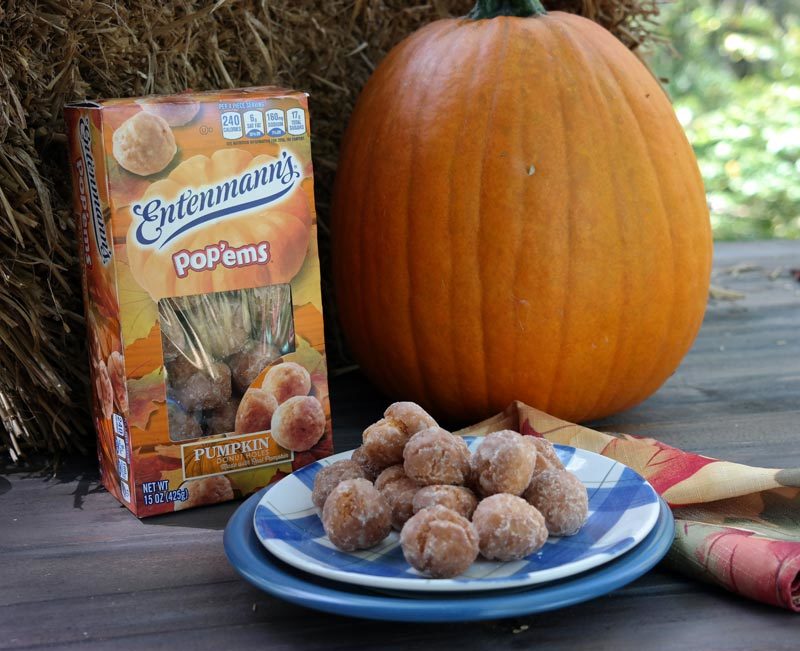 I love pumpkin flavored food during the Fall and these little donut holes are exactly what Fall calls for. They are small, tasty, and full of delicious pumpkin flavor with a soft inside and sweet glaze coating.  If you have younger kids, this is a great option for smaller tummies. It is also a great way to enjoy donuts with portion control too.
Your little pumpkin will love Little Bites Pumpkin Muffins!  When my kids were little, Little Bites were my go-to treat/snack. My kids are in middle school and high school and still love them. Perfectly portioned sized mini muffins are perfect for breakfast-to-go, packed in school lunch, and a great after school snack. I usually keep them for outings and packed in school lunches. I like how they are individually wrapped and portable.  No other muffin comes close to the sweet, soft baked mini muffins from Little Bites. You'll love the real pumpkin flavor too.
Entenmann's Visit Myrtle Beach Giveaway
Now for the really exciting news. You have the chance to enter to win a family vacation to Myrtle Beach!  From September 17 through October 12, 2019, you can enter to win the Entenmann's Visit Myrtle Beach Giveaway online. It is a quick and easy form entry for US residents ages 25+. One lucky winner will win a family vacation to Myrtle Beach valued at $3,425! The grand prize includes 3 nights, 4 days oceanfront hotel accommodations for the winner and up to 3 guests (1 adult, 2 minor) in Myrtle Beach, SC within the 2019 or 2020 calendar years. Some blackout dates apply. Also receive 4 roundtrip, coach class air transportation, 4 tickets to an area attraction, and a $100 dining credit. See giveaway details here.
My family loves Myrtle Beach for vacations as you can tell from all our Myrtle Beach family travel reviews. It is a very family-friendly beach destination.
We enjoy going as a family of four as well as the whole family! There is so much to do and see that everyone has an awesome vacation! Myrtle Beach, South Carolina has 60 miles of beautiful coastline for all your beach bumming fun.  We also love their warm Southern hospitality, fresh coastal cuisine, and our unique flavor of family fun.
I wish everyone the best of luck to win this family trip to Myrtle Beach. With your giveaway entry, you are also enting to win 1 of 8 daily giveaways of Entenmann's products, which is a pretty sweet prize as well.
Win $25 VISA and 3 coupons for Entenmann's Little Bites
Head on over to Twitter for your chance to win a $25 virtual VISA gift card (online purchases only) and 3 coupons for $5 off Entenmann's Little Bites!
WIN $25 VISA Gift Card & 3 coupons for $5 off @Entenmanns Little Bites!

Follow, RT & Reply with @akronohiomoms
#Entenmanns #FallinLove by 10-4-19 #Sponsored T&Cs https://t.co/B5M7ZpyCEY pic.twitter.com/QeSjvgatL8

— AkronOhioMoms.com (@akronohiomoms) September 28, 2019