Warmer months are ahead (I promise!) and with that comes more fun outside and traveling! I can't wait to get outside with my family. I want to go camping, hiking, garden, build a tree-house as well as take plenty road trips and a vacation.  With the super long, cold Winter that we've had in Ohio, we are all itching to get outside!  I've collected a few key family essentials that you'll want to order now to get outside this Spring and Summer for adventures near or far!
This is a sponsored post.
Just Say No to Ticks
We all know the dangers of ticks and Lyme Disease in Ohio, so being prepared is crucial for every family.
As much as I love the outdoors, it just takes a few mosquitoes or ticks to ruin all of the fun! I've been using the BugBand brand of products for a number of years (read my reviews here) and love the results. It is a naturally derived product so I feel good about letting my kids use the product.  They have products for every situation including BugBand Wristbands, Pump Spray, Towelettes, Bead Bags, and Portable Diffusers.
This will be the first season for me to try the BugBand Tick Plus Insect Repellent spray lotion.
I love that this tick spray can be used on people (ages 3+) AND my dog too! Don't let the ticks scare you away from being outside – I know many moms that are so afraid of ticks that they are paranoid about their kids going to any park or in the woods for fear of ticks – it's never to live in fear, just be prepared! Simply spray the fine mist of Tick Plus on your skin and/or clothes, the Geraniolvapors form a protective barrier to deter the ticks from you, your kids, and pets. It's that simple.
You can purchase the majority of BugBand products on Amazon.com but as of yet, you can only get the Tick Plus on their website for about $20.
Be Ready for Cuts and Scrapes
With more time exploring outside, cuts, scrapes, and burns are going to happen. Be prepared with a natural product that is 5X more effective at killing bacteria than any other antibiotic ointment with CUROXEN First Aid Ointment.
We started using CUROXEN last year and I've been very pleased with the results. I especially like that there are no artificial antibiotics or chemicals in this product. This natural product is made with organic olive oil, calendula and lavender essential oil to kill bacteria and treat your summertime minor wounds. You can purchase CUROXEN on Amazon.com for about $12.
Be Prepared for Fires
Not having the right tools can be dangerous, especially if a fire is involved!  Fires can happen everywhere. I'm sure you have a fire extinguisher at home but what about while camping or boating or in the car?  Keeping a Mini Firefighter fire extinguishing aerosol with you while traveling, camping, and boating this season could save your life!
This Mini Firefighter is a simple tool to keep on hand with you for just-in-case. It is a non-toxic, non-irritant, biodegradable formula hat forms a stable, heat resistant seal that suffocates fires. If you have to use it, clean-up is easy too. I'd say this is essential to have with you if you are camping and boating for sure and a good idea to keep in the car for any road trip. It fights 4 kinds of fires – wood, gasoline, electrical, and oils & fats (cooking).
You can buy the Mini Firefighter on Amazon.com for about $20.
Traveling with Baby
Traveling with a baby makes everything 10X more challenging. It doesn't have to be impossible though with a few innovative products.
Portable High Chair
My baby nephew is such a doll baby and I love spending time with him. He does require a lot of work and a little planning though.  We love the ciao! baby The Portable High Chair because it is super easy to transport, gives baby a place to eat, snack, and rest, and is easy to unfold and fold.
ciao! baby is just like a portable lawn/camping chair that you already have for yourself. It folds up and stores away in a bag like adult portable chairs. The main difference is that this portable chair is made for babies/toddlers up to 3 years old. It comes with a 5 point safety harness to keep your little one secure and safe.  The clear vinyl tray is perfect for baby to eat, snack, or simply relax and play. The tray area is easy to wipe clean. Plus, there is a drink holder that easily holds sippy cups.
And it is so relaxing….although not meant for a sleeping baby!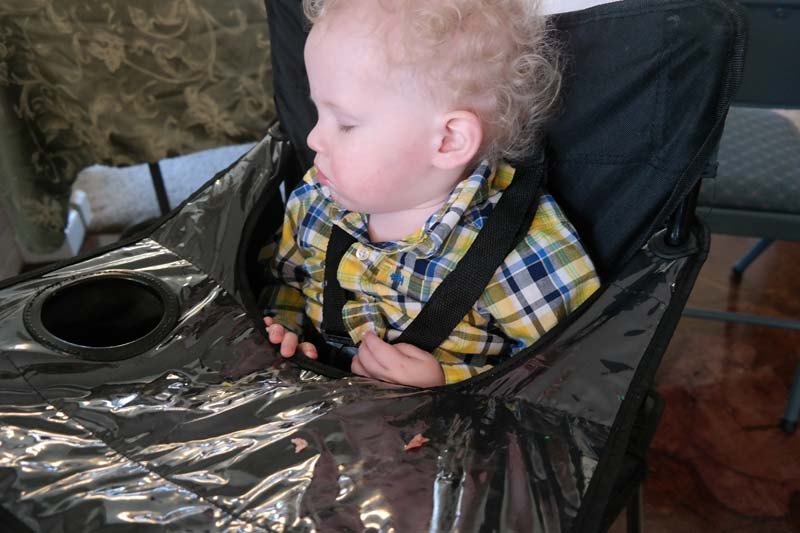 I like that the ciao! baby portable high chair is easy to keep with you in the car so that baby has a safe and comfortable place to eat and sit while at a friend's house, at a BBQ, camping, and traveling.
You can purchase the ciao! bay The Portable High Chair on Amazon.com for about $60.
Clean and Safe Changing Station
Changing diapers is inevitable with baby; it can be a challenge while traveling though! Beanko is a simple change, stow & go solution for diaper changing on-the-go. This mobile changing station is a must-have for any road-trip, vacation, and camping trip this season.  You'll never have to search for a safe and clean place to change your baby again – you'll want to keep this in your car year-round.
Beanko maximizes the space in a car bucket seat to keep your baby flat during a diaper change. The borders keep baby's head safe while the tablet viewer and toy loops keep baby entertained. There are spots to keep all your essentials organized too with a built-in baby wipe holder and pocket for 8 diapers. They thought of everything! You can even use the detachable changing pad as a tummy-time mat (once cleaned).
You can purchase Beanko on Amazon.com for about $100.
Now, get outside and start having fun in the sun…as soon as the sun decides to come out and thaw Ohio this Spring!