Safety is #1 for moms when it comes to deciding what car to transport their families in. When looking for a new car, this is my top priority. How safe is the Ford Explorer for families? Very.
We drove the Ford Explorer down to the Outer Banks in NC for our media review. I felt so safe in this car and here are a few reasons why.
Ford Inflatable Rear Safety Belts
Ford has invented the first in the world's first  Inflatable Rear Safety Belts, available in the Ford Explorer and other models. When inflated, the amazing belt helps distribute crash force energy across more of the occupant's torso than a traditional belt. What this means is that it helps reduce the risk of injury while supporting your head and neck. And, yes, the Inflatable Rear Safety Belts are compatible with child safety seats.
As a mom, I have debated about when to allow my kids to transfer from the car seat to the booster seat. By law, my 4 year old can ride in a booster, but or added protection, I've kept her in the car seat. If I owned the Ford Explorer, I would feel safer allowing her to ride with the added protection the inflatable belts give. For our trip to the Outer Banks, she was free to ride in a booster – and loved it!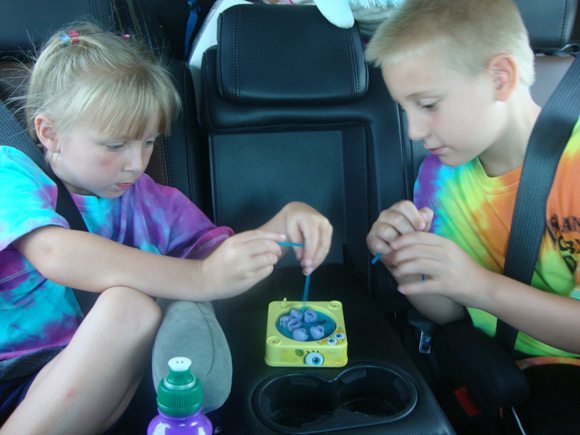 Video of Ford Explorer Inflatable Rear Safety Belts
Collision Warning with Brake Support
I would like to say that we never used the Collision Warning with Brake Support during our trip to OBX, however we did, more than once. The Collision Warning with Brake Support on the Ford Explore basically warns you like a "back seat" driver would of an impeding crash. Flashes of right lights appear on your windshield at the bottom of the driver's windshild, with an urgent beeping, and brake assist sensitivity activates. The Ford Explorer actually helps you avoid a crash by alerting you and providing you with full responsiveness when you brake. I'm sure you have had near misses when drivers in front of you stop suddenly too, you'll love this feature on the Ford Explorer.
Ford Explorer AdvanceTrac with RSC
We can all use the Ford Explorer AdvanceTrac® with RSC® feature, no matter where we live. It is the industry's only electronic stability control system that uses two gyroscopic sensors. This feature actually helps you keep control of your vehicle by detecting slippage of your wheels, when you are over or under-steering, or in a roll motion. It is one of those features that you may not know is there but glad that it is working behind the scenes to keep your family safe.
Blind Spot Information System and Rear Camera
This is one safety feature that I became quickly use to. The Blind Spot Information System monitors your blind spots with rear cameras. When a car passes you on either side of your car, lights will light on on the corresponding exterior mirror. I liked not having to take my eye off the road to check my blind spot while changing lanes. It's so much safer. Plus, it works if a car crosses your path while backing up too. I will really miss the rear camera. The rear camera is excellent for backing up into a street, in a parking lot, etc. This is especially useful for families with young kids running around or bikes left in the driveway.
This was not a paid post. My own opinions were used based on my perceptions and experience. Thank you to Ford Media Fleet who provided the car for review.