High-quality knives make all the difference in the kitchen while preparing foods and for safety reasons. Without quality knives, it is difficult to prepare all the recipes your family loves. Knives are the one thing you can't skimp on in the kitchen – skip all the gadgets and invest in a knife set that will stand the test of time and help you safely and quickly prepare meals for your family. This imarku 16-Piece Japanese Knife Block Set is a must-have for all home chefs & foodies!
This is a sponsored review.
I cook a lot for my family as well as for brands I promote on AkronOhioMoms.com and for Acme Fresh Market. I was recently approached by imarku based on all the recipes I post on social media. I guess they noticed that I have some good cutting skills! You can check out my cutting skills on many Acme youtube videos – where you'll also find plenty of in-use chopping actions with imarku knifes in the future!

I was excited to receive the imarku 16-Piece Japanese Knife Block Set to review! This is an impressive set with:
8" chef knife
7" santoku knife
8" bread knife
Six 5" steak knife
8″ utility knife
5.5" kitchen scissors
3.5" paring knife
8" kitchen knife sharpening steel
5" slicing knife
6" chef knife
knife block
Out of the box, the first thing I noticed is how gorgeous the knives and the block are sitting on my counter! They all have ergonomic rosewood and pakkawood handles, and are feel very well-balanced in my hand. I love the look and feel of these imarku knives!!!! The rosewood is amazing against corrosion from heat, cold and wet effects. The double rivits are embedded in the handles for reinforcement to make the knives more durable as well as stylish.
Second, and most important, the most impressive part of this imarku knife block set is how sharp the knives are! Wow! VERY sharp. The blades are made from superior high-carbon stainless steel for stability and control – you'll never have rust, stains, or pitting!  They cut through everything with ease! With a sharp knife, you can cut and peel any food with ease – this is actually a lot safer than using a dull knife that can lead to accidents.  With a sharp knife, you have more control and can make more precise cuts – with a dull knife, you have to add force to stabbing to cut through food which can quickly lead to cuts and accidents!
An item all of us use is the steak knife. If you want to spend more time enjoying the prepared meat on your plate than hacking and shredding it, you need good steak knives! This imarku set comes with 6 5″ steak knives that cuts right through steak and other meat – making you look more civilized – a skill that should be taught with guidance to older children and teens before adulthood.

This knife set comes with a large 8" chef knife and 7" santoku knife that have quickly become my go-to knives for most of my chopping and cutting! Both are very good multi-purpose knives that can be applied to a number of kitchen cutting tasks, such as chopping, slicing, mincing, and dicing.
If you've never had a santoku knife, you might be interested to know that this knife is amazing for more refined and thiner slicing! It's slightly lighter in the hand and makes cutting meat, slicing cheese, mincing meat and herbs, and creating very fine slices very easy.
That being said, I love this chef's knife! It's my go-to for many recipes but especially those that require a rocking motion while cutting – like dicing vegetables finely!

This kit also comes with a smaller 6" chef knife that I find easier to use for smaller amounts of chopping – for instance, I would use this smaller knife if I only need to chop 1/2 onion compared to using the larger for a whole, large onion. It just gives more control over the chopping action to the use of the product.
The 8″ utility knife is also really useful in chopping smaller foods and vegetables, like shallots.  When you need more precision, this is the knife for you!
This imarku 8" bread knife is essential for every kitchen. Never smush or mangle your bread again. This knife saws through even tough crusted bread without compressing the soft tender bread inside. Literally, you need this to cut anything with a hard edge and a softer interior – to do it safely, professionally, and without smashing the food.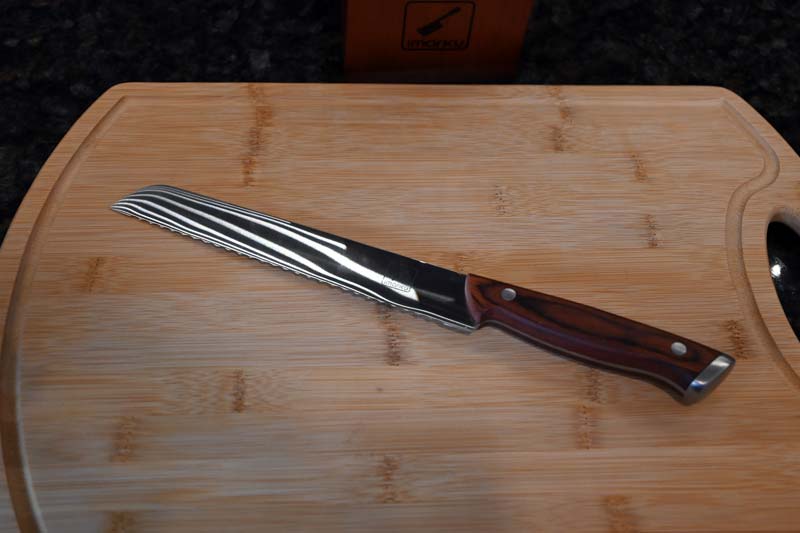 This impressive knife set comes with a 5" slicing knife and 3.5" paring knife too. This set is a dream-come-true for any home chef. They didn't miss any knife! With all the options, you'll be able to really perfect all your recipes as well as prepare foods faster – and safer.
This slicing knife features a scalloped edge and a longer blade compared to a paring knife. It's excellent for slicing fruits and vegetables. It has a little more flexible blade that is good to cut thinner slices of meat like roasts as well as thin slices of fruits and vegetables too.
I love this paring knife too! It's my 2nd most used knife with my chef knife my #1. I use this little knife for removing peels for all fruits and vegetables as well as deveining shrimp, deseeding produces, slicing cheese, and mincing small amounts of vegetables and herbs (especially thyme!).
Another often-used tool from this set that I use often is the 5.5" kitchen scissors! Everyone kitchen needs good kitchen scissors! They are perfect for snipping herbs, breaking down poultry, cutting bacon, cutting through shrimp shells, removing stems, and so much more. Just make sure your husband or kids don't run off with them for other projects! 🙂

There is nothing more dangerous in the kitchen than a dull knife. More accidents happen in the kitchen with a dull knife than a sharp knife. And if you do cut yourself with a knife, cuts from sharper knives can actually heal faster than those from dull knives.
These knives are super sharp right out of the box. How often your sharpen your knives really depends on how much you use them. However, this knife set comes with a 8" kitchen knife sharpening steel. You should use this to hone your knives after every 2-4 uses. Get your kitchen knives professionally sharpened around 1-2 X a year or you can use a diamond stone or a whetstone, or water stone to sharpen at home. Follow up with a honing steel to align the knife.
I am very pleased with the professional quality of this imarku 16-Piece Japanese Knife Block Set.  They cut amazingly well, feel great in my hands, and look gorgeous on my kitchen counter. I always have the perfect knife for each application at my fingertips.

This imarku 16-Piece Japanese Knife Block Set makes a great gift this Christmas as well as Weddings, Birthdays, and house-warmings. For a limited time, order any knife, get one 50% off now through December 17, 2021. There is also an option to purchase with 4 interest-free installments.
Order your imarku 16-Piece Japanese Knife Block Set now!