If you are looking for dream gifts, look no further than Kohl's this Christmas season. Kohl's has fantastic gifts for the whole family from celebrity designers with fashion sense you know and love.  Kohl's is your one stop shopping destination for all the fashionistas on your Christmas list this year.
I received product to facilitate this review.
Vera Wang Dream Gifts
Femininity is back in style with the Simply Vera Vera collection. The bold style of Vera Wang paired with feminine lightweight chiffon delivers an elegant blouse for all your holiday gatherings this year with the Simply Vera Vera Wang Print Chiffon Tunic.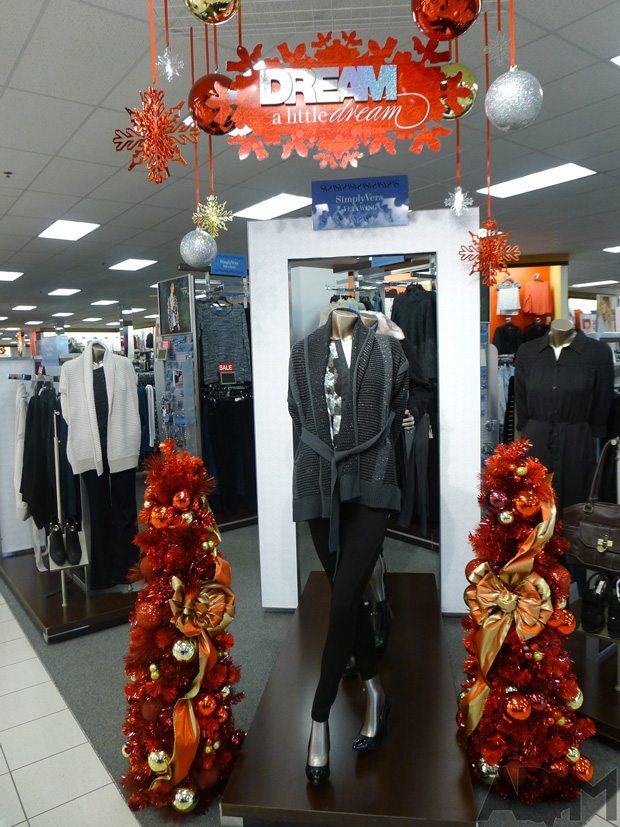 The Simply Vera Vera Wang Print Chiffon Tunic is beautiful with dress pants or a skirt, it even looks trendy under a sweater like the Simply Vera Vera Wang Lurex Textured Sweater with a pair of nice jeans (shown on mannequin above). I enjoyed wearing this blouse at the Stan Hywet Deck the Halls Christmas event, it is a classy look for such an event or any Christmas party.
This tunic is just one blouse from the Vera Vera collection that would make a fantastic gift this Christmas for yourself or a loved one.
Vera Wang offers a beautiful selection of holiday clothing in the Junior's department too under the brand Princess Vera Wang. The Princess Vera Wang Foil Peter Pan Collar Top is sheer with foils of detail for shimmering glitz this Christmas. Below are another two fearless, festive looks for the younger woman/teenager this holiday season.
Jennifer Lopez Dream Gifts
Add a touch of glamour and luxury to your wardrobe and Christmas wish list with the Jennifer Lopez collection. Get all the latest fashion trends with this collection from clothing to accessories to housewares. There are plenty of chic blouses, sweaters, jackets, slacks, skirts, and dresses with rich fabrics and textures to choose from for all Christmas and holiday parties in the clothing department.

Perfect for Christmas parties and New Year's Eve parties!
Christmas and holiday parties are the perfect time to add embellishments to your wardrobe like the studded Jennifer Lopez Veronica Stud Crossbody Handbag. This lightweight crossbody bag is the perfect little purse for all Christmas parties and holiday events. It is large enough to hold the essentials but small enough to be fashionable for parties.
Lauren Conrad Dream Gifts
Lauren Conrad gifts and fashion is all about style that is cute, cozy, festive, soft, and feminine.  Although cute, Lauren Conrad's style is modern and edgy – perfect for yourself or for gift giving this season.
My local Kohl's has a fun selection of sweaters as well as dressier clothing to choose from at great prices.
The Lauren Conrad Tulle Maxi is the perfect skirt for any Christmas or holiday event. The long (38″) tulle skirt is stylish and fun with accordion pleats. It is soft, feminine, and beautiful with a detailed gold lurex waistband for style and comfort.
Daisy Fuentes Dream Gifts
Daisy Fuentes line of clothing and accessories is all about classics. There are key items and styles that never go out of style. Her clothing is flattering for any shape or size while fashionable. Daisy Fuentes items tend to be some of my own go-to items all year round for relaxed, yet fashionable clothing.
This Daisy Fuentes Pleaated Front Blouse is perfect for any fashionista on your Christmas list. It is a feminine blouse that can be dressed up as much as you like or dressed down with a pair of leggings. It is a must-have item for everyone.
This Daisy Fuentes Jet-Tone Multistrand Necklace below is one I purchased this Summer, it goes with so many outfits!
Marc Anthony Dream Gifts
Marc Anthony offers stylish, modern fit clothing for men. His styles are bold and trendy from casual clothing to suits. Marc Anthony offers signature statement pieces to update any man's wardrobe to be more stylish than functional.
This Marc Anthony Paisley Tie is available in 4 colors and made of durable silk. The plum color is fun and stylish, changing the look of any suit or dress shirt. It is a tie for the modern man, whether in the office or at a holiday function.
Bobby Flay Dream Gifts
Bobby Flay offers dream gifts for the cook or grill master on your Christmas list this year. Entertaining and cooking is made fun with Bobby Flay cookware and serving gifts. Adding Bobby Flay to your kitchen and table adds both personality and fun. Bobby Flay colorful stoneware makes perfect gifts for friends, family, and especially for the hostess of any holiday party!
Have fun shopping at Kohl's this holiday season. Enjoy $15 Kohl's Cash rewards for a limited time when you purchase $50 or more!
Like Kohl's on Facebook
Follow Kohl's on Twitter
Tweet your finds using hashtag #KohlsDreamGifts
This was not a paid post. My own opinions were used based on my perceptions and experience. Thank you to Kohl's who provided the product for review.