We all talk about buying and supporting local businesses but Acme Fresh Market takes it to the next level! They have been supporting local for over 130 years (before it was the cool & trendy)! They carry hundreds of products from local businesses and farms and are committed to supporting even more. Earlier this year they gave a call out to all Ohio food entrepreneurs to enter their Buckeye's Best Contest – for a chance to win $5,000 AND get their product on the shelves of Acme Fresh Market. Yesterday, I had the chance to meet the winners at the reveal and taste-test their products. They picked amazing local food entrepreneurs that you all are going to love!
This is a sponsored post.
Acme Fresh Market's Buckeye's Best Contest Winners!
As you can see, the winners have innovative products that are going to be great additions to Acme's shelves. I really hope you will all add at least one to your shopping list this week to support this new food entrepreneurs! Out of the over 80 contest entries, Acme brought in the top 10 entries to interview and narrow down the winners.
Grand Prize Winner: 5-0 Buffalo Style Chicken Dip
The grand prize winner of $5,000 and a place on the shelves of all Acme Fresh Market locations is Brian, a retired Cleveland Police Officer who developed 5-0 Buffalo Style Chicken Dip. After making his famous buffalo style chicken dip for friends and family over the years, he was encouraged to market it to the public and I for one am so glad he did!  This dip is delicious – not too hot for a buffalo-style chicken dip! My son, who loves everything spicy loved it when he tried it last night too. So, it's a great balance of flavor for those that don't and those that do like spicy.
You can find 5-0 Buffalo-Style Chicken Dip in the Deli Department at all Acme Fresh Market locations, online, and on the Acme Fresh Market App. It is made with natural chicken breast and a blend of cheese and spices – so good, it should be illegal!
It may not be on an end-cap like this but it will be in the Deli Department near the prepared foods sides.
We've only enjoyed it as a dip with chips but it is also a great dip with vegetables! Plus, if you go to their website, they have recipes for appetizers, sandwiches, and more. They are even working with local restaurants to create new recipes. With the grand prize of $5,000, they reinvested it into the business and will be coming out with 2 new dips hopefully by this Winter including a Chicken Bacon Ranch and a Southwestern Dip – both sound amazing!
1st Place Winner: Ghana Supreme Sauce
From Ghana to Cleveland, Congratulations for creating Ghana Supreme Sauce – perfect for salads, marinade, and as a cocktail sauce with ingredients sourced from Cleveland.
You can find Ghana Supreme Sauce near marinades and BBQ. Some stores might have a display near the meat department as well.
If you want to switch things up in your kitchen and try something new, I highly recommend trying Ghana Supreme Sauce. My family loves to try new things – in fact, I've prepared many traditional African recipes over the years and we've enjoyed them.  This sauce makes it easy to try something new and don't be afraid of something new. It's a good thing. Plus, it is tomato based, so it already have a familiar flavor that you and your family will immediately recognize and enjoy. There are two levels, mild and medium.
Ghana Supreme Sauce is a recipe that has been given down through 6 generations and now we have the chance as Ohioans to enjoy it as well. This versatile sauce can add the spices from the coastline of Ghana to your family's favorite recipes. Use it as a marinade for meats or in a stir-fry! I tried it on a grilled boneless chicken thigh with jasmine rice and it was just perfect – not too spicy at all. Again, I'm more of a mild person and it was good for me. If you like it spicier, go for the medium. Not sure where to start? Check out their recipes online.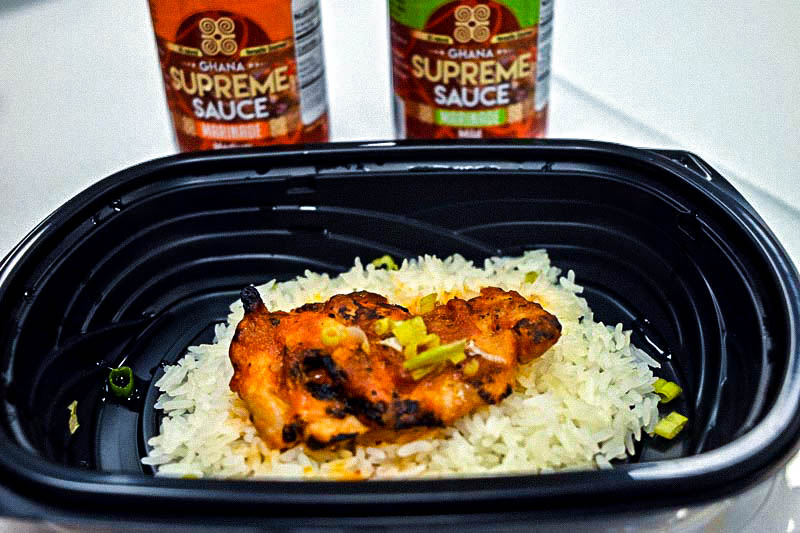 Purchase Ghana Supreme Sauce at your favorite Acme Fresh Market location, online or on the Acme app.
1st Place Winner: Health Junkie Elderberry Syrup
Need an immune boost? Congratulations to Health Junkie, created by a local Cleveland holistic health practitioner who created Health Junkie Elderberry Syrup out of a lack of finding a healthy, no-sugar added elderberry product for her family.
You can find this new product in 3 flavors in the Health & Beauty Department at Acme, near the supplements.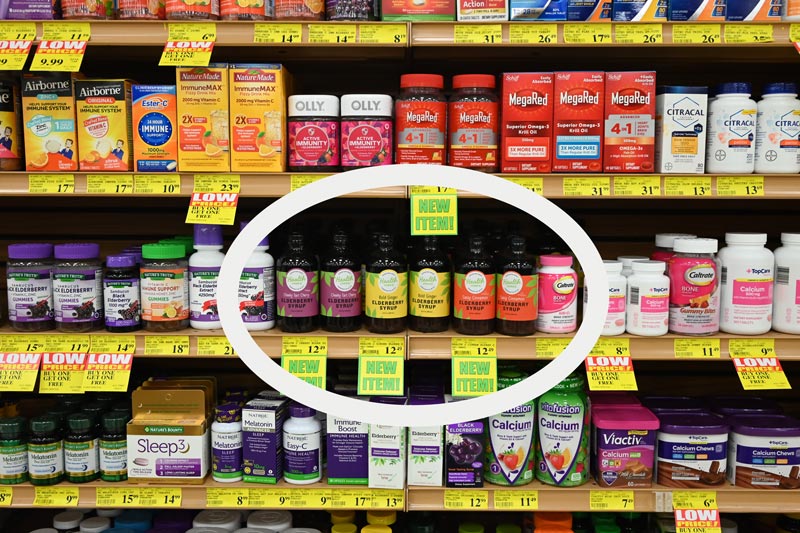 This product is safe for kids as young as 1 and good for all ages. The Cheeky Tart Cherry flavor is a good place to start since it is milder in flavor and everyone loves it. However, I've heard that the Sassy Cinnamon tastes like Christmas Morning so I'm ready to try that soon!  This product uses 100% clean ingredients, 50-90% less sugar and less than half the price of the big supplement brands.
This products delivers that extra immune system boost that we can all use right now. Take it once a day or several times a day when you feel like you need that extra boost for instance, when in a larger crowd, etc.
This Elderberry Syrup can be given directly from the bottle or in a recipe. Add it to your water, smoothie, and juice or even mixed into your oatmeal or yogurt. Health Junkie will be sharing recipe posts in the coming weeks on their Facebook page, so stay tuned for recipes! I was able to enjoy the Health Junkie Cheeky Tart Cherry Elderberry Syrup in a Balsamic Vinaigrette dressing yesterday with a delicious Mixed Greens salad. It was so flavorful.
You can purchase Health Junkie Elderberry Syrup at any Acme location, online, and on the Acme App.
Acme makes it easy to shop local every day with hundreds of local products on our shelves.  I loved meeting the creators for these 3 products, to see how much passion they have for their products, and to now be able to purchase their products at my Acme location. Learn more about each Buckeye's Best Winner with my one-on-one Facebook Live interview – my data wasn't working the best – but their stories are worth suffering through the choppy video. 😉