Most people are holding their toothbrush wrong which can lead to gum disease. Not all toothbrushes are built alike and this is especially true for the MD Brush, the first toothbrush with built-in 45° angle! We have all heard it countless times from our dentist and even the ADA that we need to brush our teeth at a 45° angle to prevent gum disease.  MD Brush is the only toothbrush that has an unusual handle that automatically puts your hand in the proper alignment. You just can't go wrong with it.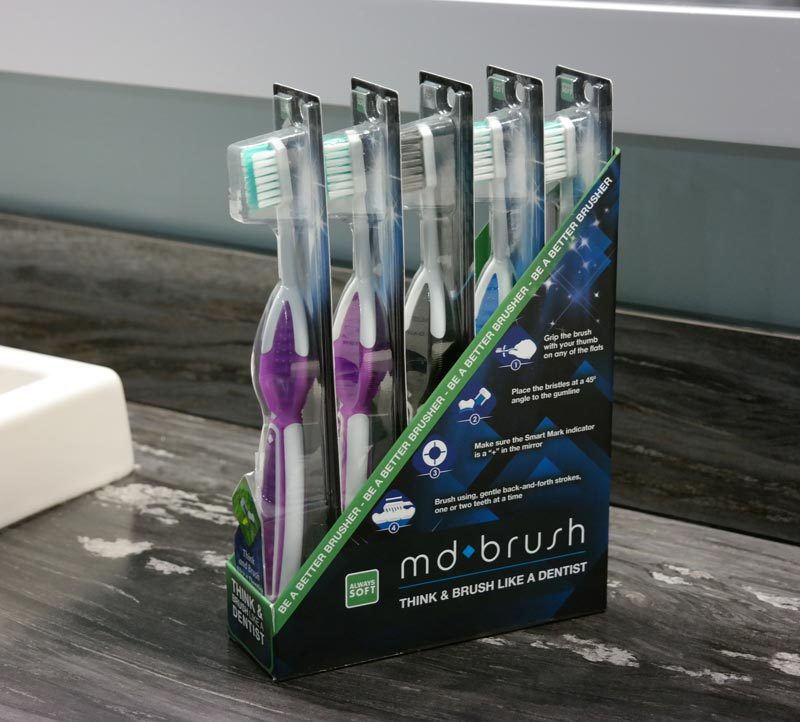 This is a sponsored post.
Gum Disease in USA
I talk about oral health on this blog often because it is so important to our overall health. Did you know that 75% of adults have gum disease??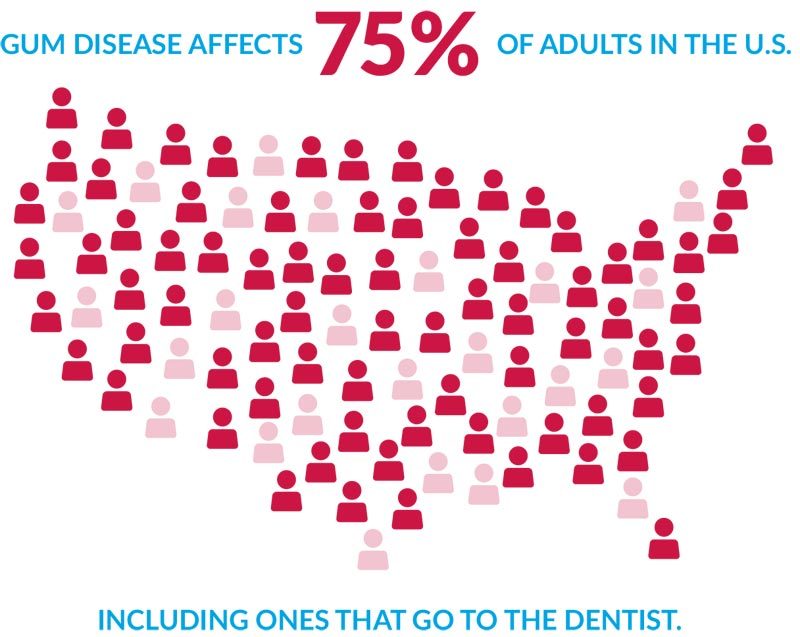 What's the big deal you may ask. Gum disease can lead to really serious health conditions including:
• Heart Disease
• Type 2 Diabetes
• Stroke
• Vascular Disease
• Low Birth Weight
• Osteoporosis
• Alzheimer's
• Pulmonary (lung) Infection
That's the big deal! The best way to fight gum disease is to prevent a bacterial plaque buildup around the gum line. To get to the gum line, you have to brush at a 45° angle. The problem is, nobody really knows how to do that. Their dental hygienist may reeducate you at every visit but the problem is other toothbrushes don't help you get that proper alignment.
MD Brush Review
MD Brush was developed by a dentist and dental hygienist to change the behavior of brushing so people can understand what brushing at 45° feels like so they can prevent gum disease. After several rounds of designs, they perfected the 45° toothbrush!
Everything about the MD Brush is designed to help you brush at a 45° angle every single time you brush. In fact, it would be difficult to brush incorrectly with this toothbrush! The handle has a large, comfortable spot for your thumb. When your thumb is on the handle, the brush is automatically at 45° when it hits your mouth.  There is also a visual indicator at the bottom of the brush.
You should see a cross in the mirror while you are brushes if it is held at the right angle.
Also, the bristles are designed to gently brush along your gum line when properly used, with shorter bristles on the edges and longer in the middle. (Full disclosure: I really don't like my teeth, I probably should get braces and professionally whitened and really don't like close-up pictures taken of them. However, this post isn't about Cindy's teeth, it's about good oral health, which I am passionate about for myself and family because of all the health issues that relate to problematic teeth and oral health.) I believe MD Brush is a solution to a huge oral health problem in America when it comes to gum disease.
Quick video on how to use MD Brush:
That video should help you understand more about the design and how to use the MD Brush, it helped me. You wouldn't think that you'd need such a video but you probably also haven't been brushing at the recommended 45° angle either. I know I haven't! I've used a variety of toothbrushes over the years, including expensive sonic toothbrushes. No other toothbrush has aided me in brushing at the right angle. In fact, after using MD Brush, I know that I haven't been brushing at the ADA recommended 45° my whole life.
Now that I've used MD Brush I now know how it feels to properly brush. This is ironic because that is exactly what the founders of MD Brush say on their website! Davidson states, "thing about brushing is that, if you do it right, it feels a certain way. It feels like a golf swing or a perfect tennis shot down the side — it feels a certain way. And that's what this brush is designed to do. It's designed to show you what good brushing feels like." 
I really like the design of this toothbrush. The handle holds my hand and thumb in the right position no matter which area of my mouth I'm working on. The indicator is a great second way to check position. I really like the bristles and how they feel, especially along the gum line. I can really tell the difference in proper brushing since I started using MD Brush. I know that it will help me, especially since I've had some receding gum line recently. Knowing that I'm getting my gum line at the proper angle should help me to brush properly there and not overbrush.
If you want to try this revolutionary toothbrush and starting thinking and brushing like a dentist, purchase everyone in your family a MD Brush on Amazon.com today. Stuff one in your kids' Easter Basket too!