Are you or your girl an outdoor girl? Finding gear that still shows your feminine and fashionable side has been nearly impossible when we've looked. I found a women-owned business called Kinsey Rhea that offers stylish outdoor gear for the outdoor enthusiast or hunter that still wants to look good.
This is a sponsored post.
Kinsey Rhea gear is fashion-forward yet still made with durable materials that will hold up to any other tactical gear on the market. Women and girls alike will enjoy their oh-so-fun designs that allow them to show their style and confidence no matter what.
We were able to review their Muddy Girl Pink Purple Camo Backpack and love it!
This bag is perfect for any outdoor adventure, hunting, sleepovers, camping, travel, or even as a school backpack. It has a large front packet to reach the items you need most and a large interior for everything else.
I love the design, colors, and attention to detail.  This durable bag is going to take my outdoors teen daughter many places for years to come, I can already tell. It is made really well but also so cute. I love the pink lining inside that makes it easier to find the items you want.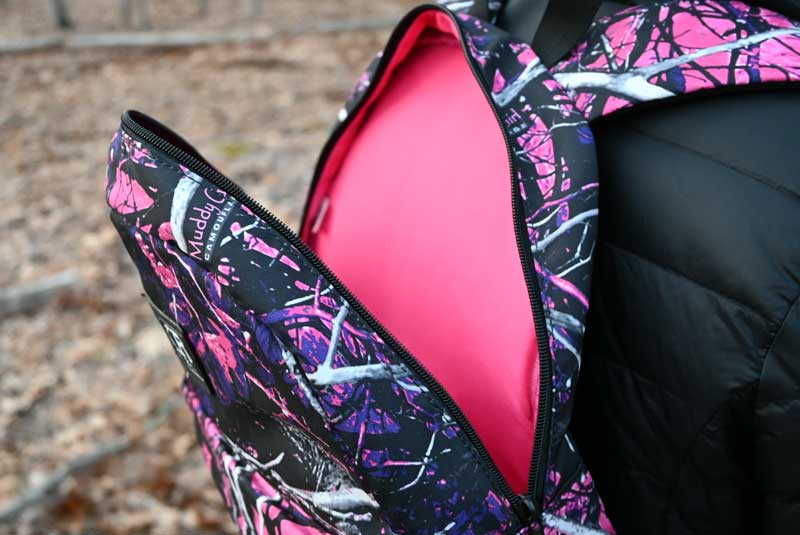 It is really comfortable to carry at school all day as well as in the woods with soft padding on the back and on the shoulder straps.
This will be a go-to bag in our house for sure. It is the perfect size for a day hike, quick overnighter, or bag for vacations.
They also offer a variety of other bags, belts, purses, tactical gear, and even concealed carry gear that allows you to rock your look no matter where you go.
Check out all their fashion-forward gear on the Kinsey Rhea website.