I'm sure that I am not the only mom with a wiggle worm in her house! In fact, I have 2 of them. Getting my girls to sit nicely at the table for dinner or to take a minute to sit to do homework can feel like a task in and of itself some days. Dun-da da! Senseez to the rescue! Senseez is a vibrating pillow that your child can hug, sit on, or lay on. The vibration has a calming and soothing touch, my oldest daughter, Grace, has in fact fell asleep on this pillow in the middle of the afternoon! She hasn't taken a nap since she was 3 years old!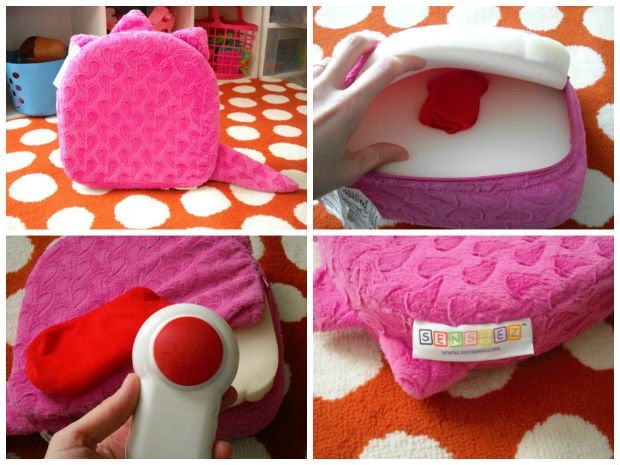 I received product to facilitate this post.
Senseez For Special Needs and Everyday Needs
Senseez pillows come in a variety of shapes and fabrics. There is something for everyone. Whether you have an active child or are doing your best to find a solution for your child with special needs like ADHD or autism, this pillow is a great way to help them focus and relax. Many children fall asleep on these pillows. The different textures and colors that you can choose from are awesome! Your child will love it feeling the soft fabric, each pillow has it's own texture and look.
Senseez is a great gift for the little wiggle worm in your family! They will love it as much if not more than any stuffed animal! If you have a child with special needs that this pillow helps, I encourage you to discuss with his or her teacher the possibility of your little one bringing their Senseez pillow to class. Senseez doesn't just have plush pillows, they have pillows with a vinyl cover for easy cleaning. All of the plush covers can be unzipped and easily cleaned as well.
You can purchase Senseez vinyl pillows for $39.99 and Senseez plush pillows for $44.99 at www.senseez.com and on Amazon.
This is not a paid post. All opinions and views are my own. Thank you Senseez for providing the product for this review.