On the search for flattering, effortless fashion this season?
This is a sponsored post.
Look no further than Sympli for comfortable fashion that will take you from day to evening with endless mix and match combinations.  Here, I'm modeling one of their Likity Split Tops, available in an number of color combinations and materials.  The layered a-line style is flattering for every size and body type.
I like the flow and feel of this Polyester Spandex blend! It is perfect for pairing with jeans, a skirt, or dress pants. The drape neck with drawstring reveals the oatmeal layer underneath and adds a visual, playful interest to the top.
This top can take me from work to evening and everything in between. The styles are comfortable, yet stylish. I love the attention to detail and fashionable elements like the back on this top that reveals the layer underneath.  This is my new favorite top!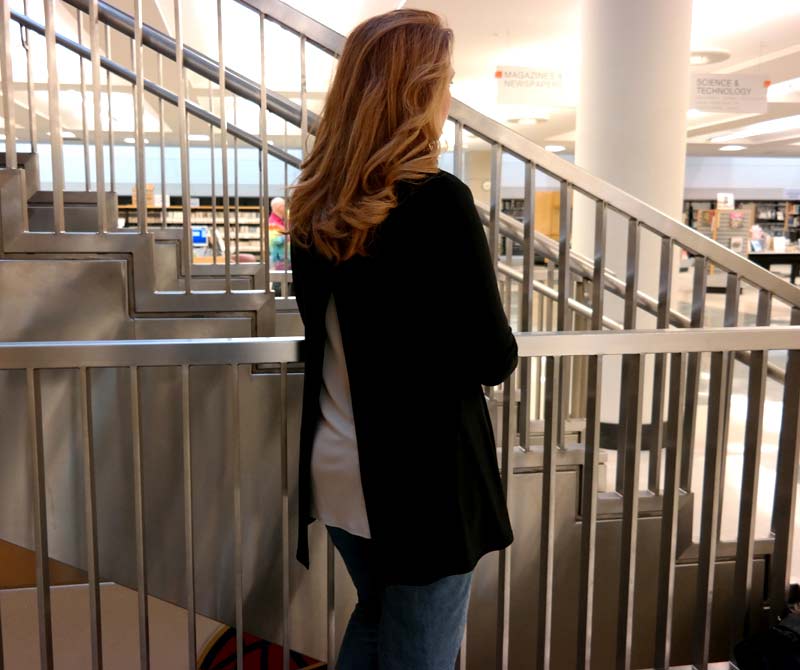 Purchase this Likity Split in black and oatmeal color as well as other color combinations on Amazon.com.
I also enjoy this purple/eggplant color Likity Split waffle knit sweater as well. It continues with the a-line style with drape neck and drawstring but with an entirely different look.
The waffle knit sweater's outer layer is produced with 49% viscose, 49% polyester, 2% spandex and the jersey layer underneath 94% polyester, 6% spandex. This sweater is generous in size for a very flowing style. I would probably order a size smaller the next time but still love this sweater for both casual and dress options.
The back reveals the under layer and adds more style to this top.
I love how easy it is to mix and match with the  Eco Stitch collection. I like the contrast stitching and how this collection gently shapes to the body.  This collection includes a vest, dress, long jacket, and the below jacket.
I wear this jacket with everything and it really dresses up anything I wear. It is a versatile piece for every wardrobe.  Below I'm wearing the echo stitch jacket with the echo stitch pants.
The echo stitch collection is incredible soft and comfortable, you'll want to wear it every day, all day. It is a flattering fit and fashion-forward style.
Below, you can see a variety of ways to wear the jacket and pants.
What makes Sympli clothing unique is their attention to a flattering fit whether you are a size 2 or 2G. Their clothes fit a diverse number of figures and body types because of the quality materials used and how they size their clothing.  Sympli doesn't just scale the sizes up and down, they shape their styles for each size to guarantee a perfect fit for every size.
Their fashion-forward styles look gorgeous across all body types and ages. Check out a few other styes that are perfect for this winter season.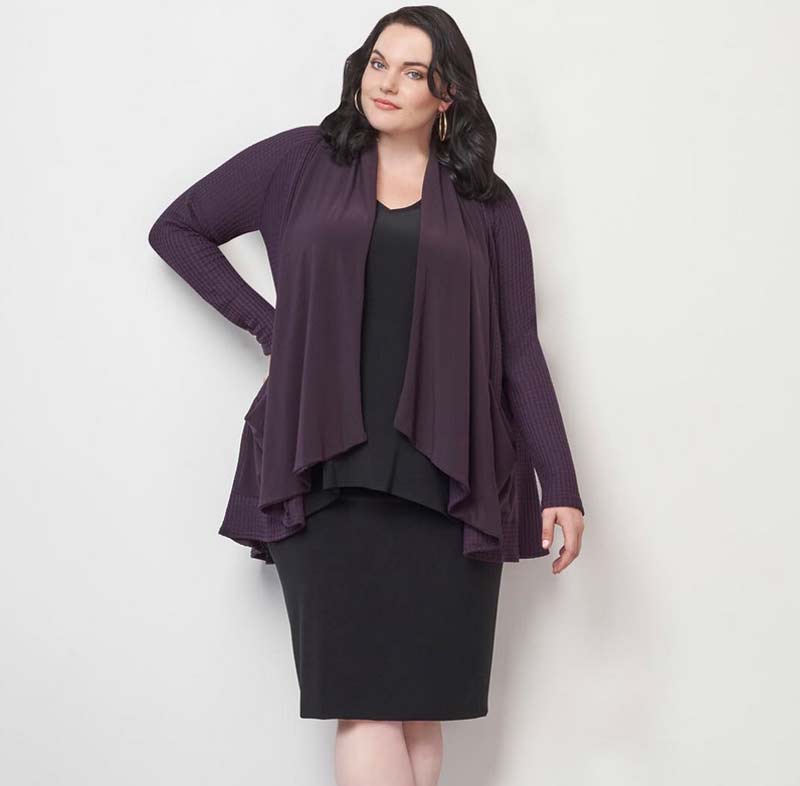 Another thing that I love about Sympli is that Sympli works with a Home Sewing network that produces about 85% of their garments. The Home Sewing network is made up of entrepreneurs who produce quality work at home, working on their own schedule while they work from home while caring for their families.
Find your new favorite outfit on the Sympli website, at select retailers, and on their Amazon.com store.