Nothing motivates me to get more organized than super fun prints and bags! I love the brand new July Sweet Sprinkles Collection from Thirty-One. July is National Ice Cream month, which makes it the perfect time to get organized with their new ice cream print and embroidery icons.
I received product to facilitate this post.
Today is National Ice Cream Day. I can't think of a better way to celebrate than with ice cream sundaes! The Thirty-One Ice Cream line makes it fun to get all your toppings together to share an ice cream treat with your family and friends.
I love the Double Duty Caddy in the new Sweet Sprinkles ice cream theme. It certainly brights up any day! I used mine here to load up all of our ice cream sundae treats including a variety of syrups, whipped cream, spoons, napkins, and the new Scoop Bowl Set. Thirty-One makes it so easy and fun to keep everything in its place and organized. This caddy is also great for keeping on the counter for mail and coupons, for crafting items, and in the car. You can keep it in the bathroom for toiletries. I like to keep a caddy in the guest bedroom with essentials that guests may have forgotten like toothbrushes, hair spray, toothpaste, etc.
I like that I can carry this caddy to the patio to enjoy a sweet treat with my family. If I get another set of bowls, I'll could use this caddy to share with our neighbors to take to a party.
This Scoop Bowl Set is a July Monthly Special, so make sure you place your order with your consultant right away in order to purchase these colorful bowls. They make an excellent gift too!

There are countless uses for this caddy. How about a S'mores caddy?! Load it up with all the essentials including crackers, chocolate, and marshmallows to take to the bonfire – whether in your backyard or camping!
There is plenty of room for more than food – like bug spray, lighter, flashlights, wipes, and other must-have camp-fire items.
The Double Duty Caddy and Get the Scoop Bowl Set are July 2017 Customer Specials. When you purchase $35 or more, get the caddy for only $10 or the bowl set for only $15. Or purchase as a standalone order at regular price.
When I think of Thirty-One, I instantly think of their Large Utility Totes. These amazing totes are sturdy and have endless usage possibilities. Whether you keep it at home for organizing, in your car for on-the-go essentials, for groceries, for camping supplies, sporting equipment hauling, or to the pool, you'll love how much these totes can hold and how organized they make you.
Nothing says summer fun like this limited time Sweet Sprinkles Large Utility Tote! As you can see, the inside is huge – (11.75″Hx21.5″Lx10″D) and there are several pockets to keep smaller items within reach.
I use my Large Utility Tote all the time in the summer. Below, I'm back for a day at the pool or beach. I normally stuff even more in this tote but for photo purposes, I wanted to show you how it can hold towels, snacks, toys, drinks, and other summertime essentials.
I love how sturdy and durable this tote is to easily carry many items with ease.
Another limited time Sweet Sprinkles collection item is their Oh-Snap Bin.  What  fun way to stay organized! This fun bin is an easy way to keep smaller items and supplies at hand at home, while traveling or camping, for crafts, and more.
There are snaps on the side that allows you to snap to multiple bins for form a row or circle. You can snap it to another bag or hand from a towel rod. This adorable bin can sit out on your kitchen counter to hold supplies or used in your kid's room or bathroom for organizing smaller items.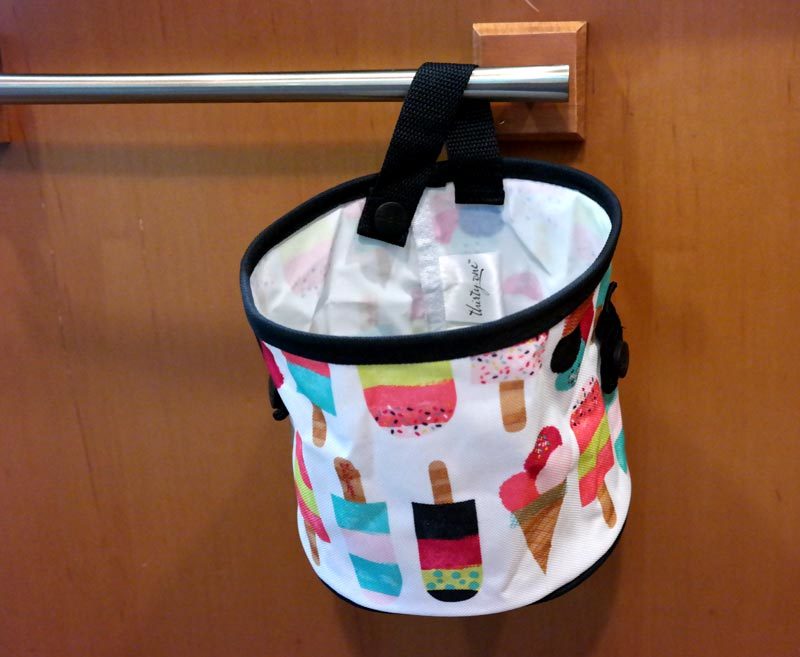 It also makes an adorable gift 'bag' for gift-giving this season.  What a fun way to receive a birthday gift or hostess gift this summer! The Oh-Snap Bin is a July 2017 Customer Special for only $5.
As with all Thirty-One Gifts, you can personalize these totes and bags for even more fun. Another July-only special are two Icon-Its of an ice cream cone or Popsicle. There are just so many fun ways to celebrate summer and national ice cream month with Thirty-One. I just love this limited-time print, don't you?
You can start your order now on the Thirty-One website whether you have a consultant already or not. Find out more about becoming a consultant or hosting your own Thirty-One party.
Check out more new Summer prints including the Going My Way Backpack and my New Day Tote below in this Thirty-One review post.
Also, enter to win one of those bags in that post and below:
a Rafflecopter giveaway

This promotion is in no way sponsored, endorsed or administered by, or associated with, Facebook. In order to comply with the latest Facebook Promotion Guidelines (revised 5/11/11), the following statements are true: