While traveling, I try to pack items that I can wear with anything and for any adventure. I absolutely love my Vionic Adjustable Sandals! They provide all-day comfort no matter what I'm doing – climbing sand dunes in Death Valley, biking near the ocean, walking all day at the zoo, or running errands around town!
This is a sponsored post.
Vionic Sandals for Summer Adventures
I still wear my Vionic flip flops from 5 years ago as they are still in great condition and provide excellent support.
For our recent California trip, I wanted a sandal with a back strap for extra security while riding rides at amusement parks and hiking. I knew I'd be on my feet and wanted sandals that would stay on, so I chose the Vionic Amber Adjustable Sandal  from the new Lucky Shoes Vionic Store in Fairlawn, Ohio.
I love the support of these sandals, I wore them every day while on vacation and at home this summer. They provide great support for my feet with Orthaheel technology that hugs your arches and supports your feet. From the moment I put them on, my feet thanked me! I didn't have sore or tired feet while on vacation even once with these sandals.
I was climbing mountains and sand dunes in Death Valley, walking hours at Sea World and the San Diego Zoo, biking in Oceanside, and relaxing pool side at the ranch and in Vegas.
These sandals went well with every outfit from shorts to skirts to jeans.I love the 4 point of adjust-ability with these sandals, I could get the perfect fit easily. Plus, if my feet swelled during the day, I could loosen the sandals easily.
You owe yourself and your feet a good pair of comfortable, support sandals. Vionic offers an enormous collection of sandals of every style, there is a perfect pair (or two or three) for you this summer too! All Vionic products offer support with built-in Orthaheel technology.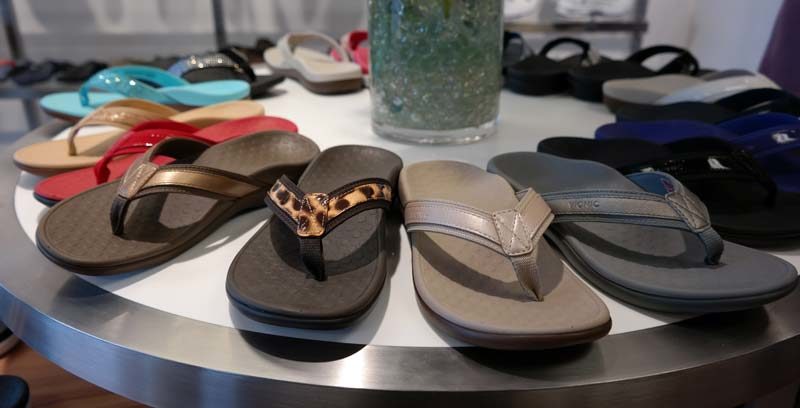 Vionic has a growing line of footwear for men too!
Check out all of my Vionic Reviews here. If you live in Ohio, it is worth a trip to the VIONIC store in Fairlawn, Ohio to pick out your favorite shoes in person. The sales associates are trained by Vionic to offer you the best shoe for your needs. If you don't live nearby, you can purchase Vionic shoes on the Vionic website and select styles in specialty stores.
VIONIC
Fairlawn Town Centre
2685 West Market Street
Fairlawn, OH 44333
Learn more about Vionic footwear on the Vionic website. Connect with the new Vionic Store on Facebook.