Do you know a child that not only wants to play with something, but wants to know how it works?  I love that intellectual curiosity!  Worx Toys Educational Interactive Vehicle is the perfect gift for the "how does it work?" kid in your life!  The Worx vehicle is not only fun to play with, but it teaches children about how parts of the vehicle work, and shows them where parts of the car are located.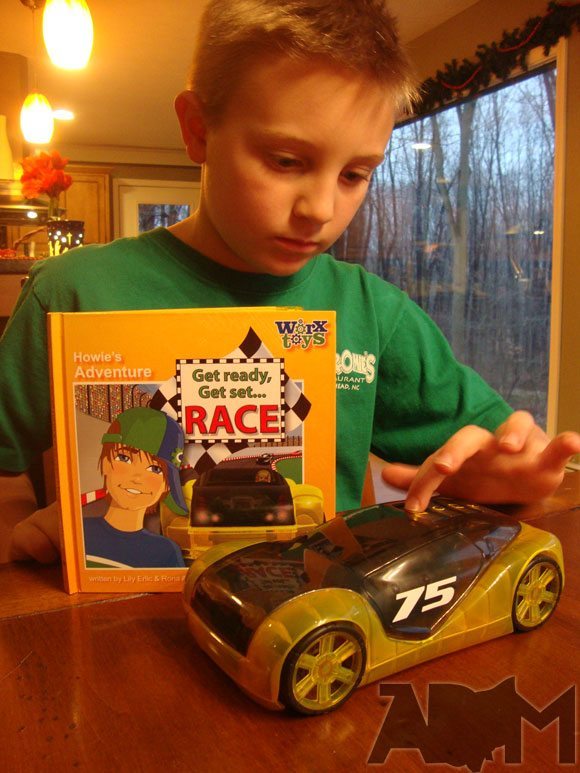 How Does the Worx  Educational Interactive Vehicle Work?
Each of the Worx Educational Interactive Vehicles comes complete with an interactive toy vehicle (race car, helicopter, fire truck, space shuttle, etc…) as well as a hardback storybook featuring the main character, Howie.  Howie is a young boy who dreams of being a master mechanic like his dad.  Howie shares his mechanic adventures with readers, including "Howie's Notes" that give specifics on how different parts of the vehicles work.
Pressing a certain pattern of buttons located on the top of the vehicle lights up that working part of the vehicle, so kids can see exactly where that part is located.  In our photos above and below, Elijah is learning about the suspension system on the Worx Educational Interactive Vehicle.  He enjoyed flipping from page to page to see the code sequence to put on his car.  He was excited every time it worked just like the book showed.
On this particular vehicle, the book explains in kid-friendly detail how the following systems work:
Engine
Timing Belt
Transmission
Cooling System
Exhaust
Brake System
Suspension
Steering Wheel
Instruments
Feed Your Child's Sense of Discovery with Worx Interactive Vehicles!
Kids like to know how things work.  Worx vehicles are such a great way to encourage that zest for discovering new things!  I love how the book is such a great reference point for kids too – it's a resource that they will look back at and study time and time again.  The fact that each part lights up on the car makes it extra cool, and ultimately, more educational for the child.  Sometimes seeing something, rather than just reading it, makes it "stick" in our brains that much more.  These toys are a wonderful mix of learning, and just plain fun!
Buy Worx Toys Educational Interactive Vehicle
You can buy Worx Toys Educational Interactive Vehicle on their website, online from retailers like Toys R Us, KMart, and Amazon.com.  You can also find local stores near you that carry Worx toys by entering your zip code here.
This was not a paid post. My own opinions were used based on my perceptions and experience. Thank you to Worx Toys who provided the product for review.