Music is going to be huge this Christmas, that is what I keep hearing. All the retailers are pushing it and my kids have asked for several musical instruments. I love it!  We have been able to check out the line of real musical instruments at Target this Christmas from B. JustB – BYou. B. is all about giving your child the gift of musical expression to B. creative, B. musical, B. heard, and B. you.
B. Woofer Kids Guitar Video Review

B. Woofer Kids Guitar Review
We were able to review the B Woofer. The B. Woofer is for kids ages 2-6 who love music.  Isn't it the most adorable kids guitar you've ever seen??  Your child will enjoy hours of playtime with the B. Woofer and its 3 modes of play: acoustic, electric, and hound dog. Yes, hound dog is a mode of music sure to delight kids with silly fun! With all of the modes of play, this is a toy that your child will play over and over as he learns more skills over the years.
My 5 year old daughter can't put the B. Woofer down and I don't mind because it really plays nice music.  It isn't annoying like some toy musical instruments.  When she uses the guitar strings, it actually plays a chord progression and sounds so lovely.
The guitar strings will also play pre-recorded songs to get everyone up and dancing – at least the kids anyway. This is Elizabeth's favorite part because she feels like she is really playing a guitar like a real guitar.  The strings feel very secure and sturdy, so I feel like it isn't likely to break.
There are 8 buttons along the spine of the guitar dog that each play chords from C to C. This also sounds pretty in the acoustic mode. In the electric mode, kids can really jam and have fun making up their own tunes.
The fun continues with 20 sing-along songs that your kids will enjoy and some they are sure to recognize. The B. Woofer comes with lyrics and music so you can learn the songs together with your child.
The Hound Mood offers a howling good time for kids with 9 puppy songs and various barks and howls. You can even play the cute bone, perfect for younger kids.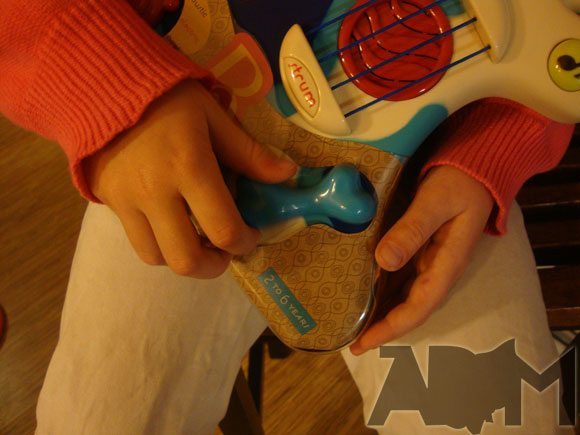 I like that the B. Woofer kids guitar is perfect for both boys and girls with a fairly broad age range.  Give the B. Woofer kids guitar for Christmas presents this year, your kids will love it.
Buy B Woofer
You can buy B Woofer at Target online  and in stores for $21.89. The B. Woofer kids guitar is a must-have musical addition to your boy or girl's Christmas list!
This was not a paid post. My own opinions were used based on my perceptions and experience. Thank you to Target who provided the product for review.