Cabela's Adventure Camp (we tried it for the Wii) is a fun game filled with 8 fun games that can be enjoyed quickly.  Elijah and my husband Matt tried out several of them tonight and had a good time-
Published by Activision, this title includes super fast down hill biking, kayaking, archery, skeet shooting and more.  We're not big fans of point and shoots for the Wii, so we focused on the biking,kayaking and jet skiing for this review.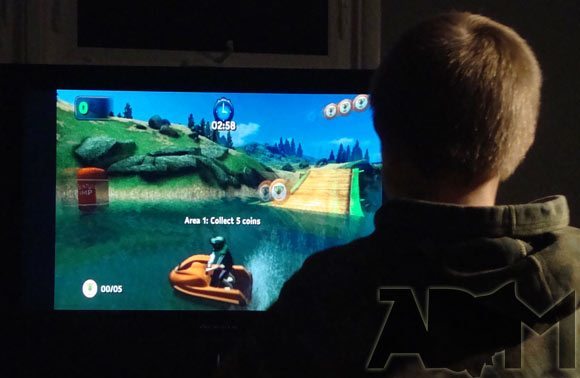 Between each mini game the controls are identical- which makes training easy for young and old.  The biking and kayaking modes had plenty of walled in areas so you couldn't fall off the cliff and die- at worst you fall off the bike (which every kid knows about) or get turned upside down in the kayak- which, to a 7 year old, is just plain hilarious!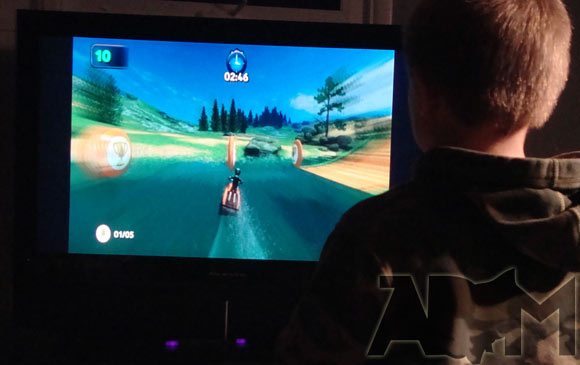 Rated E for everyone, this game is available for the Wii, Xbox 360 Kinect, and the PlayStation 3 Move.
What I really loved
I really loved the "Interactive Griefing" feature- The "PLAYER 2" Controller has the opportunity during different games to sabotage the play of the "PLAYER 1"- this great feature allows extra trees fall in the forest during biking, and other specific additional obstacles for
What could have been better
Some of the 'get the game started' routine took a little while- it wasn't horrible- but the "Rock Paper Scissors" component to decide who goes first was a little bit much.  Then again, I'm not 9 years old who figures out EVERYTHING immediately.

[youtube]http://www.youtube.com/watch?v=bJuhU8PjGeA[/youtube]
I'm not a big fan of pointing and aiming for shooting on the Wii, because with older controllers it can be a little bit jittery and hard for little ones, but these balloons don't rise TOO fast 🙂
Cabela's Adventure Camp for the Wii -buy now
This was not a paid post. My own opinions were used based on my perceptions and experience. Thank you to Activision who provided the product for review.