I have teamed up with companies offering unique Christmas gift ideas for your family and friends. Below are toys your kids want this Christmas.
Christmas 2010 Gift Guide for Boys & Girls
FurReal Friends Lulu My Cuddlin' Kitty
This season's biggest must-have toy is FurReal Friends Lulu My Cuddlin' Kitty. What makes FurReal Lulu so special is that she acts just like a real kitty when you pet her. You can buy FurReal Friends Lulu My Cuddlin Kitty Cat
nationwide at Toys R Us, KMart, Walmart, Target, and online at these stores and on Amazon.com for $54.99.
Fuzzoodles
The most sought after toy / craft this year are Fuzzoodles. This is a great toy that allows kids (boys & girls) to use their imaginations to create fun creatures and more! After their Fuzzoodle creature is built, kids have fun playing with them. The Small Kits such as the  Fuzzoodles Glamour Girl and Goofy Guys
run about $6.99 each and the Large Kits start at $9.99 each. Purchase Fuzzoodles at www.buyFuzzoodles.com, at retailers nationwide, or Amazon.com
.
Kidorable imaginative clothing and accessories for kids
Give something fun, imaginative, and yet practical from Kidorable! Choose from a coordinating selection of products for girls and boys including rain coats, rain boots, gloves, umbrellas, bedroom decor and more. You can buy Mermaid Rain Boots
for $29, Ladybug Towel
for $33, and Frog Umbrella
for $13.50.
Educational Zillionz Bank
Teach your kids about saving money in a fun way with a realistic ATM Bank. The Zillionz Savings Goal ATM Bank is an interactive bank that has a real automatic dollar bill feeder!  Buy the buy the Zillionz Savings Goal ATM Bank on the Summit Toys website,  at retailers nationwide, or you can buy the Zillionz ATM on Amazon.com for about $25. Also, check out their Zillionz Talking Cash Register
, and the Zillions Electronic Money Jar.
Sesame Street USB Drive
A great tech gift for kids this year is the Kid-tough USB Drive in fun Sesame Street designs with full length video. Store your kids favorite songs, clips, and photos on this cute, wearable USB drive so they can play it anywhere. Buy your favorite at retailers nationwide or on Amazon.com: Cookie Monster (Cookie Monster's Best Bites)
, Elmo (Best of Elmo)
, Big Bird (Do The Alphabet)
, Ernie (Bert & Ernie's World Play)
, Grover (Celebration of Me, Grover)
, and Abby Cadabby (Abby In Wonderland)
for about $25 each.
LEGO Games
The new LEGO games are hot this year. This game is for 2-4 players, including building blocks and game, for ages 7 and up.  My family enjoyed the .LEGO Games: Lava Dragon however there are many to choose from. You can buy You can buy the LEGO Lava Dragon Game on Amazone.com and others for $14.50 or less and at retailers nationwide.
Olivia Transforming Playset & Plush
Imaginative and creative kids will love the Olivia 2-in-1 Transforming Playset and Olivia Ready to Play 8″ Plush.  The playset transforms from Oliva's house to Oliva's pirate ship in seconds. The cuddling plush is super cuddly and adorable. You can buy the Olivia 2-In 1 Playset
for about $50 and Olivia Everyday
Doll for about $20 at Toys R Us, Target, Kmart, and on Amazon.com.
Moon Dough Barn
Moon Dough is everything this Christmas!  It is unlike any molding dough, sand, or clay we have ever seen. What makes this "magical molding dough" so special is that it never dries out, is wheat-free, and hypo-allergenic! You can purchase the Moon Dough Magic Barnyard
for $19.99, the .Moon Dough Puppies
for $14.99, the Moon Dough Diner for $9.99, Moon Dough Pizza Shop
for $14.99, the Moon Dough Diner for $32.00, the Spin Master Magical Molding Moon Dough 2Pack Green Blue
for $13.99, and the Spin Master Magical Molding Moon Dough 2Pack Yellow Red
for $9.99.
Headphones for Kids
Looking for headphones designed for kids but with adult quality sound? Kidz Gear is the first headphone designed for kids with grown-up stereo sound quality. Use them at home, in the car, or on the phone for your favorite DVDs,MP3s, game players, TV, radio, and more. You can find Kidz Gear Wired Headphones For Kids
at many fine online retailers, on the Kidz Gear website, and on Amazon.com for only $19.99.
Find It Game
Are you looking for a game that is just as fun for kids as adults, that is portable and requires no cleanup? Check out Find It Games. It is a game of competitive game of searching. Buy Find It – Original Edition
for about $17 and Find It Games Kids Version
for about $17 on Amazon.com and at retailers nationwide.
Make Your Own Candy & Gum Kits
If you are looking for a crafty, educational, and fun gift for kids ages 8 and up, consider Make Your Own All Natural Candy and Gum Kits.  Kids have a blast when they get to make their own favorite candies and gum with all-natural materials that you can trust. Make Your Own Kit on the Glee Gum website for about $13 each or find a retailer near you. You can also find the Make Your Own Chewing Gum Kit
for under $12, the Make Your Own Gummies Kit
for under $13, and the Make Your Own Chocolate Kit
for about $13 on Amazon.com.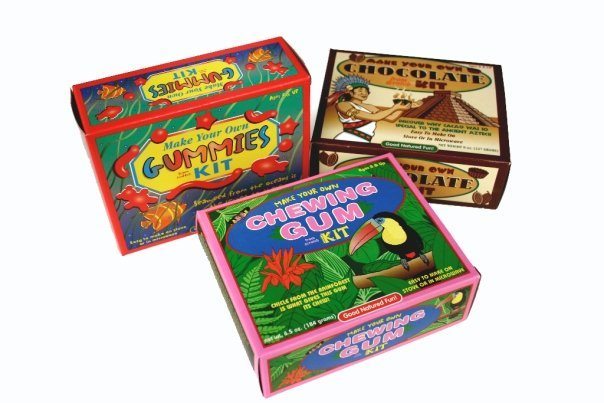 Personalized Children's Books
Kids love seeing their name in print, why not center an entire story around your child? KD Novelties Personalized Children's Books for all holidays, favorite characters, super hero, princesses, and more.  A 6 x 9 hard cover book is just $11.95 on the  KD Novelties Personalized Children's Books website.
Uncle Bob Jr Yeti Racer Snow Tube
You can't go wrong giving a super fun snow tube for Christmas! It may not be the most expensive gift this year but it will be the most used! Check out Uncle Bob Jr Yeti Racer Snow Tube for kids ages 4 and up. You can buy Uncle Bob's 37″ Yeti Racer Snow Tube
for about $13 on Amazon.com and nationwide everywhere.
Zabazoo GLIDE Tabletop Shuffleboard
Does someone on your shopping list loves games? The Zabazoo GLIDE Tabletop Shuffleboard This is a fun active game for adults and kids (ages 6 & up), 2 or more players. You can find the Zabazoo Glide Tabletop Shuffleboard at many nationwide stores for about $25.
Personalized Letter from Santa
Although Santa won't get credit for this gift on Christmas morning, your kids will love receiving a personalized letter from him during the days before! Make this year special with a Personalized Letter from Santa. This is a fun and affordable gift that is sure to create some fond memories. Just $8.97 each or Buy 3, you get 1 free on the LettersbySanta.com website. Use AkronOhioMoms.com Letters by Santa Coupon Code: AKRONOHIOMOMS to get $3 off. You can't beat a special surprise for $5.97.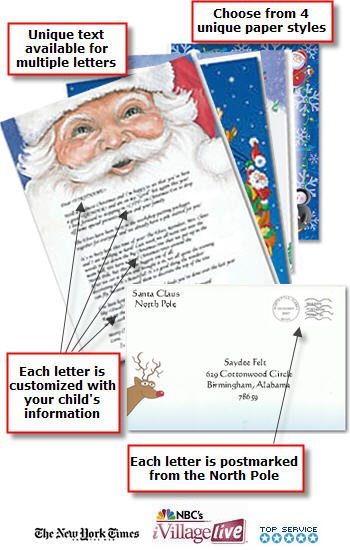 Moose Mugs
Moose Mugs are fun mugs that older kids and teens will get a kick out of. FreeMooseMugs.com offers officially licensed National Lampoon's Christmas Vacation Moose Mugs. Kids will love drinking hot chocolate out of these fantastic mugs.
Auto Coupon 1: Moose Mugs on Sale at $19.99 a piece
Auto Coupon 2: Get every 6th Moose Mug Free
Auto Coupon 3: Buy 4 and get a real Hollywood Treasure Movie Prop from the movie The Santa Clause III
Wits & Wagers Board Game
One of the newest games this Christmas season isWits & Wagers Family Game. Wits & Wagers is a fun trivia game that adds the excitement of wagers (betting) to the mix. Fun for adults and kids ages 8 & up. Buy Wits & Wagers Family
nationwide at Borders, Barnes & Noble, and Books-a-Million and on Amazon.com for about $16.
BlongoBall Outdoor and Indoor Game
BlongoBall is an exciting game that can be played year-round outdoors or indoors, easy to learn yet challenging to master, and is family-friendly. You can purchase BlongoBall on the BlongoBall website for $59.95. Use BlongoBall Coupon Code "merryblongos" to save 15% at checkout. You can also buy Blongo Ball Complete Game Set
on Amazon.com.
Logitech Wireless Mouse M310
Logitech Wireless Mouse M310 comes in 4 fun colors, fits both right and left hands ergonomically, and delivers smooth results. Excellent gift for older kids and teens. Buy the Logitech Wireless Mouse M310 on the Logitech Website for $29.99 each. Also available in stores nationwide and on Amazon.com.
Teach My
Teach My is an early learning system for babies, toddlers and preschoolers. Each kit gives you a variety of activities to give your kids a head start on learning in just 20 minutes a day. Kids have fun the system and parents love having a great tool. Each Teach My kit is just $49.99 on the Teach My website. You can purchase the Teach My Preschooler
for $49, the Teach My Baby
for $49, and the Teach My Toddler
for $49 on Amazon.com.
Home town pride shirts
Show pride in your town and state with Lil' Burrito Kids Clothing. Majority of products are for Ohio and Akron area but there is something for everyone in this cute boutique. Quite affordable at just $12 a t-shirt.
Christmas 2010 Gifts for Girls
Christmas Jewelry and more
Surprise your girl with a pretty piece of jewelry from Heart On Your Sleeve Designs. They offer a beautiful selection of affordable jewelry just right for your girl. They nice selection of Christmas Jewelry as well as jewelry that matches your girl's interest such as sport.  All necklaces can come with or without scripture printed on the packaging. Buy Christmas and other Jewelry for about $9.99 each at the Heart On Your Sleeve Designs Website.
Flipped DVD or BLU-RAY Movie
The latest movie from the makers of The Princess Bride and Stand by Me is Flipped. This movie is all about your first love, a great movie for pre-teen girls through adults. You can buy Flipped on Amazon.com
and at retailers nationwide for about $20.