Kids love to play board games.   Kids ages four and up will eat up (pun intended!)  Cupcake Race, the latest game from Endless Games.  In this game, players race to build the ultimate cupcake – complete with sprinkles and a cherry on top!
How to Play Cupcake Race Game From Endless Games
Cupcake Race is designed for ages four and up, 2-4 players.  Players make their way around the colorful game board by spinning the spinner, and moving their "party hat" the appropriate number of spaces.
The goal of the game is to be the first to mix, bake, frost, and top your cupcake by visiting all four corners of the board.  At each corner, players pick up one of the required parts of the cupcake: cupcake wrappers, cake pieces, frostings, and sprinkles.
Players must collect at least one sprinkle of each color as they travel around the board in order to win – and, they also must top their cupcake with a big cherry.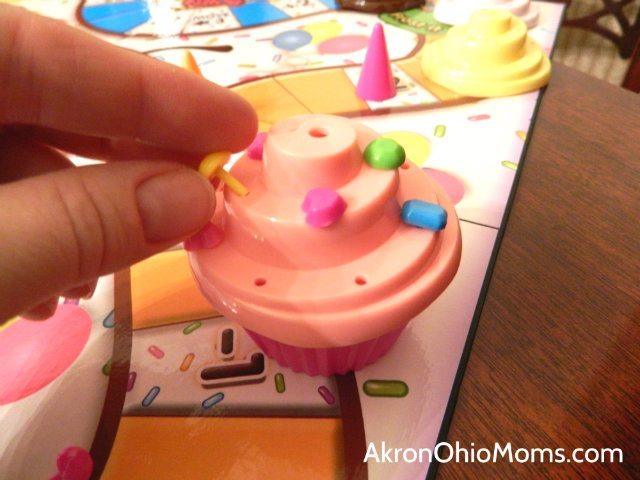 As kids move around the board, they are practicing counting, reading, following directions, fine motor skills, sequencing, taking turns, sportsmanship, and above all…having fun!
A Mom's Perspective on the Cupcake Race Game From Endless Games
This is a super cute game!  It has one of the most colorful, engaging game boards I've seen.  Young children love to play kitchen, and "make" foods, so this is right up their alley.  The game pieces are sturdy, and full of fun colors.  I know this game is going to get A LOT of play in our home!
I like that the game board is a bit more challenging than other beginner games:  certain spaces require players to add or take away different numbers of sprinkles.  A little math lesson is always good in my book.  🙂  This game would make a great holiday or birthday gift!
Buy the Cupcake Race Game From Endless Games
Cupcake Race can be purchased on the Endless Games website and other online retailers like Amazon.com.
This was not a paid post. My own opinions were used based on my perceptions and experience. Thank you to Endless Games who provided the product for review.