Here is a great idea for your son's or daughters Easter basket.  Have you seen these micro-sized building blocks? The Ohio Art Company expanded their NanoBlocks Line . These are already hugely popular in Japan, and are on the rise here.
I received product to facilitate this post.
It's All in the Details with Nanoblocks
Nanoblocks are the smallest building block system, these micro-sized pieces hold firmly together  and since they are so tiny they can provide intricate details, that would other wise be omitted. They have several lines that would be loved by your kids. Hello Kitty, Animals, Sites to See, and Deluxe models.
Perfect Easter Basket Gifts
Kelton loves his sets! Check out Big Ben in the Easter Basket just waiting to be built!
We have only had animals in the past so Big Ben is new and exciting! This is what comes in the Big Ben box: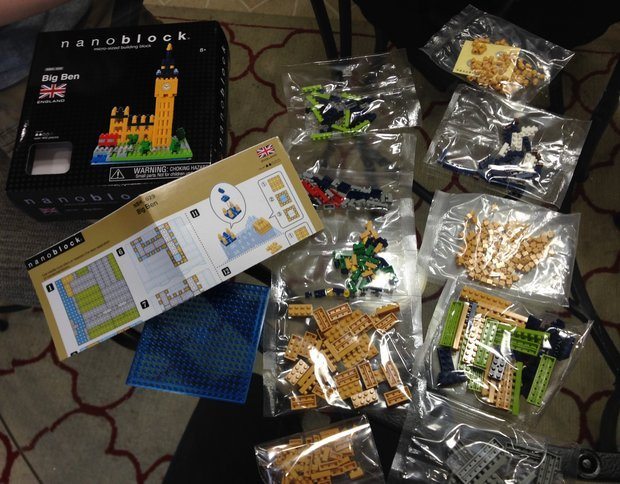 It took us only about 1/2 to build the Nanoblocks Big Ben together, it is a fun activity to do with your child.  It would take closer to a full hour if he built it himself. Kelton was so proud of the Big Ben completed!
This is an upclose image so you can see the details of Big Ben.
If you have a builder on your hands they will love the challenge of Nanoblocks. Check out another Nanoblocks review on AOM.
Like Nanoblock on Facebook
Buy Nanoblocks
Nanoblock kits make wonderful Easter basket gifts, birthday gifts, and for other gift-giving neds! You can buy the Nanoblocks at retailers nationwide.  Find your nearest location here. Locally in Ohio, their products can be found at My Little Red Wagon in Hudson, OH and Smartickles in Medina, OH.