FurReal Friends are the best interactive toys that really seem to come to life! They are on kids wish lists this Christmas and all year long. This season's biggest must-have toy is FurReal Friends Lulu My Cuddlin' Kitty. What makes FurReal Lulu so special is that she acts just like a real kitty when you pet her. She purrs, rolls back, opens & closes her eyes, moves her head, meows, and purrs.
FurReal Friends Lulu My Cuddlin' Kitty Video Review
FurReal Friends Lulu My Cuddlin' Kitty Hands On Review
We are big fans of FurReal, both my kids (ages 3 & 5) enjoy their FurReal friends. My kids have enjoyed playing with the Furreal Friends Luv Cub Panda

and the Furreal Snuggimals Bassett Hound
that they got for Christmas and Easter last year. FurReal Friends are so life-like and fun to play with. My kids love that the toys respond to what they are doing. The Cub Panda even drinks from his bottle!
My 3 year old Elizabeth has been asking for the FurReal Friends Lulu My Cuddlin Kitty Cat
every time she sees it in the store or on TV. "I Want That!" is what I hear whenever she see Lulu. We were lucky enough to review the FurReal Friends Lulu My Cuddlin' Kitty just in time for her 4th birthday. Lulu is intended for kids 4 and up, so Lulu is the perfect birthday present for my soon-to-be 4 year old.
For this review, I had my animal-lover son check it out just 15 days before the big 4 year birthday. Elijah loves animals and really enjoyed "test-playing" with this toy. He's such a good sport, I know he'll be playing with this toy just as much as Elizabeth.
Elijah immediately noticed the leather-like materials used on the cat's ears, he said it felt real. The long-hair on the cat is so soft and beautiful. So glad Lulu won't shed like my real dog does! FurReal Lulu comes with a comb so your child can comb her hair for added fun.
We had fun petting Lulu and seeing how she would respond. I was really quite amazed at all of the gestures Lulu makes based on your interaction. She meows, purrs, opens and closes her eyes, moves her head, turns her body, puts her paw to her face, and really interacts with what you are doing.
Look how real Lulu looks in my son's lap! She naturally fits on your child's lap and with the long, soft fur, kids naturally pet her. When she responds to the petting, that's when the fun starts!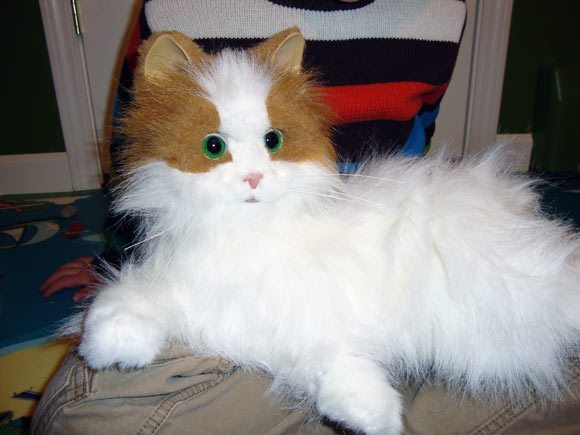 FurReal Lulu opens and closes her mouth as she meows and purrs. She turns her head and even rolls over to look at you when she is really content and happy. If you continue to pet her, she will get so relaxed that she will fall asleep, just like a real kitty.
Doesn't the picture above look like a real cat sleeping? Hasbro really got it right with this FurReal toy, right down to the expressions on the cat's face.
When you pet Lulu's left cheek, Lulu will move her head toward your hand. If you continue to press, she will start wiping her whiskers. This is the cutest thing to see!
Buy FurReal Friends Lulu My Cuddlin' Kitty
You can buy FurReal Friends Lulu My Cuddlin Kitty Cat
nationwide at Toys R Us, KMart, Walmart, Target, and online at these stores and on Amazon.com for $54.99.
This was not a paid post. My own opinions were used based on my perceptions and experience. Thank you to Hasbro who supplied the products for review through Litzky PR.