Get ready to rumble! Wubble Rumblers is a hilarious, fun, and addicting to play with. I got these for my 10 year old nephew but they are just as fun for my teenager and adults. These inflatable toys are built strong and tuff for rumbling battles with kids.
This is a sponsored post.
How fun would this be to open Wubble Rumblers Christmas morning!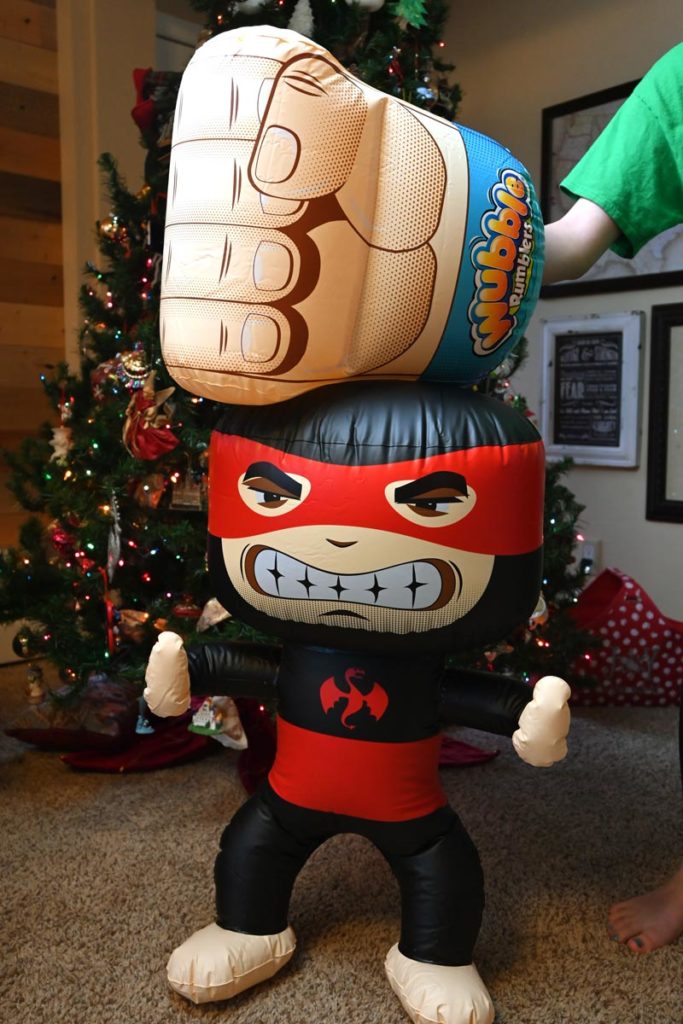 The Air Ninja inflates to 3 feet tall! Your child can try out all his ninja warrior moves and this guy will take it! No worries on durability here, the material is 400X more elastic than typical inflatables, this is made to rough house with!  The Wubble Furious Fist also inflates to 3 feet tall for hilarious fun fighting the ninja or your brother! ha!
Each Wubble Rumblers comes with a pump so within a few minutes out of the box, you'll have a fully inflated pay to hang out with and play with!
I was going to give these to my nephew in a box but when I opened one to test it out, I realized that it is more fun to open already inflated! What a fun thing to wake up to on Christmas morning!  This is the ultimate play accessory for play fighting and let's face it, kids need to get physical and play fight. Now more than ever since kids are glued to their computer on zoom calls all day, they NEED a release to get physical and play!! Oh, and the best part, this big guy is only $12.99 so you can get him and his friend, the Wrestler too!
If you are looking for an active toy that can be played indoors this year. This toy is good for toddlers – teens! Like I said, my family has had silly, hilarious fun playing with Wubble Rumblers all together! Clear some space and have fun!
The Wubble brand also has adorable fuzzy, soft & cuddly friends as well called Fuzzy Wubbles.   They have a variety of characters for both boys and girls.  Your child will enjoy hugging and squeezing this adorable line of toys – they are also fun to play, throw, and hang out with more than stuffed animals.
Kids are stressed more than ever with the pandemic and online schooling. My daughter has added stress relieving toys to her Christmas wish list. The stress is real. If we can help our kids with a fun figit type of toy to have during the day, the Tiny Wubble Fulla Marbles is a great solution. This makes a fun gift or stocking stuffer for kids and teens of all ages. They are fun to squish, squeeze, and toss. Plus there is no mess!
Check out all the Wubble brand products for active, fun, clean fun! My kids have enjoyed their products for years including the original wubble bubble.
Wubble products can be purchased at Target.com and wubbleball.com. Wubble Rumblers retail for $12.99. Other Wubble products range in price from $5.99 to $19.99.