Are video games good for kids? Are they good for people struggling with depression? There is a new study out by the East Carolina University's Psychophysiology Lab and Biofeedback Clinic that reviews that casual, non-violent video games can reduce symptoms of depression, anxiety, and improve all aspects of mood by 57%!
About 20.9 million American adults suffer from a mood disorder, about 2/3rds of them are suffering from depression. About 18% of all American adults suffer from anxiety. This is an amazing treatment without medication.
So, whether you or a loved one is suffering from one of these symptoms or you just want to offer your family fun video games that is safe and positive, I have found the source for you. PopCap Games is the leading global developer of casual video games for the PC, mobile, social and other platforms.
Our entire family including my 4 year old daughter and 6 year old son have been enjoying 4 PopCap Games and are hooked! And yes, our moods are groovy.
Peggle Game Review
The game that is on our home computer the most lately is Peggle.  This low stress, high excitement game is a cross between the old Breakout game, Target Practice, Pego from the Price is Right, and a Pep Rally made JUST for you.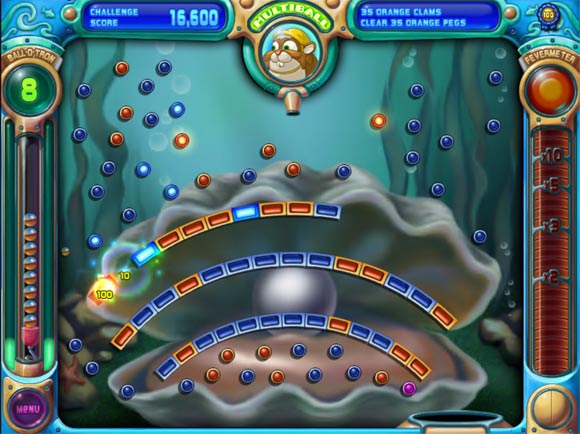 Simply, you shoot balls at colored blocks and knock them out.  There are about 5 different ways to win, 12 different characters with easy to understand special powers, and a few dozen different game boards give variety in gameplay and makes you sit up and take note of a new challenge.
What caught our eye the most in this game is the visual reward that you get after the completion of every level.  After even the training level 1 (which my 6 year old beat with some help) there are fireworks, huge bold letters stamped across the screen, and an alleluia chorus blaring outward.  What a fun reward!  It sounds hokey- but its makes a HUGE difference!
Bookworm Adventures Review
Elijah has really and truly taken to Bookworm Adventures.  He's in Kindergarten and only just starting to read.  We received the title, and honestly thought it was going to be targeted towards younger kids- (which it obviously does attract) but it is open to all ages.
Utilizing 16 tiles, you spell words just like you would in Scrabble or Boggle.  Each time you spell a word, you attack one of the bad guys.   It's not a high action game, and can be quite leisurely, but the bad guy component attracted Elijah.  The longer the word- the better the attack- so it gives incentives to use big words.
The game itself uses a lot of words to take you through the game- so reading is required, and it is not a learning to read game.
Plants vs. Zombies Review
There's been plenty of press and even commercials and ads for Plants vs. Zombies.  It is a unique title with an interesting premise of Zombies that love to eat… vegetation.  Not really horrifying, no… but its probably the animated plants that spit objects at the zombies that are probably the scariest things in the game.
We found the gameplay a little bit slow, but novel enough for the kids.
Bejeweled3 Review
Match tiles and win! Being the third title in the series and its enormous popularity online, Bejeweled3 has its fans.  It takes only seconds to learn how to play- match up Sparkling jewels and get 4 or more in a row.
The game is pretty, the jewels sparkle, and the game is straightforward.
Our favorite casual computer game
These 4 titles each have their draw to different personality types.  But the rah-rah excitement generated in the Peggle game, the game variety, and its lasting power has really made Peggle our favorite.
"Like" PopCap Games on Facebook
Follow PopCap Games on twitter
Buy PopCap Games
PopCap Games are great any time of year, as birthday gifts, Father's Day gifts, anniversary gifts, and more.
You can download PopCap Games right from their website. Most are $19.95 each to download. Some even give you a free 60 minute trail period before buying!
Win 6 Games of your Choice ($120+ value) (Closed)
Updated: 5/27/11 Winner Announced: Congratulations, Andrew Dankleff!
PopCap Games is offering one lucky winner 6 games of your choice! ($120+ value)!
For complete contest rules, please see our Contest Statement and Blog Disclosure.
Contest ends at 11:59pm EST on May 25, 2011 when a winner will be drawn at random and announced the next day. When commenting, please include your email address (not visible to public). I will notify the winners and they will have 36 hours to respond!
This was not a paid post. My own opinions were used based on my perceptions and experience. Thank you to PopCap Games who provided the products for review & giveaway.