If you have read any of my other game reviews, you know that I am a huge proponent of games with educational value. Why not have fun AND learn at the same time? The creative folks at ThinkFun are masters at combining essential learning skills and loads of fun into a game. ShapeOmetry, one of their newer games, is no exception. ShapeOmetry develops mathematical reasoning and supports common core math standards, and is designed for grades 2-8.
What are Common Core Math Standards, and Why are They so Important?
For over a decade, research studies of mathematics education in high-performing countries have pointed to the conclusion that the mathematics curriculum in the United States must become substantially more focused and coherent in order to improve mathematics achievement in this country. Read More.

The bottom line is that American kids need a better working knowledge of math and math concepts in order to be competitive and successful in our now global workplace.  The Common Core Math Standards seek to streamline math learning at each grade level, providing consistency and focus to the curriculum.
How Do You Play ShapeOmetry?
ShapeOmetry consists of:
10 Blue puzzle pieces
10 Green puzzle pieces
50 Challenge cards with solutions
Carrying bag
In this game, players select a challenge card (they vary in difficulty from beginner to genius).  The challenge card shows you which blue and green shapes to select.  Players then need to manipulate the pieces to create identical green and blue shapes.
Once you think you have the solution, you lay the green shape you created directly on top of the blue shape you created.  If they match exactly, you have won!  If you get stuck, solutions are shown on the back of each challenge card.
While attempting to solve the challenge, kids (and adults!) are developing spatial, abstract, and quantitative reasoning skills.  Players learn how to manipulate shapes to create new shapes, and important math skill.  Players also learn perseverance as they try several possible solutions before finding the right combination of shapes.
My Take On ShapeOmetry from ThinkFun
I think this is an engaging, challenging game.  I am excited to give it to my 5th grader for Christmas.  This is a fun game that she can play alone, with a friend or with my husband or myself.  I think I will offer it to her teacher at school as well.  They often have stations in her math class with different activities.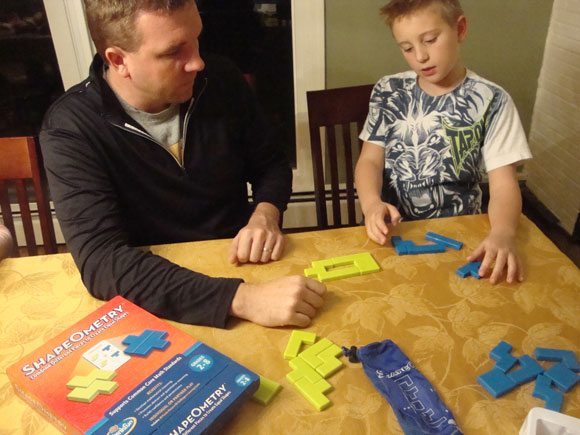 I actually found playing ShapeOmetry a bit addictive!   With each success, I wanted to try another challenge card.  I don't get to use these skills very often, and I admit, I was a bit rusty.  Chances are, more than a few middle schoolers could clean my clock at this game!  I think this fun learning game should really say "for grades 2-???" – Most of us adults could benefit from its challenges too!
Buy ShapeOmetry From ThinkFun
ShapeOmetry can be purchased on the ThinkFun website and at retailers nationwide.  ThinkFun games can also be purchased on Amazon.com.
Find a store near you by clicking here and entering your zip code.
This was not a paid post. My own opinions were used based on my perceptions and experience. Thank you to ThinkFun who provided the product for review.