Roominate™ offers award-winning STEM Toys for girls in a fun, innovative doll house platform that incorporates Science, Technology, Engineering, and Math!
I received product to facilitate this post.
Roominate Delivers Fun STEM Toys for Girls
With Roominate, girls delight in building their own doll house – right down to the floors, balconies and columns!  There are different sized kits, I received the Roominate Studio, it comes with 70 pieces including 4 wall/floor panels to be used to build the doll house structure and 24 building pieces to make anything your daughter wants including bunk beds, tables, desks, cupcake stands, slides, etc.  This seems like the perfect size to start with.
My daughter loves math and science as well as building toys, so I know she will love Roominate when she opens it on Christmas morning! I started putting together the design pieces and was thrilled at how easily they connect together and can easily be detached and used to create something new. This means hours of creative play ahead!
Once the structure is built, your girl can wire her house with carousels, lights, and fans.  This is so awesome! A real-working house! Your daughter's imagination is set free with this toy! The possibilities are endless.
Finally, their creative side can shine through as they design furniture and customize the house to be their own creation.
Roominate offers a variety of different doll house and add-ons like the Roominate 3-in-1 Helicopter, another great starter or add-on kit for girls ages 6 and up.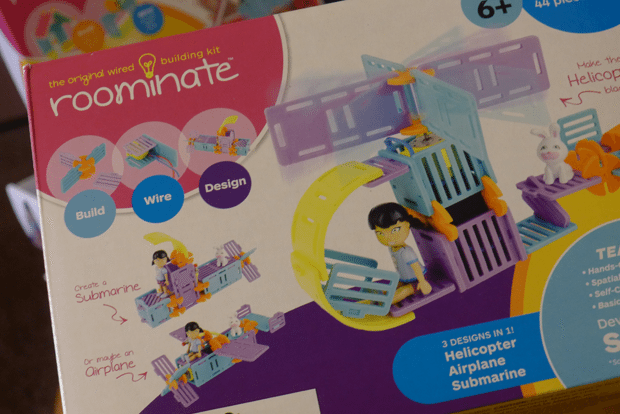 The design pieces connect, disconnect, and reconnect easily making this an open-ended toy for creative play. Beyond that, your girl can actually wire the spinning propeller with the included motor! This kit includes 44 pieces in all to create the helicopter, airplane, or submarine of your girl's dream!
I know my daughter is going to flip out over the moving propeller – and her older brother is going to be checking this out too. What I really like already about Roominate is that it is all just about STEM but also what girls love, like cute little bunnies riding along with the girl pilot!
STEM is all about hands-on problem solving, and developing spatial and fine motor skills and self-confidence through creative play.  Roominate delivers the full STEM experience of Science, Technology, Engineering, and Math with fantastic building sets designed with both STEM and what girls enjoy in mind.
You can purchase these STEM toys for girls and more on the Roominate website and on Amazon.com. They make a great educational gift for girls this Christmas!
Connect with Roominate on Facebook  and on Twitter.