Interactive, collectible toys are popular with kids. We were just introduced to Tail Towns Friends figurines that provide a total gaming experience when you unlock the figurines on the Tail Towns game on Facebook.  I like to reward my kids for hard work. This was my kids first week of swim team, they swam 1-1/2 hours at a time and did a fantastic job.  As a reward, I gave my kids new Tail Towns Friends Figurines.
I gave my daughter the Ballerina Tail Towns Friends figurine. It is beautifully crafted, hand-painted, and full of detail.  My daughter liked it from the beginning because she loves ballet and little figurines to add to her collection.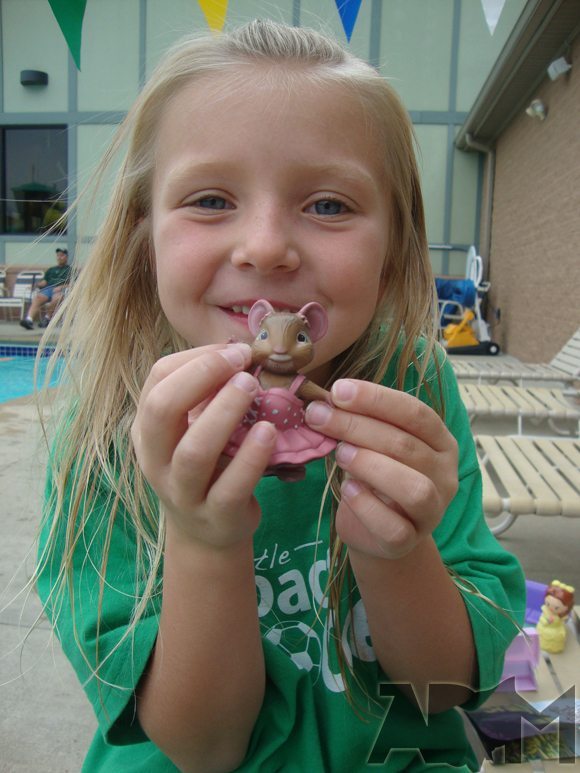 I gave my my son the Soccer Player Tail Towns Friends figurine. I wasn't sure if he would think it was "cool" since he is now 7 but he thought it was great! Not everything boys collect has to be dinosaurs, dragons, fighting super heroes, and monsters! 🙂
It too was very beautifully hand-painted with adorable details.  My son thought the soccer player was cute.
There are 12 collectible figurines in Series 1, including a nurse, gardener, ballerina, soccer player, baker, teacher, mother, fashion designer, night on the town, birthday boy, florist, and chef. My daughter was already picking out the next one she wanted.
I didn't realize it when I gave the figurines to my kids but they are actually real, adult collectable figurines, not toys. They are super cute and kids will want to play with them, so this is better suited for older kids and even adults that like to collect figurines to place on display. At ages 5 & 7, it is a good age to start teaching about different ways to enjoy collectibles like this, to put them on their shelves for display.
Tail Towns Friends figurines are not just figurines. That is only 1/2 of what they are. Tail Towns Friends are a way to take a real world item into the virtual world. Each Tail Towns Friends figurine comes with a secret code that brings the figurine to life online.
With each secret code, you can add a new friend to your Tail Towns Friends game as well as earn goals and items. For registering Sonya the Ballerina, my daughter received the award of acorns.
From here, you can take on challenges through the New Goal menu on the side.  These goals give you a task and direct you to a part of the Tail Towns landscape to accomplish your goal.
My kids like online virtual games. They both still need my help but they enjoyed taking on the new goals and challenges to earn points and unlock various prizes. I can see this as an addicting facebook game for adults, as well as kids and teens. You can send your facebook friends items to be used in their Tail Towns Friends games too.
You can check out Tail Towns Friends on facebook now, even before you purchase a Tail Towns Friends figurine.
Like Tail Towns on Twitter
Pin with Tail Towns on Pinterest
This was not a paid post. My own opinions were used based on my perceptions and experience. Thank you to Child's Play Communications who provided the products for review.