The VTech InnoTab 2S is an affordable ($99) Wi-Fi Learning App Tablet for kids ages 3-9. The InnoTab 2S is equipped with a rotatable digital camera and video recorder, photo viewer, video player, MP3 music player, e-reader, art studio, tilt sensor, and microphone.
It also comes loaded with 1 tilt sensor game, an augmented reality game, e-book, art studio app, notes app, friends list, calendar, and calculator. The VTech InnoTab 2S includes a 5″ touch screen, the perfect size for kids to enjoy at home or on-the-go.
VTech InnoTab 2S Review
The VTech InnoTab 2S is for ages 3-9. It seemed like the perfect tablet for my 7 year old son, Elijah. Once we opened the box, he didn't want to put it down! There is so much to do and explore. I was amazed as how intuitive it was, my son automatically knew what to do, what buttons to push, and how to use the VTech InnoTab 2S.

My son loves to borrow my video camera and my digital camera – all the time. It comes with a rotatable digital camera and video recorder for kids to capture what is important to them and can even use those images for applications on the InnoTab 2S. His favorite feature of the InnoTab 2S is the rotatable camera and video recorder. He likes to take pictures of nature, critters he finds outside, his dogs, and everything and anything he like – in close-up mode. The VTech InnoTab 2S gives him the ability to have his own device that takes photos and videos easily for kis, plus he can watch and look at his work on the InnoTab screen, share online, or upload to our main computer.
So far, we have only explored what comes with the VTech InnoTab 2S as mentioned above. However, you can choose from hundreds of apps for educational and fun games, music, videos, and e-books. We have a couple for Christmas gifts! My son really enjoys the augmented reality game which utilizes the tilt sensor.  To begin, he captured his avatar image with the built-in rotatable camera. He placed the image on his avatar and starting seeing a little Elijah running around on his screen and balancing on the tight rope. He thought it was awesome. He moved the InnoTab 2S from side to side and around (utilizing the tilt sensor) to play the game.  The InnoTab 2S responded well and he enjoyed this game the most. I bought the InnoTab Cars 2
game that utilizes the tilt sensor for 3 educational games.
Included with the InnoTab 2S is the Read, Play & Create cartridge that includes the "What's that Noise?" e-book, Alien Rescue motion sensing game, and Color & Pop activities.
Reading isn't my son's favorite subject in school, so I was pleased to see that he enjoys reading with the e-book. It is an interactive e-book that allows kids to read, listen, and interact with the story through the touch-screen. My son always wants to see and understand details with any story or subject, so this allows him to explore more than just the words on the screen. It improves the overall experience, including overall comprehension.
He likes the Alien Rescue games as well, utilizing the tilt sensor again.
The Color & Pop activities is an art program that kids can relax and express their creativity with. It is easy to operate and a fun activity time.  Simply choose an activity page, choose colors, and pop them on the sections you want – sort of like paint-by-number but without the numbers.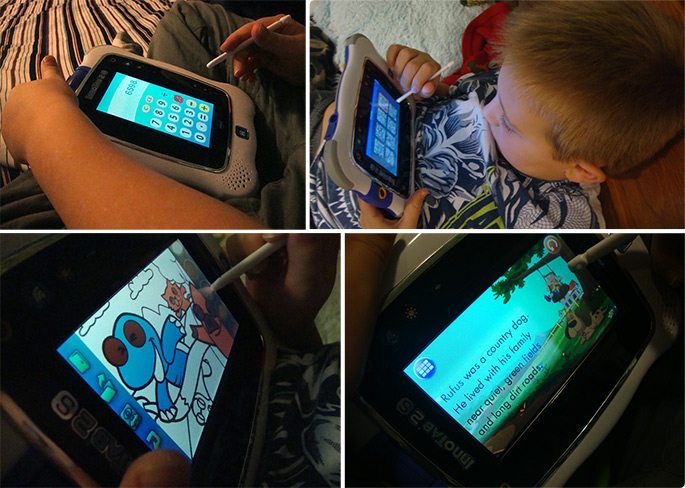 VTech University
VTech University is a new program that utilizes technology to enhance early education learning through interactive online gaming program. It is a fun way to give kids ages 3-9 a head start to education. The VTech University online program uses the InnoTab 2S as well as the InnoTab, Inno Tab 2, and MobiGo 2 products.
Stas show that the 3 subjects kids are most likely to fall behind in are: reading, math & science.  VTech University is designed to focus on these key areas with games and programs kids find fun and entertaining.  You can even track your child's progress with the Learning Lodge Navigator. It keeps track of what your child works on each day and builds upon that the next time they play. This is great for keeping an eye on what they are struggling with or excelling in. I've found other programs we have used don't track the progress. Kids are sneaky and will play a game that is super-easy for them just to earn point or coins that they are trying to save for another aspect of the game. When kids work under-grade level, it isn't doing anyone any good. I really like the Learning Lodge Navigator portion of VTech University because it tracks where my kids are and continues to challenge them to learn new skills and information.
Once your kids complete the VTech University, they receive a diploma and have a chance to win a $25,000 college bond. Isn't that amazing!?! For this outstanding chance, your child must complete the VTech University by May 31, 2013.
InnoTab 2S Review Continued
The InnoTab 2S offers secure Wi-Fi connection to Learning Lodge Navigator apps without access to the Internet. Your child can browse apps, games, e-books, videos, and music. They can add items to their wish-list and an email will be sent to you. You can download the games through the secure connect at home or anywhere there is a Wi-Fi hotspot.
There are so many features and activities your child can engage in with the InnoTab 2s, I can't possibly explain them all in one post. I am so impressed at how much technology is packed into this tablet at a price of just $99.99.
I also like that the InnoTab 2S comes with the ability to have up to 4 users and 1 guest with settings for their own. My 5 year old daughter has her own settings, complete with her own photo as an avatar so she can play and learn at her own level – when we can pry the InnoTab 2S from her brother. We may buy another InnoTab 2S for her yet this week for Christmas. The InnoTab comes in both gray and pink, so we'll opt for pink for her!
Buy VTech InnoTab 2S
The VTech InnoTab 2S would make an excellent educational Christmas gift for boys and girls ages 3-9 this year. You can buy the VTech InnoTab 2S on the VTech website, at your local retailer, and on Amazon.com.
I participated in a campaign on behalf of Mom Central Consulting for VTech and received a VTech InnoTab 2S to facilitate my review.