This Summer, we have spent way more time outside relaxing and enjoying family time than ever before because of our new concrete driveway and front patio.  It not only improved our home's curb appeal tremendously but gave our family a place to retreat, entertain, and play.
Relaxing and Entertaining with new Concrete Patio and Driveway by Dan Guardo Contracting
I can't tell you how much time we've spent outdoors this season since we had our new concrete driveway and patio poured by Dan Guardo Contracting earlier this Summer.
It is the perfect spot for reading a book, relaxing on the patio chairs, or hosting an outdoor party. My husband and I both work from home, so we enjoy lunch on our new concrete patio every day.
This is not a sponsored post. I received a discount for a series of posts.
We have always stringed lights for evening entertaining and relaxing. The front patio has become our go-to place to hang out and chill.
Chalk Drawing
My daughter has always LOVED writing with chalk on concrete.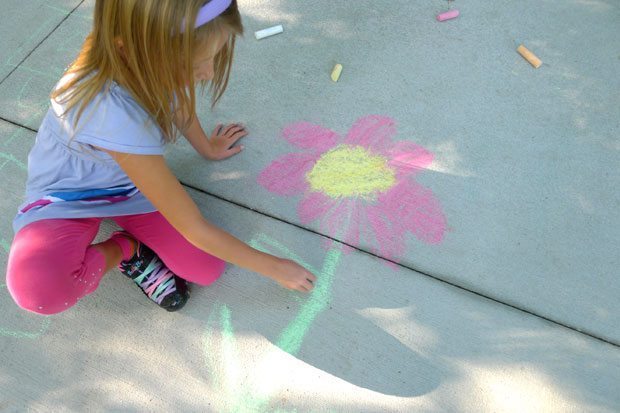 She has always taken chalk with her to her grandparents' homes to write on their driveways when we visited – she would chalk up the ENTIRE driveway! When we only had a gravel driveway, she would find large stones to draw on. It was so pathetic to see.  I think she was the most excited when she heard we were getting a concrete driveway – so she could chalk draw to her heart's content!
My son is very artistic too and enjoys drawing with chalk all the time with our new driveway, it makes a HUGE canvas!
Exercise and Family Time on Concrete Driveway
I had no idea how much exercise and fun we'd have on our concrete driveway until we got it. Now, we are found outside all the time playing basketball as a family – my kids are getting really good at the game "knockout" where they have to race to get a basket first!
Just one week after we had the driveway installed, my son won the game of knockout at basketball practice because he had so much practice the week before at home. It made a huge difference – he was usually close to last the weeks earlier!
When my kids learned to ride their bikes, we had to take them to a local park to learn on their driveways. I know that if my kids would have had a concrete driveway to practice on a little bit at a time daily that they would have learned much sooner. At any rate, they are enjoying bike riding and scooter riding now – all the time!
I knew that a new driveway would add curb appeal to our home but I never thought about all the time we would spend outdoors enjoying it as a family. The benefits of a concrete driveway and patio continue to present themselves to us on a daily basis.
If you are in need of a new concrete driveway or patio, give Dan Guardo Contracting a call. We have been very pleased with the results of our driveway and patio. Dan Guardo offers traditional concrete style like ours as well as decorative concrete, stamped, textured,  smooth surfaces, and more. They are fantastic people to work with, have an A rating with the BBB, years of experience, and an outstanding portfolio.

There is still plenty of time this Fall to get the concrete driveway and/or patio of your dreams for your home or office with Dan Guardo Contracting!
Give Dan a call at 330-945-8001 for your free on-site estimate.