For our kids bathroom, we choose to use Tarkett's NAFCO Luxury Tile in the Permastone collection. This collection gives you a range of looks for your flooring including: marble, sandstone, limestone, natural slate, and gemstone.  Tarkett NAFCO Luxury Tiles give you the look and feel of ceramic and stone floors.
We chose Permastone Firenze Antique White for a clean, fresh look for our kids bathroom remodel. We chose the Biscuit GroutFil.
Preparing Floors for Tiling
To begin, we cleaned the sub-floor to be sure there was nothing to prevent the adhering of the luxury vinyl tiles. Next, we used Tarkett 800 Pressure Sensitive Adhesive on the floors.  This adhesive has the texture of a soft paste, it is easy to spread on the floor with a trowel (1/16″ x 1/16″ x 1/16″ recommended). Once it is spread, it takes about 1 hour for it to dry, you will know when it is dry because it won't stick to your fingers but will just feel tacky.  1 Bucket will cover 180 sq ft.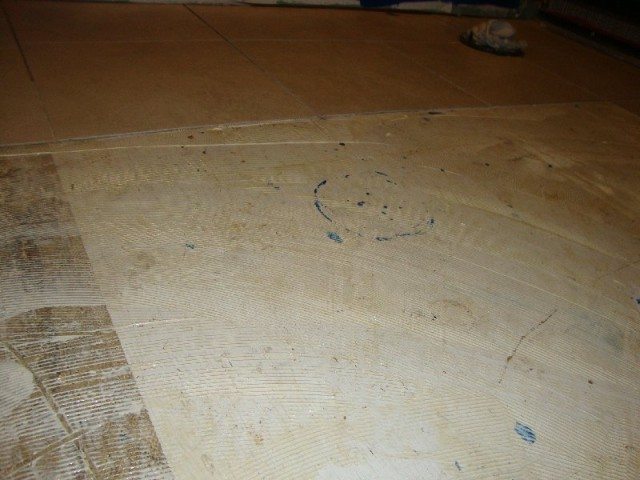 How to Lay Luxury Vinyl Floor Tiles
If you  have never laid floor tiles before, the Tarkett Luxury Vinyl Tiles is the best option. Even if  this is the first time you've attempted such a project, you can do it! I've laid ceramic tiles several times before and this is so simple compared to it. #1 The tiles are lightweight and easy to maneuver . #2 There is no need to buy or rent a tile saw and try to figure out how to use the dangerous equipment, just use snips. #3 You can stand on the tiles immediately after installing to make installation a cinch.
Advertisement

With the Tarkett NAFCO Luxury Tiles, you have 2 choices. #1 Lay tile without Grout Lines #2 Lay tiles with space for Grout. I like the look for grout lines, so we chose to do this. When installing the Luxury Tiles, you can arrange them anyway you like, stagger, diagonal, or straight. We choose the classic straight line up.
You can buy spaces for cheap to put at each corner of the tiles when laid, this will give you straight, even grout lines. Since I have laid tile several times, I just used a screw driver to space out the grout lines once I placed each tile on the floor and it worked just fine.
We have 40 sq ft of flooring in the kids bathroom, we used just over 1 box of the Luxury Tiles. What is amazing is how small the boxes of tiles were. This product is so easy to install and use compared to ceramic tiles!
All NAFCO products are protected with our superior wear resistance of Tritonite™, my particular product has a 30 year residential warranty.
How to Grout Luxury Vinyl Tiles
Tarkett has a special grout just for the Luxury Tiles. It is called GroutFil. There are about 6 colors of GroutFil to select for each tile. We chose the Bisquit color to go with our Antique White tiles.  Each gallon container will cover up to 450 sq ft. so it goes a long way, I only used a tiny, tiny bit in my small bathroom.
The texture reminded me of a thick whipped cream. It was so easy to apply with my rigid float. I only worked a small section at a time, about 2 rows. After I applied the layer of grout to the grout lines, I let it set and dry for 10 minutes. Next, the directions said to spray a light film of water to the tile surface, then gently rub the grout haze from the tiles. If you are like me, you have kids who love spray bottles! I couldn't find mine, so I rinsed out an old Paul Mitchell Freeze and Shine Super Spray – my favorite hair spray!
Next, I used 2 buckets of clean water to finish getting the haze off. I used 1 bucket for rinsing off the grout residue from my sponge and one bucket for getting the sponge wet for the final clean up.
It actually took longer to remove the grout haze than it did to spread on the grout. My advice is to not get too sloppy when applying the grout like me. ha ha Grouting and cleaning the haze for the entire bathroom only took 1-1/2 hours. Not bad!
I love my Luxury Tiles
If you have any doubts about going with a vinyl luxury tile, let me assure you that you will love it! Not only is the installation process so simple compared to ceramic tile but the look and feel is amazing. I know that I was very concerned with having slippery ceramic tiles at my previous home with kids. With Tarkett Luxury Tiles, I don't worry about my kids slipping and falling because of the surface. Plus, this flooring is warmer underfoot than hard ceramic tiles.
The Tarkett Luxury Tile looks so much like ceramic or stone floors that you really, really have to get down on the floor to know if it is or isn't!
I love, love, love the look. The kids bathroom is about complete. We have to finish installing our American Standard toilet and vanity, hang the mirror, install the wall lights, put in a new ceiling with crown molding, and install the floor and window molding…I THOUGHT that I just said the kids bathroom is about complete! More pictures of the bathroom and flooring with everything installed are on the way!
Bathroom remodels take a lot of work and time but it is well worth it. Remodeling your bathroom will add value to your home, updating a floor with a luxury tile can update the entire look of any room, including the bathroom.
Buy Tarkett NAFCO Luxury Vinyl Tile Flooring
You can buy Tarkett NAFCO Luxury Vinyl Tile Flooring across the country. Find the location nearest to you by typing in your zip code here.
This was not a paid post. My own opinions were used based on my perceptions and experience. Thank you to Tarkett who supplied the product for review and the ongoing relationship with AkronOhioMoms.com. Check out the great selection of products at http://www.tarkettna.com.