On my last post, Remodeling Kids Bedroom Entry 1 we had just finished skim coating Elijah's bedroom walls. The walls were in horrible shape after we tore off the wood paneling. I knew it would happen but it was worth it to brighten up my kid's bedroom. After we skim coated basically the entire room, we sanded the joint compound down to a smooth finish. I had to re-plaster the walls in several spots a few times to get it totally flat.
Elijah is a nature boy. For his room, we decided to to make it very much like he was outside. My mother-in-law painted clouds on Elijah's ceiling free-hand. I am not a creative artist so I was thrilled that she painted the clouds.
My husband has the creative gene and painted rolling hills on the bedroom walls.  Don't let the fear of not being creative enough stop you from trying. Always remember, it is just paint. If you mess up you can re-paint. Think about what your child likes best and go with that type of theme. Your kids will love a creative, lively, fun bedroom!
For the top parts of the wall and spaces between clouds on the ceiling, we used Behr satin "Pool Party" blue paint. For the rolling hills, we used Behr satin "Moss Landing" green paint. These are very kid friendly paint colors. If you aren't sure what colors to choose, just ask the sales associate, there is usually a display just for kids palate of colors.
We varied the height of the hills for added interest. Above the hills is the sky that reaches up to the ceiling.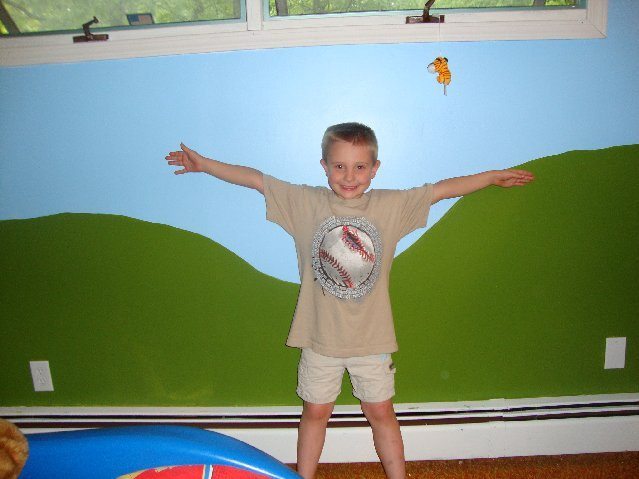 You can see how the hills are just rolling up and down the walls. We plan to create a bigger jungle scene on the bedroom walls with trees and lots of animals. The scope of our home remodeling project is too large right now to focus on the little decorating details like hand-painting animals on the walls. We will come back to this later.
In the above picture, you can see how the Palm Fan Store Tiger Shark ceiling light and fan really pulls the room together. It looks and feels like you are outside when you are in my son's bedroom. Adding a visual accent that is both functional and decorative is the way to go! Palm Fan Stores has a great line of ceiling fans with themes for every interest.
My son is so proud of his room. He loves the jungle theme, he's posing in the above picture with this little jungle tree with parrot. I am so glad that for our Total Home Remodel project, we chose to get the kids rooms finished first. They are really proud of their bedrooms that reflect who they are!
Home Remodel Before and After Pictures
I feel like I can post some before and after pictures at this point. We are not done with the remodel project in Elijah's bedroom. In the immediate future, we will replace the floor trim, add new closet & bedroom doors with trim, replace the carpet, and add curtains.
Elijah is super excited about his new bedroom! It has a Dr. Seuss feel to it with the rolling hills and clouds. He loves it! He takes everyone who comes over to our house straight upstairs to see his Jungle Bedroom! I'm so happy that we spent a little extra time and made his bedroom creative.