I am thrilled to begin the kids bathroom remodel! We have a major sponsor for the kids bathroom, American Standard. American Standard is a household name built upon a solid reputation of high quality and relentless innovation for more than 130 years. American Standard Brands serves both the residential and commercial markets. American Standard offers high-quality kitchen and bath products, including faucets, fixtures, furniture, vitreous china fixtures, cast iron sinks, whirlpool tubs, and more.
We are thrilled to show off the kid-friendly American Standard products in the Kids Bathroom Remodel. Before we dive into the new products, we have to tear out the old!
Remodeling Kids Bathroom
The kids bathroom before pictures show a very worn and outdated bathroom. Leaky faucets, non-water saving toilet, and a shower that could scald you if you flush the toilet while showering were all serious problems associated with this 45+ year old bathroom.
This is not a bathroom that kids enjoy. We all know kids love their bathtime. With safety issues, paint is not enough to fix this room. A complete remodel is necessary…as is a great paint job and new decor. 🙂
Ripping out the bathroom begins!
Ripping out the kids bathroom involves a lot of electrical work, plumbing, and heavy lifting so I left it to my husband. I come in toward the end when the drywall and finishing stages come about. My husband started by removing the light above the mirror by first turning off the power to that light.
Once the light was removed, he planned to remove the mirror. Opps! The mirror broke, I hope it doesn't lead to 7 years of bad luck! It wasn't his fault, the entire light cage was being held up with just a couple screws that were through the mirror AND holding up the mirror. There was no way around breaking the mirror. It is always helpful to have an extra set of hands there for instances like this. This just goes to show how unsafe it is to improperly install items. Do it right the first time.
Next, he turned off the water to start tearing out the sink, vanity, and piping.
Moving right along, he removed the vanity and toilet. As he tears out the materials that can be broken down into smaller pieces he does. He binds the pieces together with twine for easier removal and disposal.
It took the help of my father-in-law from Good Life Remodeling to rip out the steel tub. The heavy tub was sent to the curb and later picked up by a man that wanted to use it for storing stuff at his farm. It is amazing what people will take for free from the curb! Other items can be placed on craigslist for a quick sale, nothing today though.
Plumbing Issues begin…
Extra caution is necessary when removing drywall around the tub area with plumbing. Be sure to turn off the water.
Always be sure to wear safety gloves and glasses when appropriate for protection. Also, on older homes, be careful of lead paint and asbestos.
By ripping out the tub, the mysteries of the old plumbing appeared. There were 2 sets of plumbing under the tub and in the walls. After much investigation, they discovered that there were burst pipes and flexible piping used inappropriately. The joys of plumbing!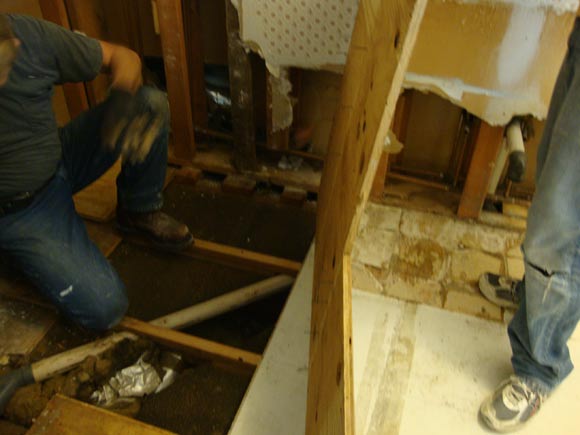 Ready to install American Standard Princeton Tub
The ripping out of the kids bathroom took the majority of a work day. The plumbing issues slowed down progress as we had hoped to install the new American Standard Princeton Tub. I'm very excited about the kid-friendly features of the Princeton Tub.
It is made with Americast Brand Engineered Material so it will keep the kids' bath water warmer for longer.
With soft well water, slipping in the tub is almost inevitable. The American Standard Princeton Tub comes with a full slip-resistant surface! I love that it will be safer for my kids to bathe in and also much more sanitary than the stick-on slip-resistant tabs that collect mold and mildew.
Americast bathtubs are made deeper, flatter and roomier than cast iron tubs. This low tub makes it easy for young kids to climb into the tub themselves safely.
My husband loves the integral overflow and drain assembly that makes plumbing for this tub a breeze.

American Standard Princeton Tub

This was not a paid post. My own opinions were used based on my perceptions and experience. Thank you to American Standard who supplied the product for review and the ongoing relationship with AkronOhioMoms.com. Check out the great selection of products at www.AmericanStandard-US.com.