We have a large window in the front of our home that sits at the top of our stairs upstairs. Odd fact, the second-story front door use to be the only front door in our house! We had no front door entrance until we tore a hole into the house. We switched it over to a large window and added a front door where it belonged. We had a curtain covering the second floor large window but I hated the way it looked and that it gave us no privacy while walking in the hallway at night.
This is sponsored post.
Once I was introduced to Select Blinds, I knew the first place we needed privacy and beautiful blinds – the second-floor window!  I quickly repaired and painted the walls even before shooting a 'before picture' but you can get the idea of how ugly the curtains were before we ordered custom blinds from Select Blinds.
Select Blinds is a one-stop shop for custom blinds and shades for every style and budget. If you don't like what I chose, don't worry, they have countless more!  They have custom roller shades, cellular shades, roman shades, bamboo shades, faux and real wood blinds, mini blinds, fabric & cloth blinds, verticle blinds, shutters, and more. They even have solutions for arches and skylights!
We ordered their New 2″ Designer Faux Wood Blinds after reviewing what they had to offer. It was a hard choice because there were so many really good options but this matched our style the best. It doesn't take much to see how remarkable the difference Select Blinds made in just the appearance of our hall with the below before and after pictures!
I love how clean and polished it makes both the inside and outside of our home look. Custom blinds actually do improve curb appeal and are essential if you ever sell your home.
I love how cozy, private, and even safe the blinds make my home feel now. Here is another before and after shot.
Isn't it lovely? I do like real wood and thought about going that route but I love how durable faux wood blinds are. They are scratch-resistant as well as moisture and heat-resistant. You could even put these in your bathroom or kitchen. I have plans to put this exact blind in the 2 upstairs bathrooms, so I wanted to make a good choice from the beginning.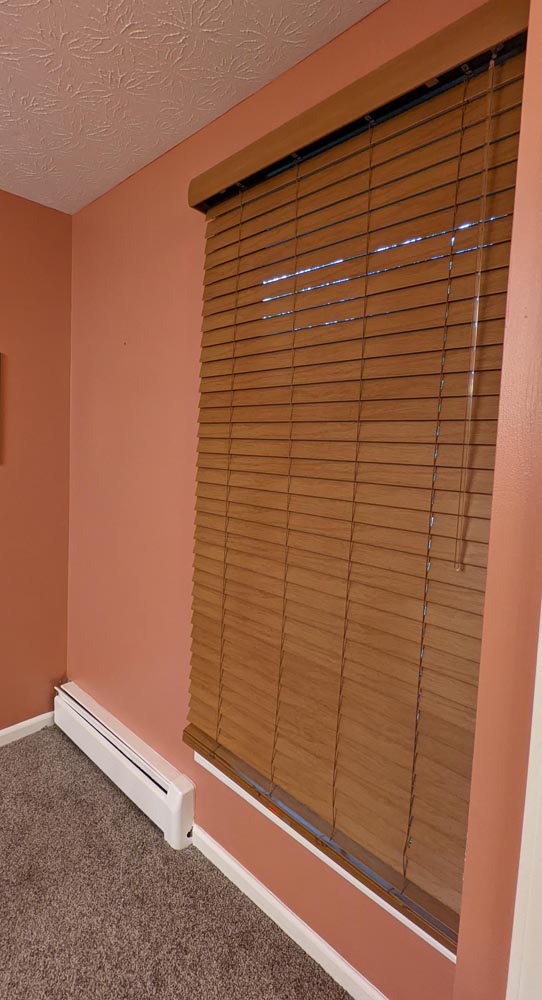 You can mount your custom blinds on the inside or outside of the frame. Since we have a crank-out handle to open our windows at the bottom, we chose outside. It looks just perfect. If you are afraid of measuring, don't be. They have a F.I.T. Guarantee, so if you make a mistake, don't worry; they will fix it. Plus, they have a really helpful measuring worksheet that you can use while measuring your blinds; it tells you exactly what to do if you choose an inside or outside mount. They even have a step-by-step video that was very helpful to ensure you are measuring the windows correctly.
Now, if I walk in the hall at night, I don't feel like the world can see me, because they can't! The privacy and security good fitting blinds gives you are so important, especially for a bedroom or bathroom. And, shielding you from light at night is important too.  No curtain can deliver what blinds can.  I also like that these faux blinds are made in the USA and are 100% GREENGUARD certified which means the materials that they use to make them aren't going to leach chemicals into your air!
I also like the headrails because it offers a clean and polished look. They are super easy to install too, since they are magnetic and clip-on. The entire installation took all of 5 minutes making it a really quick and easy way to upgrade the interior and exterior look of your home! It's the easiest DIY project you'll do all year.
If you have kids or pets, you need to upgrade your window treatment with Select Blinds for the next reason alone. They offer cordless lift systems – so no more dangerous and messy-looking cords dangling from your blinds! Just press the button on the bottom of the blinds to lift or pull down. It's so much better and safer!
I'm so happy with our upgrade of faux-wood blinds. They look gorgeous and give us the coverage we need and want. I hope to outfit my entire home with this exact blind for our bathrooms, bedrooms, and office over the next year.  They always have something on sale on their Select Blinds Coupons and Sales page.
If you are on the fence about upgrading to custom blinds or shades, I suggest you go on the Select Blinds website and request some samples. Put the samples up next to your windows to visualize what new blinds or shades would do for your home. You can order up to 15 free samples of any product to confidently place an order and know exactly what your custom color will look and feel like. They even ship the samples and final product for free.  Don't worry if you see they have an amazing sale (which they always do) and you want to see samples first, they will lock your sale price in for 30 days so you can check out the samples before placing your order.