We have been working on our house remodel for over two years. The time we have all been waiting for has arrived. Installing Lowe's STAINMASTER Carpet completes a large chapter in our home remodeling adventure.  The entire first floor of our home is now complete! We now have a place to retreat to – our living room with beautiful STAINMASTER carpet!
Lowe's makes it easy to install new carpet in your home. They will come out to measure your spaces to ensure that you order the exact amount you'll need. They can also remove your furniture and your old carpet before they install the carpet. Let me tell you, this was an exciting time for me to see the old, nasty carpet being removed from my home. It is a messy, stinky job so I was happy to have a break from doing this ourselves for once!
Carpet removal took no time at all and they were ready to start installing our new TruSoft STAINMASTER carpet.  First, they nailed down the tack board. Next, they installed STAINMASTER Carpet Padding.  Buying the right padding is just as important as the carpet. STAINMASTER carpet padding extends the life of your carpet, protects the floors underneath, and makes clean-ups easy!  I have a lot to share about STAINMASTER carpet padding and will in my next post.  I was amazed at what I learned and I know you will too.
Once the padding was installed, they started installing the beautiful carpet. They had plenty, so no worries that there were any incorrect measurements. This could be a worry if a professional from Lowe's didn't come out and measure beforehand.  They used a power stretcher to stretch carpet to give our room the best carpet install.  They did an amazing job with the seam, I can't even tell you were it is in the room!
In no time, our living room went from a room that I wouldn't let my kids (or baby nephews) play on to the most beautiful and inviting room!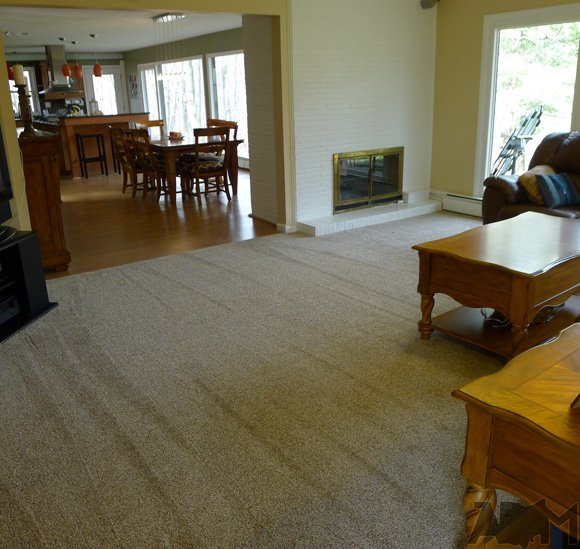 When my kids came home from school, the Lowe's STAINMASTER Carpet was just about down. They still had to put the heater vents back on our walls, vacuum, and clean up the floor but my kids couldn't wait! They started doing flips like it was a gymnastics room!
Check out my kids reaction with this short video:

The carpet is so incredible soft. When we were shopping for STAINMASTER Carpet at Lowe's, we could tell that the carpet felt soft but it wasn't until it was installed that we could really understand just how amazing it would feel.  You can almost feel the softness just by looking at the below picture of Lowe's STAINMASTER carpet in our living room.
We have solid floors throughout the majority of our home, so having a special room to retreat to that is soft underfoot is a very welcomed destination.

The STAINMASTER carpet is beautiful in our living room. It has totally transformed not only the look and feel of our living room, but our entire home. I think the below picture captures what  Lowe's STAINMASTER Carpet  is all about – kids and pets enjoying time together.
We are all spending more time in the living room now – on the floor! We are enjoying the room far more than ever before.  Our kids are playing with their toys, puzzles, and games on the floor all the time now. Our dog and puppy have found their new spots to rest during the day – in the living room. I swear that our old, aging dog breathed a sigh of relief when he first laid on the Lowe's STAINMASTER Carpet. He was just so comfortable.
If you are in the market for carpet, I suggest you stop by your local Lowe's and check out their selection of STAINMASTER carpet for your family.
Stay tuned for a full review of our carpet selection and the installation of carpet by Lowe's.
This was not a paid post. My own opinions were used based on my perceptions and experience. Thank you to Lowe's and STAINMASTER for their ongoing relationship with AkronOhioMoms.com. Check out the great selection of products at www.Stainmaster.com and www.Lowes.com.