With over 25 years serving NE Ohio, DiFranco Contractors Inc. specializes in excavating, masonry, and concrete construction. The owner, Gianni DiFranco bids and works on every project, with his skilled crew offering quality work at reasonable prices. There is no project too big or too small, for residential, commercial, or industrial clients. Call 440-946-2029 to schedule your estimate today.
This is a sponsored post.
DiFranco Contractors Inc. for NE Ohio
What project does your home need this season? DiFranco Contractors Inc. offers expertise in Basement Waterproofing, Concrete Construction, Stamped and Decorative Concrete, Excavating Services, Demolition Services, Drainage Installation, Sewer System Installation, Masonry & Stone, Foundation Installations, and General Contracting.
Basement Waterproofing in NE Ohio
A wet basement can lead to many problems including foundation cracks, mold, and musty odor. DiFranco Contractors, Inc. has been serving the area with basement waterproofing for 25 years, the traditional way with exterior waterproofing. Their goal is to prevent water from getting into your home in the first place. Waterproofing your basement can prevent structural damage of your foundation, keep water outside of your home, eliminate musty odor & improve air quality, increase your living space, and increase your home value.
DiFranco Contractors will diagnose your water problem to ensure you get the exact basement waterproofing solution that your home needs.
Stamped Concrete NE Ohio Contractor
Add the look of flagstone, brick, slate, brick, cobblestone or even wood to your patio, walkway, or driveway with stamped concrete. Stamped concrete mimics other materials while offering a more durable surface providing a more versatile and affordable option for your home. With stamped concrete, you can choose the patterns, texture, shape, and color to coordinate with your homes hardscaping and landscaping.
I've personally had a stamped concrete patio at our previous home and loved it. It was easy to care for and looked stunning.
The process is similar to having a concrete slab poured. Once poured, they add texture and color prior to sealing. They actually use large stamps of various patterns and textures to give you the stamped look. The DiFranco team are experts in providing a natural look.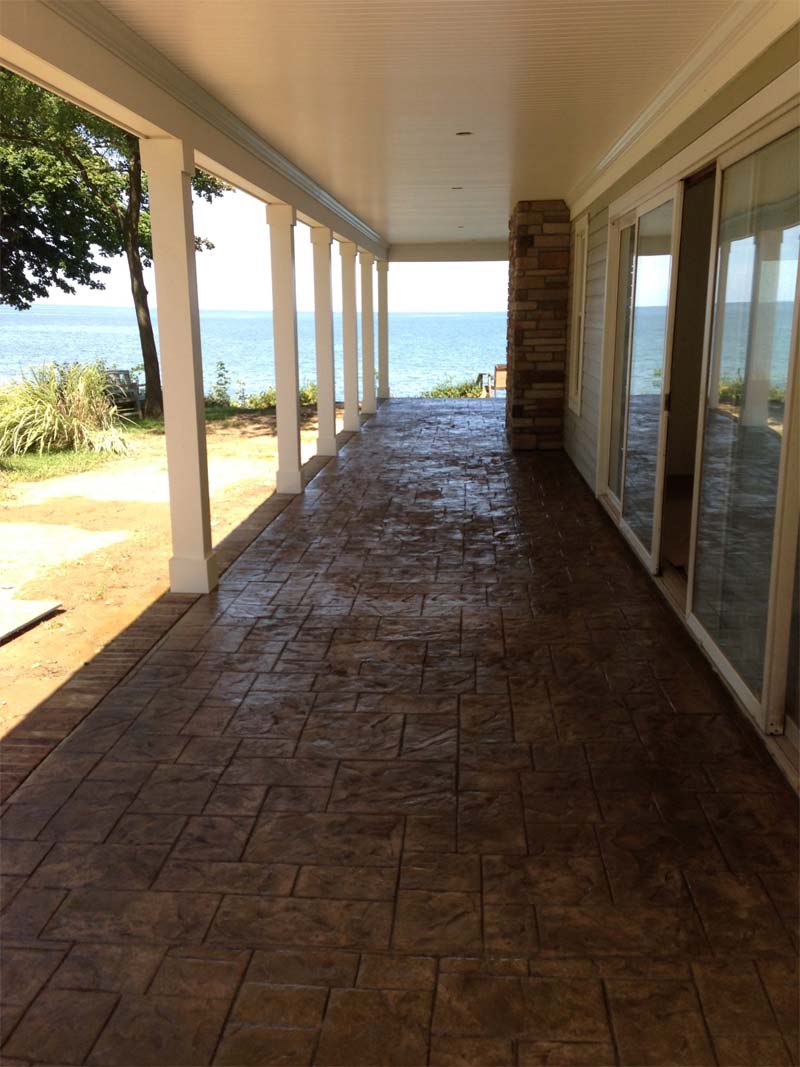 There are no limits to the possibilities of updating your home and curb appeal with stamped concrete by DiFranco Contractors, Inc.
Ohio Foundation Repairs and New Foundations
A rock solid foundation is essential for your home, garage, shop, etc. DiFranco Contractors Inc are experts in both foundation repairs for residential and commercial properties in NE Ohio.
Sewer Repair in NE Ohio
Sewer lines are nothing to mess with, call the DiFranco professionals for residential, commercial, and industrial systems. They are experts in sewer repair and sewer installation to existing sewer lines that need replacement services or sewer parts.
They work alongside civil engineers for their sewer line services in Ohio including:
Installing main sewer line
Installing sewer manholes
Installing private sewer lateral lines
Sewer Installations
Sewer Repairs
Sewer laterals
Backflow preventers
Sewer line repairs
Sewer Line replacement
Ohio Masonry and Stone Restoration Contractor
DiFranco Contractors Inc serves all NE Ohio needs for masonry work including stone columns, retaining walls, chimneys, fireplaces, patios, retaining walls, stone & brick siding, walkways, and more with old world exceptional craftsmanship.
If your home shows signed of masonry damage, trust the DiFranco certified stone masons to repair or replace it. DiFranco Contractors specialize in residential and commercial masonry for project including fireplaces, chimneys, stone siding, stone walls, and more. They will access the damage and come up with a solution to best fit your home's needs.
Call DiFranco Contractors Inc. for an Estimate
DiFranco Contractors Inc. has been serving NE Ohio for 25 years in excavating, masonry, concrete construction, and more. This family-owned and operated business offers quality work at reasonable prices. Call 440-946-2029 to schedule an estimate for your next project.
DiFranco Contractors Inc.
9970 Mentor Road
Chardon, Ohio 44024
Phone: 440-946-2029
Email: gfdifranco@gmail.com
Fax: 440-286-7483