Our total house remodel project continues upstairs in our home. We have our upstairs hallway carpeted with the same carpeting we used for our stairs.  We are working with STAINMASTER and Lowe's for this feature and received carpeting to facilitate this series of posts.
We had a solid floor surface before installing the carpet. We simply had the STAINMASTER carpet pad installed over it, offering total comfort and support. STAINMASTER carpet pad even extends the life of carpet.

Before installing the carpeting, I decided to repaint the walls and trim – there is no better time to do this than before getting new carpeting!  We installed the STAINMASTER SolarMax Treviso   which is perfect for active families like ours. It stays 30% cleaner and last 50% longer than other brands. Who can ask for more?! 
We are so pleased with the carpet installers from LOWE'S. They did a professional job. Even with all the corners and doorways, they matched the carpet seams up perfectly. We can't find any seams at all! Lowe's did a fantastic job!
Since our upstairs hallway is a high traffic area, I'm so glad that STAINMASTER carpet easy to clean and so durable. I was a bit concerned because it has a cut and loop pattern. It hasn't been an issue at all and looks gorgeous.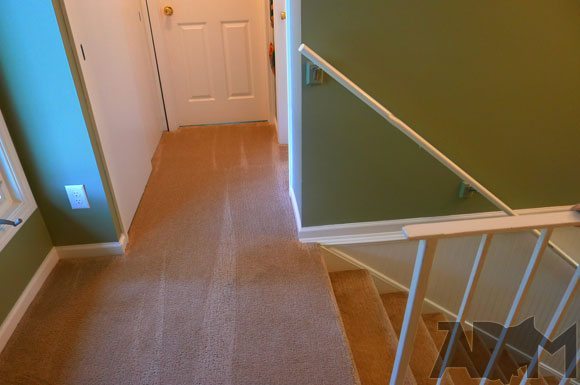 Our kids seem to always be laying on the carpet now. They play on the steps and hallway so much more than ever before. Roxy, our puppy likes to position herself right at the top of the steps so she can see everything going on downstairs and out the window. I often find one or both of my kids laying down with her and playing with her here as well. The carpet has really changed the way my family lives.
Below is a before picture, with just STAINMASTER carpet padding.
Check out the after picture with the gorgeous STAINMASTER carpeting. The Bristre Grey color of our carpeting coordinates so well with the mossy green painted walls. It is neutral enough to go with most colors, which is great for when I get tired of the wall color and want to change it again! You can never go wrong with selecting a neutral color for carpeting.
We are very happy customers!
STAINMASTER from Lowe's
We have been so pleased with our STAINMASTER carpeting in our living room, stairs, and hallway. If you are in the market for new carpeting, check out STAINMASTER from Lowe's.
FREE STAINMASTER Carpet Installation at Lowe's
There is no better time than now to install carpet in your home. Now through 11-25-13, you can get FREE basic carpet installation at Lowe's when you purchase both STAINMASTER Carpet and STAINMASTER carpet pad.  STAINMASTER comes a lifetime stain and soil warranty. Learn all about Lowe's carpet installation here.
This was not a paid post. My own opinions were used based on my perceptions and experience. Thank you to Lowe's and STAINMASTER for their ongoing relationship with AkronOhioMoms.com. Check out the great selection of products at www.Stainmaster.com and www.Lowes.com.