Where you call home while on vacation sets the tone of your entire trip. When on a beach vacation in Florida, an oceanfront hotel is a must to enjoy all the beach has to offer fully. We are visiting our favorite city in Florida again this summer – St. Augustine. This time, we are hanging out at the beach with plenty of time at the ocean, paddle boarding, kayaking, and meeting dolphins while still taking time to take in the history and fun of the city.
Beacher's Lodge – A Condo Hotel at Crescent Beach near St. Augustine
The St. Augustine area is home to 42 miles of sandy white beaches for every preference from the pristine beaches of Ponte Vedra to the lively surf of St. Austugine to the wide sands of Crescent Beach.
Beacher's Lodge is the best oceanfront hotel at Cresent Beach. Crescent Beach is my family's style with fewer crowds and wide open sandy white beaches for walks, volleyball, beach bike rides, and more. We love the sand dunes and the hopes of spotting baby sea turtles nesting nearby. Plus, it's perfect for swimming and boogie boarding!
If you are looking for a more relaxed Florida beach experience, Crescent Beach is for you, and Beacher's Lodge Oceanfront Suites is the best St. Augustine oceanfront beach hotel for you.  We can't wait to visit and report back to you all the unique characteristics that Beacher's Lodge offers families. We can't wait to share with you the unmatched views from our balcony and at the beach! This will be our home away from home for about a week and we can't wait!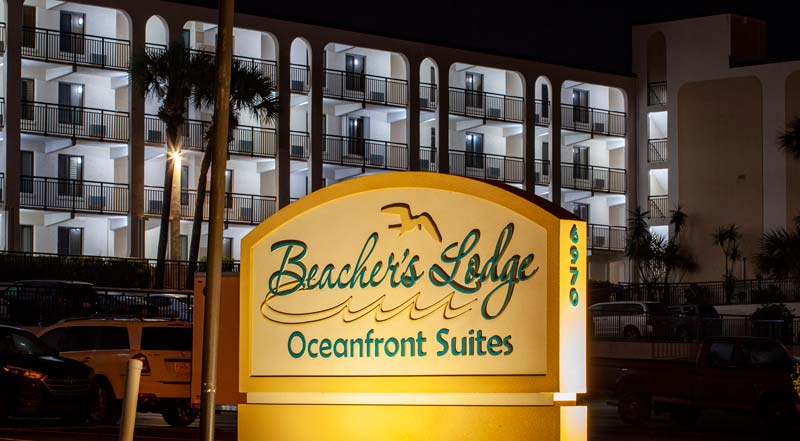 Breacher's Lodge offers studios and 1-bedroom units. It is a condo hotel with ocean views from private balconies and patios nestled along the natural sand dunes of the Atlantic coast. The units are individually owned, so each rental is unique with island-inspired decor. Many people find their favorite unit and return year-after-year to their home away from home at St. Augustine. I can't wait to see what our rental will look like!

Below is a quick video. It's 10 years old so the recent renovations and modernizations are of the rooms are not reflected in the video, but it shows the layout of the rooms as well as the property, pool, and beach. You can check out all the styles and even book your stay in your preferred room here. 
This laid-back condo is perfect for families that want to enjoy ocean time without all the packed beach crowds as well as the conveniences of kitchenettes or even full kitchens. We plan to enjoy the many dining options around Crescent Beach and St. Augustine but are happy to have a kitchen to prepare breakfast and a few meals without even leaving our hotel!

All rooms include free Wi-Fi, cable TV, and pull-out sofas or wall beds – so all the basics are there too!  We are excited to relax by the ocean-view heated outdoor pool too.

Beacher's Lodge offers direct beach access which is important for families that want to enjoy the beach – not drive to the beach from their hotel. We'll be spending hours and hours on the beach, we don't want to spend any time driving to it! If that's you too, Beacher's Lodge is the perfect laid-back condo hotel for you. It's just 8  miles from St. Augustine, on Crescent Beach. A short drive takes you to all the St. Augustine attractions – 8 miles to St. Augustine Amphitheatre, 9 miles from the St. Augustine Lighthouse & Maritime Museum, and 10 miles from Castillo deSan Marcos, the oldest masonry fort in the US.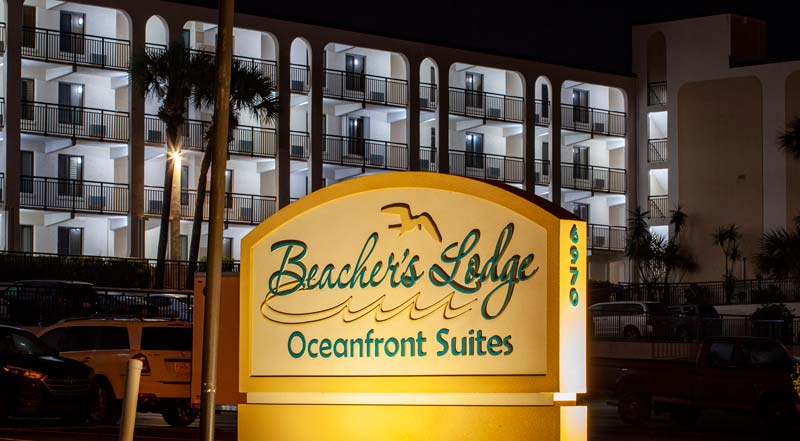 There is still time to book your Florida beach vacation for the summer at Beacher's Lodge!  Their affordable oceanfront suites make it easy to plan a St. Augustine beach vacation.  Book your room – choose from nightly, weekly, and even monthly rentals.  Then, fill in with all the activities you want by checking out our reviews here. The most important step in planning your vacation is where you will stay. I firmly believe that Beacher's Lodge Oceanfront Suites is the best St. Augustine beachfront hotel for families. I'll report back my findings after our visit with plenty of photos and video too!
Check out their Beacher's Lodge hotel deals and specials. Right now, you can pay for 3 and stay 4 with the 4th night free! Plus, they offer AAA/AARP and military discounts.
Beacher's Lodge
6970 A1A South
St. Augustine, FL 32080
Toll Free: 800-527-8849
Phone: 904-471-8849