The Chocolate Cafe in Put-in-Bay is one of our favorite stops during every visit. Who can resist visiting a Chocolate Cafe while vacationing on the island? This popular destination offers so many sweets that it will quickly become your favorite stop of the day as well!
I received food to facilitate this post.
Chocolate Cafe in Put-in-Bay
When it is 85 degrees in Put-in-Bay there is no better way to cool off than with ice cream (Perry's Cave comes in #2 place!) at the Chocolate Cafe. My daughter is in heaven with two scoops of chocolate and peanut butter chocolate ice cream.
Our friend's boy enjoyed a large mint chocolate chip ice cream cone – to match his spray-painted hair. Anything goes on the island, including green hair!
My son's friend ordered the Perry Sundae. This decadent dessert is a must! It includes a brownie on the bottom with two scoops of ice cream, chocolate sauce, caramel sauce, whipped cream, and a cherry on top. It is guaranteed to put a smile on any face.
I tried the frozen hot chocolate. I'm a big fan of hot chocolate – and basically all chocolate so I was excited to try this. Essentially, it is a cold hot chocolate with ice and chunks of chocolate that is topped with whipped cream and a cherry on top. I'm not sure I can ever go back to ordinary hot chocolate!
The Chocolate Cafe offers rows and rows and rows of fine chocolates just waiting to be enjoyed or taken home to enjoy later. Basically any chocolate that you can imagine is here as well as fudge.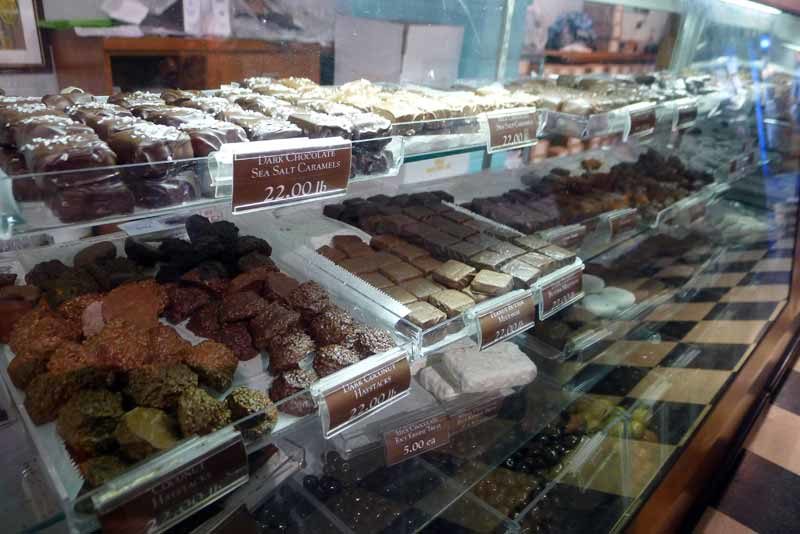 We enjoyed a sampling of chocolates and fudge from the Chocolate Cafe when we came home the next day. It was a fantastic reminder of the fun we had at Put-in-Bay and another reason to plan a trip back soon.
Be sure to stop by the Chocolate Cafe on your next trip to Put-in-Bay. There is always a Chocolate Museum inside where you can relive the famous I Love Lucy clip where Lucy works in the Chocolate Factory! Do you remember that?
Chocolate Cafe
820 Catawba St
Put-in-Bay, OH 43456