Tenerife is the largest of the Canary Islands, well known for its rugged and steep coastline, especially in the north of the island where cliff faces reach hundreds of feet into the sky before plunging downwards into the Atlantic ocean. There are a number of things to see and do, so don't miss some of these hidden gems.
Las Águilas Jungle Park
A stones throw from, Los Christianos beach, Las Aguilas Jungle Park is a botanical garden and zoo home to over 500 animals. The stunning tropical grounds make it a great place to wander around the whole day and if you are traveling with a family, kids will love it. Highlights include the sea lion show, held every day; natural show offs, the sea lions love to frolic for a delighted audience with the help of all the park's specialist trainers.
Tiede National Park
Spain's highest volcano dominates Tenerife's skyline, no matter where on the island you are. Guests can take a cable car up and over the mountainous terrain, to an altitude of 3,500 metres where you can take one of three routes. Route 10 will take you to the crater of Mt Teide, Spain's highest peak, where you can see the nearby islands of Gran Canaria and La Gomera on a clear day.
Santa Cruz Carnival
If you are thinking of visiting in February, the Carnival of Santa Cruz de Tenerife is a must see. Only to be rivaled by the carnivals of Rio, the carnival showcases the islands flamboyant art and culture scene. Local musicians from all over the Spain book their Tenerife flights at this time of year and head to this unique Spanish island. Past carnivals have had themed like Bollywood, Flower Power and the Roaring 20s.
La Laguna Market
Located on the Plaza del Cristo, La Laguna is open every day until 2pm and from the moment you arrive the air is thick with the smell of smoky paprika, fresh fish and crisp cut flowers. It's one of the best places to sample some of the most authentically prepared, and cheap, Spanish cuisine too.
El Medano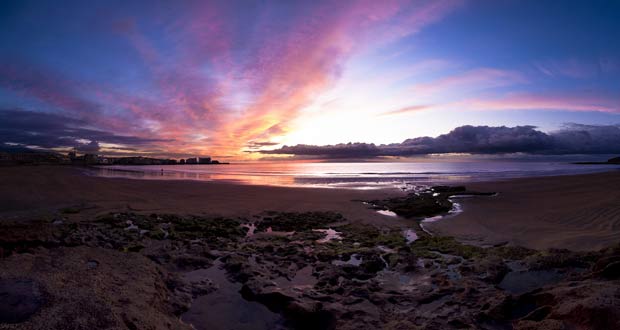 El Medano offers a real taste of Tenerife. This chilled out surf town is famous for water sports like wind surfing, and there's nothing more to this harbor town than it's laid back way of life. Those who enjoy a relaxed pace, can enjoy the tiny local bars and restaurants, or take a stroll along the wooden boardwalk until you can see as far as Montana Roja.
Before you head home, be sure to catch the unique sunset over the island of Tenerife from Los Giantes. Relax and unwind watching the sun set with a G&T at Mirador de Archipenque- one of its highest points.
Image by inouye used under the Creative Commons license