San Diego is an amazing location to see tide pools. You can't find tide pools on the East Coast like you can the West Coast, so this is an extra special time of exploring for my family when we travel to California. If your family is visiting California, I urge you to plan time to get your kids out in nature for this extraordinary, FREE experience.
One of the best places for tide pools is just a bit north of San Diego in La Jolla Village at the north end of La Jolla Cove. This spot has several public entrances along Coast Blvd with public parking along the side of the road.
Besides Death Valley, tide pools was the only thing my son wanted to do on this vacation.  We found amazing tide pools in Cambria, CA which is north of San Diego on our last trip. We could spend hours exploring the tide pools, finding new creatures!
Nothing is better than seeing your kids have fun exploring nature, whether it is at the tide pools in San Diego or the Cuyahoga Valley National Park in Ohio or their own backyard. This is the stuff that makes up childhood memories for life.
My daughter loved the tide pools and exploring too although she's not one to stick her hand in the water to pick up crabs or sea anemones.
What a fantastic place for photos too! Although I captured my kids having fun at the tide pools and I couldn't resist snapping some posed photos as well! I might hang this one up!
I loved the variation in the rock formations at La Jolla tide pools. There was always a way across the expanse but these expanses offered a glimpse of even more excitement than the smaller tide pools as the waves continued to push water far up into the openings.
We were in our element at the tide pools – this might be a Christmas card photo, what do you think?
To check out the tide pools in San Diego, or anywhere in California, you'll need to be deliberate in timing. The East Coast has just one high and one low tide per day, the West Coast has two high and two low tides per day. While we were there, low tides were at 4am and 3pm, so we could only visit in the afternoon. Find out when low tide is and plan accordingly. If you notice below, there is a small sandy beach for kids to play in the sand a little as well although for a larger sandy beach, you'll have to go further north on La Jolla Cove.
At La Jolla tide pools, you can expect to see crabs, sea anemones, sea stars, and maybe even an octopus. Further down to toward La Jolla Beach, there are sea lions and seals at both ends of the rocky ends of the cover and at Children's Pool area. We unfortunately didn't have time during low tide to make it to these areas on this trip. It's something to look forward to next time!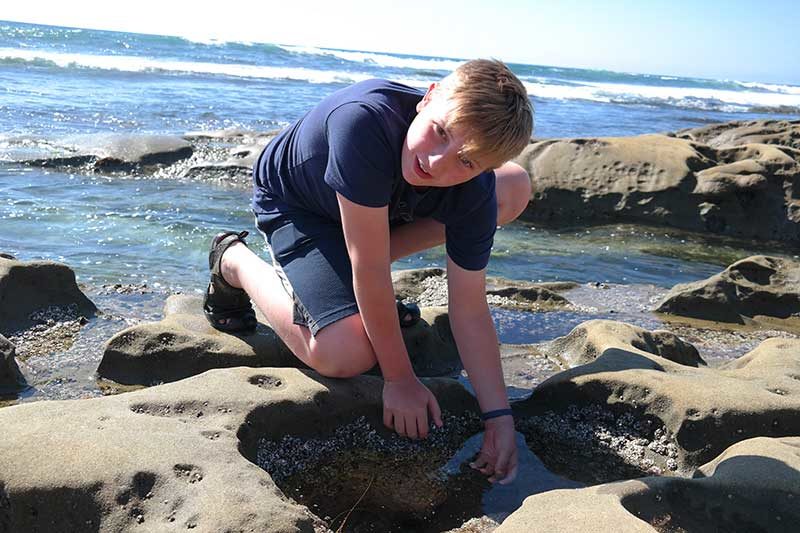 My son loved using his GoPro to capture the tide pools with the waves crashing in! I plan to purchase a higher quality tide pool for our next adventure after seeing what his could do on this trip. A GoPro captures more action than any other type of camera.
The tide pools are south of the most photographed sandy beach at Jolla Cove. I suggest spending the day doing tide pools at the south end and beach time at higher tide. The beach area is also home to snorkeling, diving, and kayaking as the water is calmer, and clear up to 35 feet!
Follow us along now through June 30th on Facebook, Twitter, Instagram, and this Blog to join us in our Kidifornia Family Adventure.