As a mom of three teenagers, I'm always on the lookout for exciting activities that my family can enjoy together. And let me tell you, the Blue Man Group show at the Luxor in Las Vegas is an experience like no other.
This 90-105 minute show can only be found at the Luxor hotel in Las Vegas. Each show is unique so no matter how many times you see it, it's never the same show twice!
From the moment we entered the theater, we knew we were in for a treat. The atmosphere was electric, and the anticipation in the air was palpable. As the lights dimmed, the three Blue Men appeared on stage, and our excitement levels reached new heights.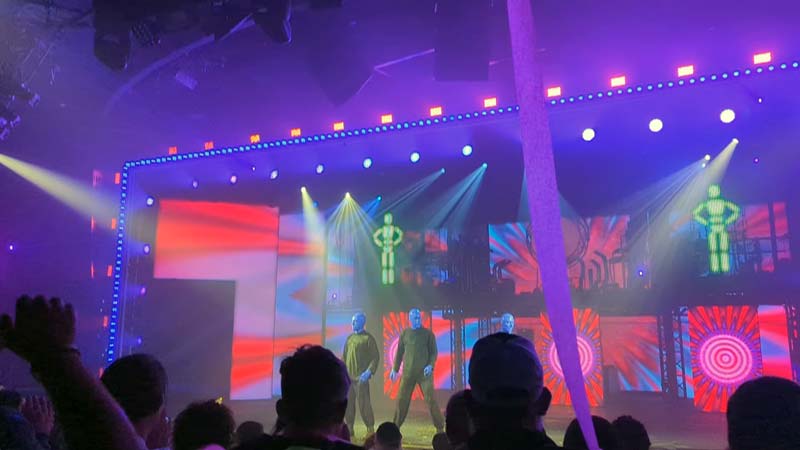 Throughout the show, we were treated to an incredible spectacle of music, comedy, and jaw-dropping stunts. We found ourselves laughing uncontrollably (just ask my son, who said he hasn't heard me laugh so much ever!), clapping in unison, and even dancing along to the beat. And the best part was the audience participation – we were on the edge of our seats, wondering who would be the next lucky person to join the Blue Men on stage. They literally went into the audience to find their next victim, participant!
But what truly impressed me was how family-friendly the show was. In a city known for its adult entertainment, it can be challenging to find activities that are appropriate for all ages. However, the Blue Man Group manages to strike the perfect balance, making it an excellent choice for families with kids of all ages.
As a parent, it's reassuring to know that the Luxor is dedicated to providing family-friendly entertainment. Along with the Blue Man Group, the hotel is also constructing a massive playground area, making it a fantastic choice for families visiting Las Vegas.
The Blue Man Group truly exceeded our expectations. Their unique blend of slapstick humor, music, and incredible visuals kept us engaged and entertained throughout the show. The falling streamers, exciting lights, and music had us all up on our feet, dancing along, and the entire experience was unforgettable.
If you're looking for an unforgettable family adventure, I highly recommend booking your stay at the Luxor and your seats for the Blue Man Group. It's a fantastic way to spend time together and create memories that will last a lifetime. Don't miss out on the opportunity to experience this amazing show for yourself!
Get your tickets now for Blue Man Group at the Luxor in Las Vegas! Read our Luxor for families review.