You never have to leave once you unpack your bags at Cape Codder Cape Cod Family Resort. They have everything you desire for a family vacation. The indoor wave pool was my kids' favorite attraction.  There is also a heated outdoor pool, spa, fitness center, dining, and family activities day and night.
Cape Codder Resort & Spa Review
During our recent trip to Cape Cod, we stayed at the Cape Codder Resort and received lodging in exchange for this post.  Cape Codder Resort & Spa welcomes guests with gorgeous landscaping, man-made sand dunes, and even a sandy "beach" area as we strolled the grounds.
The lobby was welcoming with friendly staff. We were given a schedule of the daily kids activities and family events. One was starting right away, so we went to it before we even unpacked our bags!
We were certainly glad we made it in time to learn about the alligators and actually HOLD an alligator!  My son is in his element holding the one-year old alligator! He loves animals!
My daughter was thrilled and BRAVE to  hold the alligator too. This was just one of the amazing and fun activities the Cape Codder has in store for their guests every day.
The fun activities start at 9:30 am and end after dark at Cape Codder Resort. They offer interactive activities like field games, volleyball, yoga, and zumba as well as arts and crafts, bingo, board games, ice cream socials, and air brush tattoos on a nearly daily basis.  Every evening offers something special for the whole family like the Reptile show we encountered, a live band, and a DJ dance party.  Every night, stop by the sandy beach area for a bonfire (bring marshmallows) and movie night.
Like I said, you will never want to leave the Cape Codder Resort, there is something fun for everyone, all day long!
Cape Codder Accommodations for any size family…
The Cape Codder Cape Cod Family Resort has accommodations for every family's need from guest rooms to suites to residences. We stayed in a traditional guest room. Residences offer 2& 3 bedrooms for the ultimate in luxury living and family getaway for up to 10 people. Suites offer amenities such as two-person Jacuzzi tubs, fireplaces, and multiple floors.
We enjoyed our stay in a traditional guest room – take the video tour!

The room was spacious with two queen size beds. The room had plenty of floor space, so we didn't feel crowded at all. We were on the first floor which meant a sliding glass door that opened to our own patio and into the courtyard. It gave us an easy walk to the family activities outside, which we loved. Second floor guest rooms have a private balcony.
Everything was clean, clean, clean – something very important to moms! The bathroom was beautiful and well-kept with plenty of fresh towels.
Enjoy Bath & Body Works brand soaps, shampoo, and lotions.
There is both a shower and bathtub – great for bathing little ones.
Cape Codder Indoor Wave Pool
For my kids, the Cape Codder Indoor Wave Pool was like a water park. Take a video tour!
It offers an enormous 8,200 square foot pool with waves that get up to 2 feet high! It is hours and hours of fun for the whole family.
The waterfall umbrella is fun to kids to hide out under and get rained on too. It was also base for various water spy games the kids were all playing together. I saw many families traveling together with other families – either friends or relatives at Cape Codder. It really is a family resort that everyone can enjoy. Everything is more fun when it experience it with extended family and friends!
There are 2 waterslides that spiral down 80 and 50 feet to the pool below.
There were always multiple lifeguards actively working at the indoor wave pool. I felt good knowing my kids had an extra couple sets of eyes on them since it was such a large pool area. When I wasn't in the pool with them, I enjoyed relaxing on the chairs situated alongside the entire pool area.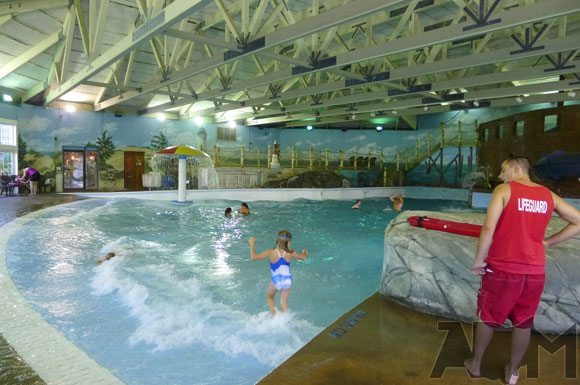 Adults and kids over 16 can enjoy the large, 24-person whirlpool too – my favorite!  You can also workout in their fitness center next door. It offers treadmills, elliptical, steppers, bikes, and weights.
Dining at Cape Codder Resort & Spa
Whether you want Cape Cod cooking at its best with made from scratch dishes or frozen drinks, you won't even have to leave the resort. There are dining options from breakfast to dinner and dessert.
The Grand Cru Wine Bar & Grill offers everything from pizza and burgers to Atlantic Salmon and steak.  It boasts a wine bar with more than 20 wines by the glass as well as cocktails, brews, and more.

Hearth 'n Kettle offers dine in and take out for breakfast, lunch, dinner, and dessert. Enjoy entrees like their Fisherman's Platter, Stir Fry bowls, Flatbread pizza, Cape Cod Reuben, or their signature salads.
The Deck offers you outdoor seasonal dining from breakfast to dinner. Order from the Hearth 'n Kettle menu for lunch or the Grand Cru menu for dinner. Nothing beats Al Fresco dining in Cape Cod! While we were visiting, there was live music as well!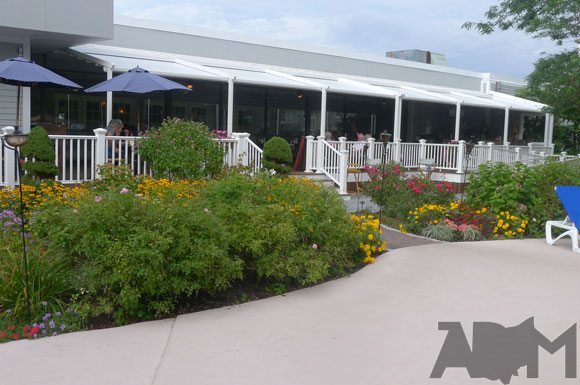 When the sun goes down, the fun is just getting started at Cape Codder with family friendly entertainment. During our visit, we enjoyed a live DJ dance, movie night, roasting marshmallows, late night swims, and more. Take a sneak peek below.

This is truly a family resort in Cape Cod that would be perfect for a family vacation, family reunion, or a trip with friends.  Be sure to bring marshmallows for the nightly bonfire – roasting sticks provided.
Once the sun goes down, the heated outdoor pool lights up for the night in brilliant colors that my camera couldn't adequately capture. There is even an adult only swim later in the evening for a quiet swim sans splashing!
Cape Cod Beaches
There is only one reason to ever leave the Cape Codder Resort during your stay, and that is the Cape Cod Beach! There are several public beaches near Cape Codder Resort.  We went to Craigville Beach. It is only about a 10 minute drive from Cape Codder Resort, off Craigville Beach Road on Nantucket Sound. It has everything a family wants and needs: large sandy beach, calm waves, restrooms, showers, and concessions!
You have to pay a small fee to park at the beach but that fee covers several other beaches in the area for that day. Another nearby beach minutes away is  Kalmus Beach, known for the best location to windsurf on Cape Cod. Take a video tour of Craigville Beach.
Visit Cape Codder Resort & Spa
Our visit to Cape Codder Resort & Spa was amazing. We didn't want to leave. There was so much to do and see that we didn't do 1/2 of it. The best part of Cape Codder Resort & Spa is that everything is available to you at one location, you can do as little or as much as your family wants to while on vacation.  It is a family friendly resort that gives you so much for your money!
Book Your Stay at Cape Codder Resort & Spa
Book your stay now for Autumn travel and even for next Spring or Summer. Cape Codder Resort & Spa offers a variety of money-saving special offers, including their Family Vacation Package.
Cape Codder Resort & Spa
1225 Iyannough Road
Hyannis, MA 02601
877-624-9806
Like Cape Codder Resort & Spa on Facebook
Follow Cape Codder Resort & Spa on Twitter
This was not a paid post. My own opinions were used based on my perceptions and experience. Thank you to Cape Codder who provided us with accommodations for review.