Make plans to visit the quaint town of Cambria while on your California Coast Highway 1 vacation. Located 1/2 way between Los Angeles  and San Francisco, Cambria offers a retreat like no other.
Cambria also offers the coastline experience of excellent tide pools to explore, a pristine beach, a scenic boardwalk, and the opportunity to spy sea life including harbor sea lions, seals, and even whales (in season).
Shamel Community Park offers ocean-side playground, trails, picnic tables, and a stunning wide beach with tide pools, driftwood washed upon the shore, kelp forests, rocky reefs, and deep water canyons.  You might spy marine mammals as well as a host of sea birds.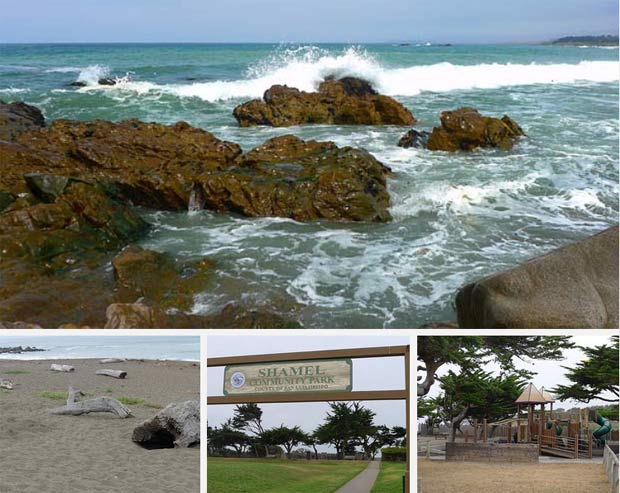 The weather is always perfect in Cambria, between 50-70 year round. This is perfect weather for sightseeing, kayaking, biking, hiking, and exploring.

Cambria is not a typical beach tourist trap, it is a beautiful, quiet artisan town with art galleries, specialty shops, and fine restaurants in their small downtown.
Some of our favorite stores included Planet Yachats for a beautiful assortment of minerals and crystals – loose and set for jewelry. We also enjoyed the beautiful art at Cambria Glass Works, I'm always amazed at handmade glass.
Our favorite store was the Grow Nursery, specifically the store in the back that was home to rare and unusual succulents. We spent over an hour here since my son is a huge fan of succulents and cacti. My son was able to ask the employee anything and he knew the answer. I was so impressed at how much time he gave my son, nurturing his desire to learn more about succulents. He was impressed by how much my 10 year old son already knew and said that was the age he began his interest too – now look at the displays he helps create for the store!

Cambria is the perfect spot to make your home base while visiting such areas as San Simeon, home of Hearst Castle and thousands of elephant seals at Piedras Blancas Rookery.
Cambria is less than 1/2 hour from Morro Bay and their renowned Morro Bay Rock (21 million year old volcanic peak) and bird sanctuary. San Luis Obispo is just 40 minutes away too.
We stayed at Sand Pebbles Inn in Cambria, it is located right on the coast, offering beautiful views from your room and just steps to the boardwalk and beach.
We can't wait to visit Cambria, CA again!
Discover all of our West Coast Travels, including our Driving Itinerary of California Coast Highway 1.