Corvette Diner is a must for anyone visiting San Diego. This 50's  themed restaurant is more than delicious burgers, fries, and shakes, it is a full evening of clean, wholesome family fun. We all had huge smiles on our faces during the entire visit!

This is a sponsored post.
One step into Corvette Diner and you've traveled back in time to the 50's. The entire restaurant is decorated in 50's memorabilia including a gorgeous corvette at the entrance. We sat in the main dining room, the Regal Room next to the fully operational soda fountain where the shakes, malts, and sundaes are made. We ordered custom vanilla and cherry diet cokes which were amazing!
There is also a black light 60's theme room that I saw many families enjoying.
The train room looked just like you were on a train – if it was in Ohio, it would certainly make our Train Car Restaurant post.
We were quickly greeted by our server, Heuy who threw a confetti of straws on our table…several times. We knew then that we were in for more than dinner but also a show! Soon after our orders were placed, he proceeded to become a hair dresser giving my daughter a wacky hair style made out of straws and a Coca Cola cup!

I was the next victim of the straw fashion.
Don't we look lovely? We couldn't stop laughing at how ridiculous this restaurant, our server, and our hair was!
The men received paper hats too!
Corvette Diner is made for family fun! We saw many people there celebrating birthdays, it is the place to be for locals in San Diego as well as tourists looking to have a great meal and fun time with their family.
At our server's recommendation, we started dinner with the Pickle Me up at 6. These house-breaded and deep fried pickles were crazy fun and delicious. They were gone in no time.
My 10 year old daughter had a hearty appetite and ordered the Double Decker B.L.T!
Just look at how enormous this sandwich is . . .and how delicious too!
Elvis is big at Corvette Diner. There are several menu items that are customer favorites – that would have also been favorites for Elvis including the Rory. I thoroughly enjoyed the peanut butter with bacon combination. As you may have noticed, we are big peanut butter fans in this house.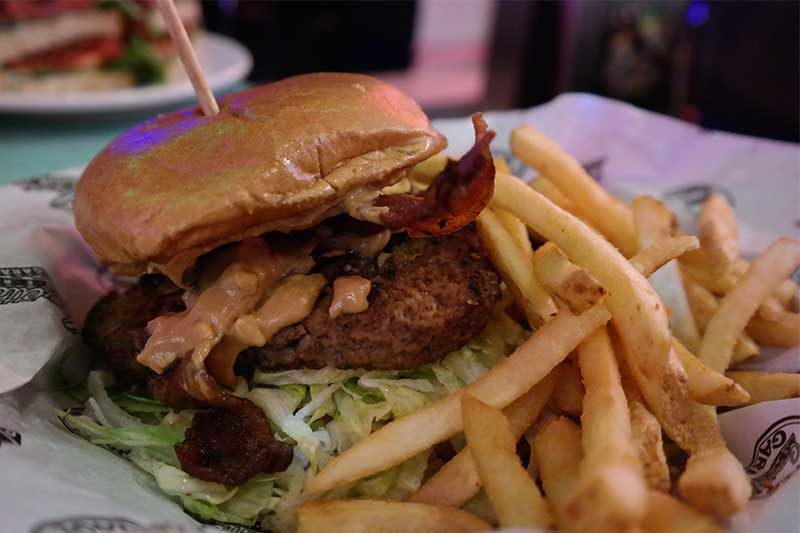 My son ordered San Diego's favorite meatloaf with garlic mashed potatoes and steam veggies. His meal was comfort food at its best.
The menu was perfect for families with many options including gluten-free items.  It is exactly what you'd expect from a real 50's diner but with a lot more options and combinations!
After dinner, we headed to the Gamers Garage arcade room where we had a ton of fun playing classic arcade games, pinball, skee ball – more than 50 to choose from!
My kids had a blast, even if they couldn't conquer Crossy Road like they can at home! ha!
We headed back to the restaurant for dessert.  The Brownie Hot Fudge Sundae is a dream come true for chocolate lovers and big enough to split at least between two people. The gooey fudgy brownie with a generous helping of ice cream, whipped cream, chocolate sauce, nuts and a cherry is iconic for what dessert should always be if you ask me.
My son opted for another Elvis themed menu item, the Elvis PB, Banana & Marshmallow hand-made shake.  The shake was thick, creamy, and the best possible flavor combination ever! It was served in an iconic shake glass with a cherry and marshmallow on top. It came with the metal mixing canister that it was prepared in with additional 'bonus' milkshake inside.  This, too was generously portioned and easily shared. They do have kid size shakes, which is probably a better size for kids!
We've had an amazing time during our Kidifornia Family Adventure  but I can honestly saw that we've not smiled, laughed, or had such a fun time anywhere like we did at Corvette Diner! I almost forgot to tell you that the waiters and waitresses put on a dance and song show about once per hour – it's hysterical!
When you visit San Diego, you have to stop by with your family – the memories and fun times at this restaurant is not like any restaurant I've ever visited before. Plus, the prices are good for families.
Corvette Diner
2965 Historic Decatur Rd
San Diego, CA 92106
Follow us along now through June 28th on Facebook, Twitter, Instagram, and this Blog to join us in our Kidifornia Family Adventure.